The Institute of Development and Education for Africa (IDEA), Inc. is proud to announce the launching of Dr. Ghelawdewos Araia's new book. For contents of the book, please click on the following link: www.africanidea.org/Ghelawdewos_Araia_New_Book.html and individual subscribers (including students) interested in purchasing the book should send a check of $25 ($20 + $5 for shipping and handling) payable to Dr. Ghelawdewos Araia's to 975 Mix Avenue Suite 3K, Hamden, CT 06514 ; institutions including libraries should send $35 ($30 + $5 for shipping and handling). For further information, email webmaster@africanidea.org or call (203) 789-1990 (203) 747-2763 (203) 537-0240
Purchase one book & get the second one for Free

October 3, 2011
The Institute of Development and Education for Africa (IDEA), Inc. once again is launching Cultures That We Must Preserve and Reject (Tigrigna and Amharic), authored by Dr. Ghelawdewos Araia. Subscribers interested in buying the book must indicate their selection (Amharic or Tigrigna) and if they decide to purchase the book, they will get Advice to the Son & In Memory to the Father by Belaten Geta Herouy Wolde Selassie for free.
Subscribers must send a check in the amount of $18.00 (this includes shipping and handling), payable to Ghelawdewos Araia, to 975 Mix Avenue Suite 3K, Hamden, CT 06514 For further information, please call (203) 789-1990 or email webmaster@africanidea.org
IDEA Recommended Books for Ethiopia: Compiled by Dr. Ghelawdewos Araia for africanidea.org subscribers, researchers, scholars, and students. On Ancient Ethiopian History and Civilization:
---
Appealing to the World Conscience on behalf of Tigray June 10, 2021
Tigray Global Advocacy Group (TGAG) Reaching Out to the World
We are a group of Ethiopians, originally from Tigray, organized under the banner of Tigray Global Advocacy Group (TGAG), advocating on behalf of the Tigray people who sustained genocide, crime against humanity, all sorts of atrocities including aggression and sexual violence against women in the last seven months.
We are appealing to the world conscience; more specifically to the US Congress, the European Parliament, the G7 countries, and the progressive forces across the board in our planet earth. This time, we are hopeful that the world will not only sympathize but also empathize with the people of Tigray and listen to their cry and feel their sufferings.
---
By Walata Tsion

A quick glance at the monastic holdings of a monastery in Tigray reveals something startling: much of the collection is comprised of Gadl, the biography of saints and their epic spiritual battles and exploits. It is a startling revelation when we compare it with holdings in Gojam or Gondar or Shewa, the traditional center of power after Aksum. Gojam is swamped with precious manuscripts of Dagwa (church chants), Aquaqam, Mahlet, Zema, Mewasit; Gondar, renown for its illuminated manuscripts, its beautiful majestic script; Shewa, as epicenter of power has just about everything reflecting of the majesty and opulence of Ethiopian kings: paintings, Patristic theology, Andemta, and volumes of Degwa.
---
Tigray Global Advocacy Group (TGAG) Press Release
May 3, 2021
Since the war was declared on Tigray on November 4, 2020 by the fascistic government of Abiy Ahmed and subsequent invasion of the Regional State by the joint forces of the so-called Ethiopian National Defense Forces (ENDF), the Amhara Militia, and the Eritrean forces, TGAG, as its name implies, has been advocating on behalf of the people of Tigray who are the victims of genocide and other atrocities unparalleled in human history
---
Oromo-Tigray Alliance: A Necessary Historical Precondition for Fashioning a New Ethiopian Nation-State
Ghelawdewos Araia, PhD April 14, 2021

This article intends to discuss and thoroughly examine the strategic alliance of the Ethiopian federalist forces against the destructive alliance of the Prosperity Party (PP)-led Ethiopian National Defense Forces (ENDF (henceforth PP-ENDF), the Eritrean mercenary troops, and the Amhara Militia. In the latter coalition, the Eritrean troops are the interventionist forces, paradoxically invited by Abiy Ahmed to engage in a dirty genocidal war in Tigray. This article will touch upon examples of alliances in history and discuss the significance of bigger and unified nations as well.
---
ሓቦ ትግራይ ፣ ጅግንነት ትግራይ Perseverance and Heroism of Tigray
ገላውዴዎስ ኣርኣያ ዶር Ghelawdewos Araia, PhD
መጋቢት ፩፩ ፳፩፫ March 20, 20
---
Remembering and Bidding Farewell to a Wonderful Woman and Friend: Mehret Iyob
Ghelawdewos Araia, PhD 4/21/2017
I was shocked and completely taken over by the bad news on the passing of Mehret Iyob; I did not know until a friend told me five days after the untimely death of Mehret and her body laid to rest on April 15, 2017 at Asmara, a city where she was born and brought up. The passing of Mehret is a major loss for her immediate and extended families and it is with deep sorrow that I am extending my condolences to her husband, Beraki Gebreselassie, her children, and her sisters Ararat Iyob and Ruth Iyob, and the rest of her brothers and sisters.
---
የወሰን እና የማንነት ጥያቄ ጉዳይ
የትግራይ እና የኣማራ ክልሎች ከታሪክ እና ከህገ መንግስት ኣንፃር ሲታዩ
ተፃፈ በ ገብረ ሥላሴ ኣርኣያ 2011 ዓ.ም (ታተመ መጋቢት
---
Indecision and Hesitancy Could altogether Derail a Worthwhile American Policy Toward the Horn of Africa
IDEA Editorial
March 29, 2021 Ghelawdewos Araia, PhD
This editorial expounds and critically examines US foreign policy toward the Horn of Africa in general and the ongoing conflict and war in Tigray/Ethiopia in particular. American foreign policy regarding the Horn of Africa and the Red Sea geopolitical theater is inextricably linked to US diplomacy and international trade, much of which is facilitated via the great Red Sea that connects the Mediterranean Sea and the Gulf of Eden. This vital corridor, however, is disturbed and threatened by the wars in Yemen and the Horn of Africa as well.
---
The United Nations Security Council is Painfully Slow vis-à-vis the Tigray Genocide.
IDEA Editorial March 2, 2021
The war that was declared on Tigray on November 4, 2020 has been going on unabated despite the massive Tigrayan protestations and demonstration worldwide, and despite European Union repeated admonishment to the Eritrean and Ethiopian governments, and as of late the Biden Administration call for a peaceful resolution to the conflict via his Secretary of State Anthony Blinken.
---
How a Triad of Forces Emasculated and Undermined the Legitimacy of the
Ethiopian Nation-State
Ghelawdewos Araia, PhD February 20, 2021
This brief article in Amharic will focus on the present Ethiopian crisis (conflict and war) that has effectively but sadly shattered the political, economic, and social fabrics of Ethiopia, and the cause for all these, I argue, are the triad of forces, namely the narrow-minded ethnonationalists,the chauvinist elite and politicians, and the witchcraft politics of a medieval variety that has now become a vogue amongst the ruling clique of the Prosperity Party.
---
The Danger of Rewarding Dictatorship and Subsequent Emasculation of Democratic Political Culture: What President Biden Should be Cautious of
Ghelawdewos Araia, PhD February 6, 2021
Before I delve into the main thesis of this article that intends to systematically analyze the danger of rewarding dictatorship, I like to first state a passing remark on the promise and oath of President Joe Biden to the American people. Soon after inauguration on January 20, 2021, when Joe Biden entered the White House, he made a pledge in a manner of invoking a divine witness and expressed them in simple terms such as 'I will be president for all Americans'; 'we will get through this together'; 'politics does not have to be a raging fire'; 'we must end this uncivil war'. These are great phrases and full of promise, affirmation, and hope, and I am gratified that Biden assumed executive power and became president of the United States.
---
Tigray Global Advocacy Group (TGAG) Demands the Trial of Abiy Ahmed and Isaias Afeworki by the International Criminal Court (ICC)
We members of the Tigray Global Advocacy Group (TGAG) demand the trial of Abiy Ahmed, Prime Minister of Ethiopia, and Isaias Afeworki, President of Eritrea, before the ICC for their egregious violation of international law with respect to genocide, crime against humanity, and aggression. Our demand is based on substantive and verifiable evidence of the crimes they have committed, and as explained below we present the physical and mental elements that can be easily attributable to the two dictators. Abiy Ahmed and Isaias Afeworki should be held responsible for causing serious bodily and/or mental harm to members of the Tigray people; there are evidences on this, including some victims whose necks and faces were slashed with bayonets; women who were gang raped, and a significant number of innocent people who were physically assaulted.
---
The Proverbial Ethiopian Donkey and Similarities and Contrasts between Donald Trump and Abiy Ahmed
Ghelawdewos Araia, PhD January 14, 2021
In this essay I intend to provide comparative perspectives of the politics of Donald Trump of the United States and Abiy Ahmed of Ethiopia, in the context of the proverbial Ethiopian donkey and the current confrontational politics promoted by the two leaders. First and foremost, however, for the sake of clarity and relevance to the central thesis of this essay, and the message I wanted to convey to readers, I like to introduce the 'Ethiopian donkey' especially to non-Ethiopian subscribers.
---
Analyzing the Tragic Conflict in Ethiopia and the War on Tigray Ghelawdewos Araia, PhD
December 28, 2020
This article intends to critically examine the current conflict in Ethiopia, with particular focus on the war in Tigray, but most importantly it will systematically analyze the complicated and complex factors that contributed to the war in Tigray. Many observers, notwithstanding few and far in between freelancers who correctly monitored the situation on the ground, have superficially reported about the war and this article, thus, will shoulder responsibility by way of presenting the main and core factors and forces that have played a major role in the conflict. Furthermore, this essay will expose the many non-Ethiopian actors who are directly or indirectly engaged in the conflict.
---
Ethnic Profiling of Tigrayan Ethiopians and Genocide in Tigray
IDEA Editorial December 10, 2020
The Institute of Development and Education for Africa (IDEA) has been diligently following and monitoring the Ethiopian conflict since the declaration of war on Tigray by the Abiy Ahmed government on November 4, 2020. We at IDEA, without any bias to any party, are interested to compile data on evidence surrounding ethnic profiling of Tigrayan Ethiopians residing throughout Ethiopia and the genocide now being perpetrated by the Abiy-Isaias combined forces; whatever we present here are reflections of the realities on the ground and supported by valid proofs gathered by journalists or testified by the victims of war, some of whom have now sought refuge in the Sudan.
---
Tigrayan Global Advocacy Group (TGAG) Statement on the Abiy Ahmed War on the Regional State of Tigray
To: United Nations Security Council, the African Union (AU), and the European Union (EU)
November 28, 2020
Excerpt: The central theme of this statement reflects the current situation of the ongoing conflict in Ethiopia, and more specifically on the Abiy-Isaias war on Tigray and the overall reality on the ground in Tigray, especially in regards to the bombardment of civilian areas and the destruction of institutions, hospitals, industries, and farms, and the subsequent humanitarian catastrophe, including the influx of more than 40,000 Tigrayan refugees to Sudan that is corroborated by international media.
We members of the Tigray Global Advocacy Group (TGAG), US citizens and residents of Tigrayan Ethiopian origin, are greatly concerned by the war on Tigray that was initiated and provoked by the so-called government of Ethiopia, spearheaded by Abiy Ahmed, whose term in office has expired on September 25, 2020, but is governing the country by political fiat, typical of an autocratic regime that rules by decree and arbitrary decision making process and by trampling over the constitutional order and the rule of law.
---
Brief Retort to Hailemariam Desalegn's Unwarranted and Misguided Moral Equivalence
Ghelawdewos Araia, PhD November 25 2020
I was caught off guard when I read Hailemariam Desalegn's piece on Foreign Policy (FP November 24, 2020) entitled "Ethiopia's Government and the TPLF Leadership are not Morally Equivalent", and the reason for my unwary reaction to his writing is because I had the impression that the former Prime Minister was a decent human being with integrity and I never expected him to come up with such contradictory, misguided, and unwarranted argument by way of supporting the Abiy war on Tigray; apparently, in his opinion, the government is waging war in order to enforce security measures.
An Ethiopia-TPLF Dialogue Won't Lead to Peace (foreignpolicy.com)
---
Grandmasters' Mercenaries and their War on Tigray
Ghelawdewos Araia, PhD November 23, 2020
The current war on Tigray is sometimes viewed as a war between the usurper Abiy regime and the Tigray People's Liberation Front (TPLF), but this perspective distorts the real nature and objective of the war that was declared and unleashed on November 4, 2020 by Abiy and his cohorts. The war, though conducted by Abiy and his Prosperity Party treasonous officials, some Western powers and Arab countries like Saudi Arabia and the United Arab Emirates (UAE) actually have been behind the curtain of the orchestrated overall conflict that has been gradually but surely undermining the Ethiopian nation-state in the last three years; the foreign actors, in the context of this essay, are the grandmasters or the movers and shakers behind the Ethiopian crisis, but their mission and objectives could not be fulfilled without the local mercenaries.
---
The Bombardment of the Regional State of Tigray of Ethiopia
The Institute of Development and Education for Africa (IDEA) is deeply concerned of the ongoing conflict in Ethiopia, particularly the war that has been declared on Tigray by the Abiy Ahmed-led federal government on November 4, 2020, and since the official declaration of war on its own people, the regime's air force has been bombarding several civilian areas in Tigray. The main purpose of this letter, thus, is to appeal to the UN Security Council to immediately intervene in the meaningless war and rescue Ethiopians from aerial bombardment and from carnage.
We at IDEA are aware that bombardment of civilian areas is prohibited by international law; more specifically, we are aware that "in 1977, Protocol I was adopted as an amendment to the Geneva Conventions, prohibiting the deliberate or indiscriminate attack of civilians and civilian objects, even if the area contained military objectives, and the attacking force must take precautions and steps to spare the lives of civilians and civilian objects."
---
The Umbilical Cord of Ethiopia is Buried in Tigray: Do not venture anywhere near the Navel String
IDEA Editorial November 6, 2020
Ghelawdewos Araia, PhD
When I first began drafting this essay, my heart was pounding in response to the outcome of the US 2020 elections, while at the same time I was saddened by the massacre of Ethiopians in Wellega, western Oromia; the bulk of Ethiopian social media outlets reported the incident as 'Amhara genocide' but I prefer to call the victims Ethiopians, and my use of the word 'Ethiopian' paradoxically is perhaps in a vain attempt to avoid a narrow ethnocentric portrayal of dignified Ethiopians. It is unfortunate that these days ethnic identity has become the dominant political language of Ethiopians as opposed to the overarching pan-Ethiopian identity, but twenty-five years ago I had already detected the dangers of ethnicity and tribal-like solidarity in my debut book, Ethiopia: The Political Economy of Transition, and this is what I said then:
---
Diaspora Africans, in particular Ethiopians, must vote for Joe Biden in order to remove Donald Trump
IDEA Editorial October 25, 2020
On behalf of the Institute of Development and Education for Africa (IDEA), we at IDEA write and appeal to all Diaspora Africans to vote for Joe Biden so that the White House is relieved from Donald Trump, a man of no knowledge of diplomacy and the ABCs of political science; a man whose character is clearly confrontational, xenophobic, and essentially racist. From the time he campaigned for the presidential bid to his entrance to the White House in 2016, Trump vented his anger by employing slurs against Mexicans, women, African Americans, and African countries; he called Mexicans drug pushers and rapists; looked down unto women with chauvinistic zeal; denigrated African American struggles and mottos such as "Black Lives Matter" as a racist slogan; said, "I don't have respect for civil rights activists" (implying to Congressman John Lewis funeral); called African countries shitholes; called Kamala Harris a communist; and in the last debate with Joe Biden, he attributed to some people what he calls "low IQ", when he himself can be categorized as a man of low IQ. Trump is childish, infantile, and arrogant and does not deserve a second term.
---
Revisiting Zara Yacob, The Rationalist Ethiopian Philosopher of the Seventeenth Century
This Zara Yacob Project, initiated and sponsored by the Institute of Development and Education for Africa (IDEA) and African Ascent, presents two articles authored by Ghelawdewos Araia and Tedros Kiros, and will have a companion video discussion that will be disseminated to the public at large and the academia in particular. Dr. Ghelawdewos Araia is professor of history and political science at Africana Studies, Lehman College of the City University of New York, and he is the founder and president of the Institute of Development and Education for Africa (IDEA); Dr. Tedros Kiros is professor of philosophy and literature at Berklee School of Music and Harvard University (summer school), and he is the producer and host of African Ascent.
---
Incumbent vs Challenger: Who Would have an Advantage in Tigray's Election?
Asayehgn Desta, Sarlo Distinguished Professor, Dominican University of California
After the "National Electoral Board of Ethiopia abandoned vote preparations in March due to the Arrival of COVID-19" (International Crisis Group, August 14, 2020), embracing their constitutional rights, the Administrative State Council of Tigray expressed its desire to run polls' election and scheduled it for September, 9, 2020 -- instead of waiting for a year until after the World Health Organization (WHO) would hopefully confirm the end of the pandemic coronavirus pandemic.
---
Institute of Development and Education for Africa (IDEA), Incorporated A Debate on Democracy and Self-Determination by the Contending Parties of Tigray Ghelawdewos Araia, PhD August 26 2020 ገላውዴዎስ ኣርኣያ ዶ/ር ናይ ትግራይ ቅድመ-መረፃ ናይ ተነሓነሕቲ ክትዕ ኣብ ዴሞክራሲን መሰል ዓርሲ ርእሰ ውሳኔን
---
Horn of Africa Disaster Politics and Its Geopolitical Implications
Ghelawdewos Araia,July 25, 2020
The Horn of Africa comprises Sudan, South Sudan, Ethiopia, Eritrea, Somalia, and Djibouti, and all but Djibouti are in turmoil, terror, and trepidation. Of these Horn of Africa countries, Ethiopia was by far the most stable, peaceful, and more hopeful nation during the entire period of EPRDF rule from 1991-2018, but now the country has become one of the most unstable countries beset by disorder, internal displacements, and political assassinations, not to mention the messy local politics in some regional states that, in turn, effectively undermined the socioeconomic progress that Ethiopia was making.
---
Proportional Representation Electoral System: Pathway to participatory democracy in Tigray
Asayehgn Desta, Sarlo Distinguished Professor of Sustainable Development
Defying Ethiopia's federal verdict and disregarding the decision passed by the National Election Board of Ethiopia (NEBE) that the election date for the country's parliamentary and regional elections be postponed due to the spread of the corona virus pandemic, the Council members of the Tigray Regional State-citing the Ethiopian Constitution- have passed unanimously a fateful decision to safeguard the rights of its citizens and hold regional elections before the term of the existing Council members comes to an end in the first week of October 2020 (Fortune, June 12, 2020, Sambo, May 6, 2020).
---
T

here is No Alternative to National Reconciliation and Dialogue in Ethiopian Politics
Ghelawdewos Araia, Ph.D July 3, 2020
The purpose of this article is to critically examine the current complex and complicated Ethiopian politics in the context of conflict and conflict resolution methods and/or strategies, but this essay will also address two inputs, one endogenous and the other exogenous; the former is the peace initiative by the Ethiopian Inter-Faith Council, the Elders, and the Abba Gadas; the latter is a briefing by the International Crisis Group (ICG) entitled "Bridging the Divide in the Ethiopian North".
---
Establishing Sustainable Handwashing Water Strategies to Manage the Spread of COVID-19 in the Regional State of Tigray, Ethiopia
Asayehgn Desta, Sarlo Distinguished Professor of Sustainable Development, USA and
Hadush Berhe, Deputy Managing Director and Assistant Professor in Industrial Engineering with Production and Industrial Systems Engineering Streams, Mekelle University, Ethiopia
Abstract
---
Africa Should Combat COVID-19 with Its Indigenous Knowledge Medicine
Ghelawdewos Araia, PhD May 25, 2020This article is dedicated to Africa Day, the 57th Anniversary of the establishment of the Organization of African Unity (OAU – now AU)
The Institute of Development and Education for Africa (IDEA) has been compiling data and gathering information in regards to the nature and characteristics of COVID-19, since the outbreak of the deadly corona virus at Wuhan, China in December 2019. Then, the world was not alerted with the consequences of the virus, but it soon engulfed our planet earth and became a global pandemic.
What is COVID-19? How did it come into being? It is a naturally occurring virus or as some conspiracy theorists suggest a man-made virus that apparently escaped from the laboratories or deliberately spread in crowded places in order to infect people.
---
Postponing the Ethiopian Election could derail Hitherto Accomplished Achievements and Paralyzing Future Worthwhile Democratic Institutions
Ghelawdewos Araia May 9, 2020
It seems to me the title of this article is good enough to depict or insinuate the present political landscape in Ethiopia that is complicated and chaotic to say the least. In this short essay, I like to critically examine the legality or illegality of the Ethiopian electoral system in light of the Ethiopian constitution that is currently almost trampled over. The reason why I say the constitution is trampled over is quite obvious to me: the executive branch of the present Ethiopian government that has been in power for slightly over two years has been operating outside the parameters of the law of the land; and ironically the Ethiopian parliament, conceptually the law-making legislature has become a good-for-nothing House of Representatives.
---
This is our last reminder to all of you our scholars, supporters etc., who did not contribute and want do so in response to the recent urgent call by the Tigrai regional government via TDA. We are highly thankful to all of you who responded positively to our recent email and because of your generous donations, we have crossed $43,200. With this, we would also like to remind you that this would be our last call on this matter (resource mobilization), and thus, you are kindly requested to respond within today and/or in the next 1-2 days. With this last reminder, we would like once again to call upon all our GSTS community and supporters to respond to this extremely pressing appeal of the regional government and thereby become part of the historical cause by contributing whatever amount we can at this very challenging and testing time for our region and people.
Let us also share the call and link with our colleagues, friends, relatives and convince them to be part of our cause.
Link to Contribute: https://charity.gofundme.com/o/en/campaign/the-global-society-of-tigraian-scholars-
IwAR14t1fSUX13kLcKm1AMZ1iAOJ3CqGYgLJbWDkPsfv2cqh8fUecZh7iDmjE
---
A Remarkable Challenge for Diaspora: Leveraging Ethiopia's TVET Programs for Integrating the Internal Displaced Persons into Their Ancestral Homes
Desta, Asayehgn (Ph.D), Sarlo Distinguished Professor of Sustainable Development and Quantitative Methods
Abstract
The 1995 Constitution of the Federal Democratic Republic of Ethiopia was promulgated with the assumption that the formation of a federal union in Ethiopia would not only enhance the celebration of self-rule and shared-rule, but also rekindle ethnic autonomy, diversity, and inclusion, and serve as a framework for resolving ethnic conflict. Nonetheless, due to the lack of the implementation of effective diversity and inclusion awareness programs that could have encouraged open communication and interpersonal dialogue to build mutual respect, it is heart-breaking to see that currently Ethiopia is embroiled in deep inter-ethnic skirmishes. Put simply, ethnic animosity in Ethiopia has not drastically altered social structures and disrupted livelihoods, but it has destroyed employment opportunities throughout the country.
---
The Sons of King of Kings Merara Tekelehaimanot
ደቂ ንጉሠ ነገሥት ምራራ ተኽለሃይማኖት
by Fidel Mekonnen and put out by the Africa World Press/Red Sea Press, a voluminous (542 pages) and a well-written and well documented book, deserves a huge acclaim; the author employs an anthropological methodology, and a combination of history and oral tradition to put together the genealogy of the Eritrean people traced back to their Ethiopian ancestry lines. This book is written in Tigrigna and could have a limited audience but for those who read the book with diligence, they will enjoy the craftily combined parentage heritage of blood line of the Eritrean people; most importantly,
---
124th Anniversary of the Ethiopian Victory at Adwa: some misconceptions that should be rectified
Ghelawdewos Araia, PhD February 28, 2020
Adwa is a constant reminder of the resounding victory of Ethiopians over the invading forces of Italy, but it is not only a remarkable milestone in Ethiopian history and an historic dignity and pride of Ethiopians, but also a great inspiration and an awakening spirit to all African colonized nations and the Black Diaspora as well. In just four years after the victory of Adwa, the pan-African movement had begun in earnest. In point of fact, Henry Sylvester Williams, a Trinidadian barrister, called upon the first pan-African conference in 1900 in London. He was assisted by two other brilliant pan-Africanists, George Padmore and CLR James, who were very influential in the pan-African agenda that was aimed at liberating the whole African continent.
---
The Tragedy of Modern Ethiopian History and the Challenges to its Political Economy
Ghelawdewos Araia, PhD February 20, 2020
Ethiopia is a great nation with a spectacular and magnificent civilization of antiquity, and material as well as spiritual florescence of the medieval to the early 17th century period, but its modern history is bedeviled and infested by numerous enigmatic causes that led to the country's disaster failures, including countering the modicum but meaningful development strategies that Ethiopia had initiated in its most recent history. This article intends to expose and uncover the plethora of actors' (domestic and foreign), policies and political economy agendas.
---
---
Tigray Cultural Renaissance in the Midst of Ethiopian Crisis
Ghelawdewos Araia, PhD January 20, 2020IDEA Celebrates Martin Luther King, Jr. Day
Tigray is the quintessential Ethiopian state where virtually all tangible and intangible cultural heritages of the Ethiopian nation-state had begun. Now, in the midst of socio-political crisis that has engulfed all Ethiopia, by a twist of historical irony, relative peace has reigned in Tigray and the abler and extraordinaire Tigrayans have begun in earnest recapturing and reviving traditional mores, customs, belief systems, as well as material cultures that were subdued and suppressed for a long time.
---
The Establishment of the Federalist Democratic Forum: Beyond the Unitary Geographic Federation and the Defeatist Secessionist Strategy
Ghelawdewos Araia, PhD January 2, 2020
The Dynamic but chaotic Ethiopian politics, at long last, culminated in the formation of the Prosperity Party (PP) at Addis Ababa and the Federalist Democratic Forum at Mekelle, Tigray Regional State. In the midst of all these social and political disorder, the Ethiopian people have paid huge sacrifices in relatively short period of time of two years, i.e. since the advent of the new regime headed by Abiy Ahmed; in somewhat bizarre and bitter irony, the Ethiopian people have encountered internal displacement accompanied by physical anguish, hunger, and death. Close to three million Ethiopians were forcibly relocated from their comfort domiciles to the wilderness with virtually no goods and services. Unfortunately to all the human suffering, pain-induced grief, and shock waves that Ethiopia
---
Fourteenth Session of the Intergovernmental Committee of UNESCO for the safeguarding of intangible cultural heritage decided to include Ethiopian Epiphany as part of the World Cultural Heritage in its meeting at Bogota, Colombia from December 9 to 14, 2019. Five years ago, i.e. on January 2015, Dr. Ghelawdewos Araia contributed an article entitled "UNESCO Should Recognize Ethiopian Epiphany as Intangible Cultural Heritage" and we at africanidea.org are extremely gratified, extend our gratitude to UNESCO, and are reposting the same article for our subscribers to read:
www.africanidea.org/Ethiopian_Epiphany.html
---
IDEA Warning to the PM Abiy Ahmed-Led Ethiopian Government
IDEA Editorial December 17, 2019
The Institute of Development and Education for Africa (IDEA) has serious concerns about the complicated and incredibly dangerous political landscape that currently prevails in Ethiopia; hence this warning to the present governing elite of the country. It is for the sake of the Ethiopian people and the wish of stability and progress in Ethiopia that we at IDEA came up with a caveat so that wrong policies and political programs are redeemed before the country plunges into the abyss. The enumeration format below is deliberately wrought to attract the eyes and perceptive minds of Ethiopians and the powers-that-be:
Unitary Elite Politics Vs Grassroots Federalist Forces in Ethiopia
Ghelawdewos Araia, PhD November 26, 2019
This article intends to critically examine the present Ethiopian politics of transition from group federalist identity politics in the context of self-determination of Ethiopian nationalities to the newly inducted individual citizen identity that is geared to supersede the former. First, however, I like to clarify the two concepts of 'elite' and 'grassroots' in order to avoid misconceptions. As I use them in this text, the term 'elite' does not refer to the most wealthy and most powerful group who enjoy a distinct privilege in a society (e.g. the United States); it refers rather to a group in a given society (e.g. Ethiopia) that is seemingly superior in its social status and overall knowledge vis-à-vis ...
---
Transforming Ethiopia's Developmental State Model for Future Dynamism: A BOOK SUMMARY
In the book published by the Lambert Academic Publishing in October 2019, Professor Asayehgn Desta argues that in 2005, Ethiopia adopted and thrived by adjusting the East Asian State-Led Developmental state model to reflect its own historical conditions, enhance economic growth and wipe out poverty. After applying the developmental State Model from 2005 to 2015, Ethiopia remained a compelling example of how an African country can achieve steady, state-directed economic growth, social transformation, and infrastructural investments, by providing easy access to primary and preventative healthcare, reducing social inequality, and mobilizing peasant farmers.
However, Desta points out that due to administrative obsolescence, dysfunctional appointment of bureaucrats, political upheaval, ethnic strife, weak macroeconomic management, Ethiopia's Developmental State Model has been breaking down. Currently, Ethiopia is on the verge of slipping backward into economic decline, facing poverty, inflation, unemployment, heavy external debt, and a rise in ethnic conflicts.

If the recent wide-scale economic and political crisis is not addressed immediately, professor Desta highlights that Ethiopia's legitimacy could be disrupted. Therefore, as other developmental states have done, Professor Desta's book focuses on structural changes of the needs to form a hybrid paradigm, in which some developmental practices coexist with the surrender of powers to local authorities and the prevalence of privatization policies to harness a free market operation. In the revitalization of its Developmental State Model, Professor Desta's book strongly suggests that Ethiopia needs to restructure its form of federalism and practice transparent democracy, with adequate checks and balances to empower local citizens.
---
---
---
Is Ethiopia Heading Toward a One Man-Show Politics or One Party Dictatorship?
Ghelawdewos Araia, PhD September 22, 2019
This brief article will candidly and critically address the present complex and complicated Ethiopian politics and systematically analyze the political trend of paving the way for the establishment of an oligarchy that would govern beyond the legislature and constitutional order. A year and half ago, Ethiopia, under the leadership of Dr. Abiy Ahmed, was in a festive mood of celebrating the emergence of new hope and new promises of democratic governance and freedom in the country. In fact, back in July 2019, I argued as follows: "When PM Abiy assumed power, the Ethiopian people welcomed him and embraced his bright and promising administrative and political policies, including open political debates and reforms aimed at restructuring the government; some of the significant steps taken by Abiy Ahmed are his newly constituted cabinet of ministers composed of ten women and ten men;
---
The Significance and Preeminence of Ethiopian Unity: Systems and Institutions that Glued and Bonded Ethiopian Communities
Ghelawdewos Araia, PhD August 23, 2019
I decided to write this piece for the sake of our beloved motherland Ethiopia, at a time when it encountered political crisis, unfathomable internal displacements of its people, ethnic-related skirmishes and conflicts, as well as the astounding phenomenon of Ethiopian youth lack of knowledge of its history and as a result misguided by the present complicated reality on the ground. I am mainly interested in the youth, the future leaders of Ethiopia and I honestly want to educate (along with other Ethiopian educators) the young Ethiopians so that they can pull together in a pan-Ethiopian agenda and also march on the right track of history, but equally I am interested (as other fellow Ethiopians do) in raising the consciousness of the average Ethiopian, while at the same time provoking the elite and the intellectual of the country in a discussion forum, and in an effort to pressurize them so that they can shoulder their historical responsibility to uplift Ethiopia from the abyss and enable her regenerate its glorious past. I don't just appeal to the elite, the intellectual, and the government of Ethiopia to engage in constructive measures;
---
Ethiopia's Developmental State Model: A Reflection on Francis Fukuyama's Article
Asayehgn Desta, Sarlo Distinguished Professor of Economic Development,
Dominican University of California
Introduction
Given that the core matrix of Ethiopia's Developmental State Model was economic growth, from 2005 to 2015, Ethiopia remained as a compelling example of how an African country could achieve steady state-directed economic growth, social transformation, and infrastructural investments, by providing easy access to primary and preventative healthcare, reducing social inequality, and mobilizing peasant farmers.
---
Tailored Education Programs from Pre-K to K-12 and Beyond – Personal Reflections on Some Tested and Adaptable Practices from the US and Canada
Mulugeta Gebregziabher, PhD
Nahom M. Gebreselassie, Class of USC2022
Keffyalew Gebregziabher, PhD
---
HE NAMED HIS MOVEMENT 'REVOLUTION NOW' AND THEY JAILED HIM
Aug. 5, 2019 (GIN) – Omoyele Sowore, activist, founder of the anti-corruption news service "Sahara Reporters" and former presidential candidate, was not surprised when the Nigerian Security Service (DSS) forcibly entered his house early Saturday morning and arrested him. His crime? Organizing a protest against bad governance in Nigeria.
The DSS arrived Aug. 3 with four trucks, seizing his phones and other electronic gadgets. Sowore launched his Revolution Now movement in part, he said, because recent elections which returned President Mohammadu Buhari to power were not credible
---
IDEA Editorial July 28, 2019
July 29, 2019 (ሐምሌ ፪፪ ፪ሺ፩፩) will mark a special place in Ethiopian history; throughout Ethiopia, Ethiopians will place their fingerprints on their respective locales by planting trees. The concept and practice of the metaphoric "fingerprints" was first initiated by the late Prime Minister Meles Zenawi when he put the cornerstone for the construction of the Great Ethiopian Renaissance Dam (GERD) and said, "All Ethiopians must put their fingerprints in the construction of the Dam." Ever since, "fingerprints" has become a buzzword for any initiative and/or development projects in Ethiopia.
---
The Sidama People's Self-Determination vis-à-vis the Ethiopian Constitution
Ghelawdewos Araia, PhD
July 18, 2019The Sidama people constitute a zone within the Southern Nations, Nationalities, and Peoples Regional State (SNNRPS), and they have sought and demanded a separate regional state, and their demand has been approved by the Southern Ethiopian People's Democratic Movement (SEPDM), one of the four parities in the EPRDF (governing party) coalition.
---
Sinkhole Politics Ethiopian Style: The Breakdown of Law and Order and the Assassination of General Seare Mekonnen, Major General Gezae Aberra and Dr. Ambachew Mekonnen
Ghelawdewos Araia, PhD June 27, 2019
The assassination of Chief of Staff General Seare Mekonnen, Major General Gezae Aberra, and Dr. Ambachew Mekonnen has shaken the very foundation of the larger Ethiopian society and has thrown Ethiopians into disbelief and incredulous puzzlement. The people are asking, who are the criminals behind the assassination plots? How can two dramatic murder stories occur at Bahir Dar and Addis Ababa at the same time?
---
---
The Federalist and Unitary Systems in Comparative Perspective and in the Ethiopian Context
Ghelawdewos Araia, PhD
June 7, 2019"The 21st century might be destined to be federalism's secolo d'oro, its gilded age, the finest hour." Michael A. Pagano
In light of the success stories championed and implemented by the many federal systems around the world, and also in relation to Ethiopia's relative advancement in a span of two and half decades, it is imperative that Ethiopian politicians, elites, intellectuals, and civic leaders (including religious and business leaders) strive for the continuation of the federal system, and reform it if necessary, via dialogue and all-Ethiopia conference. Ethiopians must understand that it is much easier to build on what already exists than demolish present institutions and start from scratch. As Michael Burgess convincingly argues, "In the making of federations political elites must work with the grain. They have to work with materials that they have at hand. Federation is appropriate only at certain times and in certain circumstances.
---
Professor Asmerom Legesse's A historical Analysis and Psychological Profile of Emperor Yohannes IV  
Professor Desta, Asayehgn
As a student in high school, it was unfortunate that I had no opportunity to relate and apply my studies to my locality or Ethiopia at large, because I was schooled under the curriculum and books written for the British colonies in East Africa. Given this, I resorted to rote memory all the subjects I sat for the Ethiopian School Leaving Certificate Exam (ESLCE), needed for the entrance to the Ethiopian University.
---
Companion to and Explanatory Notes on the Degiat Subagadis Article
Ghelawdewos Araia, PhD May 25, 2019
The purpose of this essay is to clarify and counter the misunderstandings and misinterpretations of my article entitled "Dejazmach Subagadis Woldu: Governor of Tigray and Prince of Ethiopia". First and foremost, however, I like to make my position clear on some relatively sensitive issues such as the identity of personalities that the article apparently stirred controversy; secondly, I found it important that explanatory notes are necessary in order to combat the misguided and cynical readers' viewpoints, who without reading the entire article entertained vitriolic language and curses, and in order to make this essay much more educational, I will first address the positive reactions by some of my readers by way of extending my gratitude to them, and then respond to the negative reactions
---
Dejazmach Subagadis Woldu: Governor of Tigray and Prince of Ethiopia 
Ghelawdewos Araia, PhD May 15, 2019
Subagadis (also spelled as Sabagadis and/or Sibagadis) was born in 1780 (with his baptismal name Zemenfes Qudus) to the Royal House of Agame in the Adigrat/Azeba town circles of the Ganta Afeshum district of Agame sub-province of the Tigray Regional State. Subagadis comes from a long dynastic genealogy of the Royal House of Agame that was founded and established by King Seme II (Dagmawi Seme) in the 1600s. I have affixed the title king to Seme following a labeling theory that justifiably describes his behavior and his deeds as the founder of an incipient state in Agame. King Seme is the son of Werede-Mihret Jirate Qechin1 originally from Lasta, and members of the dynasty are in right order, as shown below:
---
Rotating the Governance of the Capital City of the Zones in the Regional State of Tigray: Restoring the Promise of Democratic Autonomy
Desta, Asayehgn, Sarlo Distinguished Professor of Sustainable Economic Development "Proactive planning for the inevitable trend is wisdom of the highest level" (Yohannes Aberra Ayele, (March 27, 2019)
The dramatic expansion of the Mekelle city could be attributed to push and pull factors. Over the years, Mekelle City has been pulling residents from other regions because it has established itself as Ethiopia's administrative, commercial, industrial, and social services center. In search of higher wages, the unemployed from other parts of the region have been flocking to the City of Mekelle to earn their livelihood. Meanwhile, the dearth of poverty and lack of employment opportunities in other regions has pushed residents of the other regions toward Mekelle City. Thus, Mekelle has earned the title "Killer City," because it achieved economic acceleration at the expense of its surrounding areas. Mekelle's disproportionate concentration economic activities have not only perpetuated a sense of maladministration among the Regional State of Tigray, but it also has hindered its economic intercourse with the other regions.
---
Asmerom Legesse's Babbling Stereotype against the People of Tigray
Ghelawdewos Araia, PhD April 30, 2019
With respect to the "inferiority complex of Tegaru", I will elaborate and critically examine later; let me first deal with Asmerom's characterization of Emperor Yohannes. It is abundantly clear to me that Asmerom is ignorant of the 19th century Ethiopian history. First and foremost, the reason why the Emperor declared Amharic as a lingua franca of Ethiopia was technical and pragmatic; Amharic was spoken in central Ethiopia and the Emperor's domain included Jimma that was governed by Abba Jifar, and in order to effectively communicate with the Oromo and other peoples in southern Ethiopia, Amharic was an ideal bridge between Tigray and the rest of Ethiopia. Secondly, Amharic, like Tigrigna evolved out of Geez and in its formative period it was spoken as a secret coded language by the elite and kings of Aksum in their respective palaces, and for this reason, Amharic was labeled as Lisane Negus (the language of the king).
---
Adding Fuel to Fire to an already Chaotic and Slippery Politics: The Case of Nebiyu Suhul Michael & his Friends in Tigray
IDEA Editorial April 15, 2019
To all that follow the news and up-to-date information on Ethiopia, it is abundantly clear that the country is a shambles given the millions of people displaced in the Gedeo-Guji area of the Southern Regional State and the recent violent attack of innocent Ethiopians in the Amhara Regional State. These kind of violent incidents have been going on for the last three years, and the first victims of such kind of violence were the Tigrigna speakers, who were targeted in the Gondar and Oromia area and subsequently in different towns of the Amhara State, and as a result, thousands (slightly over 45,000) of Tigrawot (Tigrigna-speaking Ethiopians) were compelled to leave their homes, properties, and businesses behind and settle in Tigray Regional State.
---
Is political integration in the Horn of Africa possible?
16th April 2019
Following his recent efforts to achieve normalization with Eritrea, Ethiopia's Prime Minister Abiy Ahmed embarked on a shuttle diplomacy mission across the Horn of Africa. Since the signing of the landmark June 2018 peace agreement between the two long-warring nations, Abiy held several bilateral and tripartite summits both in Addis Ababa and in other Horn of Africa capitals to help resolve some of the region's deep-rooted problems and kick-start a process of political integration.
While Abiy's shuttle diplomacy received praise, admiration and positive media coverage both in the region and across the world, it clearly failed to produce any practical results on the ground and even led to some new concerns and tensions. Shuttle diplomacy alone cannot resolve major international problems. For such efforts to have practical consequences, they need to be backed by well-deliberated and radical actions - actions that have the potential to bring down the multiple barriers that currently make political integration an impossibility in the region.

Click here to read the full analysis.

---
Should Ethiopia stick with ethnic federalism?
And is the current federal system encouraging ethnic violence?
Goitom Gebreluel by Goitom Gebreluel
Ethiopia embarked upon a set of political reforms in early 2018 that were greeted with euphoric enthusiasm. Prime Minister Abiy Ahmed's new administration initiated political liberalization, releasing political prisoners and inviting exiled opposition groups that had been designated terrorist organizations to return to Ethiopia.
The country's second attempt at democratization has however also been accompanied by a surge in political violence (often along ethnic lines), resulting in - among other things - the displacement of nearly three million people. Notable among these are the almost 900,000 Gedeo people who had to flee from their homes in the Guji zone of Oromia state.
---
Some Solutions to the current challenges facing Ethiopians
Tecola W Hagos, 25 March 2019
PART I. ABIY AHMED
1. In General
Prime Minister Abiy Ahmed keeps messing up my logic-oriented brain with his beautifully crafted speeches and messages. His recent address/message of 18 March 2019, with his epochal symbolism of a needle threading through marking a new path that also pulls along a motley of unsavory characters of all sorts, is a metaphorical statement that is highly evocative and unforgettable. For that message alone, Abiy Ahmed deserves a second look, a reassessment of his circumstance of how he lives and survives surrounded and suffocated by individuals the likes of Lemma Megersa and the threat of Qeerroo Bilisummaa Oromoo (hereafter 'Qeerroo').
---
Can Ethiopia make the transit to stability?
20th March 2019 Mehari Taddele Maru
This in-depth analysis is an extension of my piece for Ethiopia Insight titled 'The old EPRDF is dead, can its system be saved?' which you can read here.
This has been an eventful year for Ethiopia's politics. Under Abiy Ahmed Ali, who became Prime Minister in April 2018, the government has eased its previous authoritarian stance on various central issues. A national state of emergency imposed by Abiy's predecessor has been lifted and thousands of prisoners have been released. Exiled opposition leaders and armed groups have been allowed back into the country; media outlets now operate relatively freely; rapprochement with Eritrea is in full swing; and initiatives for national reconciliation are under way. Women received half of the positions in the October 2018 Cabinet and many others have been appointed to high office. In the light of the history of repression, human rights violations, decay and corruption of the ruling party, the BBC remarked that it was "almost like observing a different country."
---
Ode to Ethiopian Airlines Flight 302

Ghelawdewos Araia, PhD March 13, 2019
Oh! What a day is Sunday, March Ten, Two Thousand Nineteen
A world-wide tragedy to die with flying machine and gasoline
Accursed day that claimed a hundred fifty seven lives caused by flight control problem in mid-air
That made me so sad and emotional and forced me to utter, 'life is not fair'
Passengers eaten by a defective Boeing 737 Max Eight
All helpless, let alone change the course of distraught
---
Priorities in Ethiopian Politics: Expediting the Exigencies and Postponing the Inessential Ones
Ghelawdewos Araia, PhD March 1, 2019
This Article is dedicated to the 123rd anniversary of the victory of the Ethiopian people at the Battle of Adwa on March 1, 1896
Ethiopia is at crossroads again, undertaking, this time, not a scientific revolution but a scientific reform; incremental at times and transformational at other times. It is in the latter sense and in the context of the two quotations above that this article is written. For the above reason, thus, the purpose of this article is three fold: 1) to make a quick glance at some relevant ideas of the past; 2) to thoroughly examine the priorities in Ethiopian politics; and 3) to furnish redeeming ideas to current Ethiopian malaise, sort of proposal in order to bit the odds and come up with a sound policy spectrum that could in turn catapult Ethiopia in the right direction and subsequently achieve a more
---
Dr. Abiy Ahmed and Dr. Ghelawdewos Araia on Political Culture in Ethiopia
IDEA Viewpoint February 7, 2019
The Institute of Development and Education for Africa (IDEA) appreciates and hails the Conference on Democracy in Ethiopia that Dr. Abiy Ahmed, the Prime Minster of Ethiopia held with the contending political parties at the African Union hall on February 2, 2019. Irrespective of the broad range and variegated topics and themes presented by the panel, what makes this conference historic is that the paper presenters and the audience candidly exchanged ideas; and questions raised from the floor were also eloquently answered in the spirit of laying the cornerstone for the establishment of democratic culture in Ethiopia. If these kinds of conferences continue without interruption, no doubt, political culture will flourish in Ethiopia and the country's bright future will be inaugurated and guaranteed.
---
Transposing Ethiopia while Concurrently Preserving Its Institutional Heritage and Its Political Economy Achievements
Ghelawdewos Araia, PhD January 23, 2019
The purpose of this article is to systematically analyze and critique the present Ethiopian politics, policies, and initiatives in the context of change and reform and yet to propose the continuation of Ethiopia's achievements in the last two and half decades, and use the latter as a convenient platform to constructively guide the future developments of the country. This paper will further discuss the developmental state (hereafter DS) and the neo-liberal policy agenda, in an effort to garner theoretical clarify on concepts and policy spectrums and the impact they would have on Ethiopian politics and the larger Ethiopian society.
January 18, 2019
---
Efforts to Register Ethiopian Epiphany Festival with UNESCO
The current movement, request, and efforts exhibited by Ethiopians to register Ethiopian Epiphany festival with UNESCO was heralded by one relevant article entitled "UNESCO Should Recognize Ethiopian Epiphany as Intangible Cultural Heritage". This article was authored by Dr. Ghelawdewos Araia, Professor of Africana Studies at Lehman College, City University of New York, and President of the Institute of Development and Education for Africa (IDEA) on January 24, 2015. Four years later, IDEA found it imperative to repost the article in an effort to rekindle Ethiopians' wish to make their intangible heritage universal, and also to encourage other Ethiopians who are striving for the recognition of Ethiopian Epiphany by UNESCO; additionally, the goal of reposting the article is to provoke discussion amongst scholars and academe alike, educate students and the youth, as well as inform travelers and tourists. The article can be read in its entirety by clicking on this link: www.africanidea.org/Ethiopian_Epiphany.html
---
Transforming Ethiopia's Developmental State Model for the Future  Desta, Asayehgn, Sarlo Distinguished Professor
"If it ain't broke don't fix it" (Bert Lance, May 1977)
Development role of the state with little reliance on market forces was used as the cornerstone for the renaissance of the economically successful Northeast Asian countries, such as Hong Kong, South Korea, Singapore, and Taiwan (Zhang, 2018, Ricz, 2016). Following the spectacular growth of many economies in East Asia, developmental state is increasingly gaining ground in sub-Saharan Africa. For instance, Botswana, Mauritius, Cote d'Ivoire, Malawi, Kenya, Tanzania, Rwanda, and South Africa are labeling themselves as "developmental" (Seshamani and Ndhlovu (2016).
---
---
Breakdown of peace and order in Ethiopia, the Tigray Factor, and the Confusing Ethiopian-Eritrean Relations 
Ghelawdewos Araia, PhD IDEA Editorial January 9, 2019 
In the last eight months, i.e. beginning end of April 2018 to present, the whole of Ethiopia is disturbed by ethnic clashes and confrontations that, in large measure, are mysterious and difficult to explicate and define. The victims of disturbances, now close to two million internally displaced, thousands dead, and hundreds upon hundreds that fled to neighboring countries like Kenya and Sudan, have tried to make sense out of the unfortunate phenomenon that they have encountered by saying, "we have lived with our neighbors for millennia, but we never have had such calamity of clashes; we were unable to figure out the agents of chaos who come and disappear after they ignite the quarrel among the people and burn down our properties; we never had such kind of social insecurity caused by criminality, and despite our desperate appeal to the Government for help and rescue, we were left on our own and as a result we have become refugees in our own country."
---
The acronym D.E.M.O.C.R.A.T stands for Democratic Ethiopian Movement of Creative Reform and Transformation and it is an organization first conceived and founded by Dr. Ghelawdewos Araia in 2009 and then an attempt was made to reach out all Ethiopians in Ethiopia and the Diaspora; soon after it began its initial task by establishing a board of directors, however, because the larger Ethiopian society in general and the various Ethiopian communities in particular were polarized by ethnic politics, the organization was not launched until September 26, 2012. Even then, it was impossible to get hold of the diverse Ethiopian national groups to work together for a common goal; now, although ethno-nationalist tendencies have not subsided yet, there are promising signs that Ethiopians can pull together for a grand and common Ethiopian national agenda, and we at DEMOCRAT are encouraged to put the pieces together, and as a result we have begun our mission on September 2018 and laid the necessary operational and guideline infrastructure  to catapult the mission and objectives of DEMOCRAT. The organizational structure of DEMOCRAT and its departments as well as the aims and goals of the organization will be made available for public consumption at a later date. However, by way of kicking off DEMOCRAT here below is its mission and objectives
---
PAY ATTENTION ETHIOPIANS: NEW NATIONAL MATRIX
Defying Ethiopian Toxic Ethnic Politics
Tecola W. Hagos (11 December 2018)
I. Prolegomena - Pointing Fingers
I have never supported federalism based on ethnicism or on language for Ethiopia. I believe in a "unitary" system with guided limited local autonomous provincial administration, with few incorporated urban structures as needed. I justify my position of a unitary administrative structure based on two sold grounds: 1) the primitive state of life in Ethiopia cannot allow or sustain a modernist structure such as federalism of any kind, least of all one based on ethnic identity; 2) lack of skilled and enlightened managerial manpower and the low count of efficient second tier assistants and committed field operators to advance governmental policies and government backed projects.
---
Current Ethiopian Affairs: Ethnic Conflict, State-Level Confrontational Politics, and anti-Tigray Frenzy
Ghelawdewos Araia, PhD November 26, 2018
In this essay, I will systematically address the current messy Ethiopian affairs by employing the interpretive methodology in order to further elucidate the intricate Ethiopian phenomenon. Although I am using my own interpretation and explanation, it should be known that the interpretive method was first introduced by Max Weber in the late 19th to early 20th centuries. The interpretive method is intended to reconstruct the objective and subjective rationality, to meaningfully understand human behavior and motives, and to study social trends and problems.
---
Lalibela Should be Patronized and Renovated by Ethiopian Architects and Engineers
IDEA Editorial November 14, 2018
One of the magnificent historical sites in Ethiopia is the town of Lalibela in the north-central part of the country; and the splendid eleven rock-hewn churches in that town are a continuation of Aksumite architecture in the construction of hewn edifices; in Tigray alone there are 126 rock-hewn churches and monasteries, and it is these uniquely Ethiopian buildings, curved out of rocks with amazing mathematical precision and symmetry, that continued in Lalibela and elsewhere in Ethiopia.
---
Dear All,
Please permit me to bring to your attention that the Fascist Italian criminal, Benito Mussolini's granddaughter, Alessandra Mussolini, is threatening action against anyone criticizing her grandfather. Please note that she is a member of the European Parliament representing central Italy.
Please see attached herewith the press release by the Global Alliance for Justice - The Ethiopian Cause (www.globalallianceforethiopia.net) bringing the issue to the attention of the international community as well as demanding her resignation in view of her obvious support to Fascism.Your kind support for the signature of the international petition contained in the above website demanding an apology by the Vatican for its complicity with Fascist Italy would also be greatly appreciated.
Your support to the cause of justice for Ethiopia and the dissemination of the attached press release would be highly appreciated.
With thanks and kind regards,
Kidane Alemayehu
Executive Director
---
IN CELEBRATION OF THE 1958 ALL-AFRICAN PEOPLE'S CONGRESS
December 5-8, 2018
Revisiting the 1958 All-African People's Conference - The Unfinished Business of
Liberation and Transformation
INTRODUCTION
The year 2018 marks sixty years since the First All-African People's Conference (AAPC) was held in Accra, Ghana, to galvanize support for independence movements across the continent and nurse the seeds of Pan-Africanism among African peoples at home and abroad. For the purposes of memorializing the significance of the series of meetings that came to be called the AAPC, the Institute of African Studies (IAS),
---
The old EPRDF is dead, can its system be saved? Five steps to save the federation
by Dr. Mehari Taddele Maru
EPRDF's internal power struggles persist. Failure of the EPRDF leadership to mend its division at this Congress may lead to imminent fragmentation. The coalition is still there for the sole reason that the party is in power. It lacks a shared ideological doctrine worth standing and fighting for. Once its power base is eroded, the remaining institutional unity of EPRDF will wither away. But what may bring about such self-destruction?
---
Cracking Open Ethiopia's Political Can of Worms
Professor Desta, Asayehgn
Before cracking open Ethiopia's political can of worms, Abiy's Government must seriously plan to galvanize and reverse the flow of knowledge through the "re-integration process so that the Ethiopian returnees are gainfully employed and can participate in the social and economic development of their home country" (Desta, 2014, p. 87). However, if the Ethiopian diaspora have the desire to involve themselves for the 2020 election period, as in other African countries and as my book, "From Economic Dependency and Stagnation to Democratic Development State" (see Desta, 2014), explains, Ethiopia must consider extending dual citizenship to natural-born Ethiopian diaspora.
---
Like the Bennu-Bird, Ethiopia Must Rise from the Ashes
IDEA Editorial
September 24, 2018
Ethiopia is a great nation that has proved to itself and the world its resilience against trying circumstances and outright colonial attempts and subjugations. For this reason and other factors, the country remained a jewel in the crown for Africa and pride as well as symbol of independence for the Black Diaspora. Ironically, however the present generation of Ethiopians seem to suffer from amnesia to the greatness of Ethiopia and the patriotic pan-Ethiopian agenda of its forebears, and on the contrary they have wittingly or unwittingly embraced narrow ethno-national proclivities and practices; hence, the present ethnic-warfare that has afflicted much of Ethiopia.
---
A very constructive feedback from a very humble observer
September 19, 2018
The feedback is in response to the article entitled "The Ethiopian Orthodox Tewahedo Church: History, Doctrine, and Challenges" by Dr. Ghelawdewos Araia that was posted on November 20, 2017, and it comes from Great Britain. We are publishing the feedback with the permission of the author in its entirety and without editing, in order to maintain its originality and authenticity. For persons interested in reading the article on the Ethiopian Church, you could simply open the following link: www.africanidea.org/Ethiopian_Orthodox_Tewahedo.pdf
---
ታሪካችሁን ብታውቁ ምን ያህል አንድ ሕዝብ መሆናችሁን ትገነዘባላችሁ ልዩ መልእክት ለኢትዮጵያ ወጣቶች እና ለዩንቨርሲቲ ተማሪዎች
ገላውዴዎስ ኣርኣያ ዶ/ር September 5, 2018 ነሐሴ ፴ ፪ሺ፲
---
FINIAN CUNNINGHAM | 02.09.2018 | WORLD / AFRICA
Ethiopia – Breaking the Dam for Western Debt Slavery
Ethiopia's new Prime Minister Abiy Ahmed is moving quickly to open up the strategic Horn of Africa country to Western capital. But far from the move being seen as a progressive reform, many Ethiopians and observers are concerned that the new direction is leading the nation into "debt slavery". This is where the timing of the new World Bank funds earmarked for Ethiopia is suspicious. Those funds are likely to go into the coffers of a foreign contractor appointed to replace METEC. But it will be the Ethiopian nation that is saddled with paying off the "loan" – a debt which up to this juncture it has not had to contend with. In June, Ethiopia's Abiy made his first foreign trip to Cairo where he was warmly received by President Abdel Fattah el Sisi.
---
Professor Desta, Asayehgn
It is interesting to note that when the late Prime Minister Meles Zenawi (hereafter referred as Meles) was born, his mother, Woizero Alemash Gebre Leul, named him Negasi—"The Future King" in Tigrigna. Ironically, in opposition to his mother whose desire was to see Negasi as the future king of Ethiopia, in 1975, Negassi (also known as Legesse) joined the Tigrai People's Liberation Front (TPLF) under a pseudo name or nom de guerre, Meles (a nod to Ethiopia's most vocal student leader, Meles Tekle, who was slaughtered by the Derg in 1974), to fight against Ethiopia's military government, or Derg.
---
Ethiopia's Political Trajectory: From Meles to Abiy Ahmed. By Teodros Kiros (Ph.D.) 08/22/2018
Meles and his idea of the Developmental State had put Ethiopia on the modernity project, the central ideas of which can be summarized as follows.
The development of the Ethiopian nation must be assumed as the defining task of the State. The State must guide all the necessary components of a functional state, the economy with its central institutions including the banks, education, infrastructure and parts of civil society. All the subordinate parts of the state must follow directives articulated by the state and then processed by the appropriate functionaries of the state, most particularly the bureaucrats.
---
The Future of Ethiopia: Developmental State or Political Marketplace?
Alex de Waal
I find much of the commentary on Ethiopia's current predicament to be polarized, generalized or not sufficiently attuned to the specificsof the country's recent history. In my case, one prism through which I interpret Ethiopian developments is the analysis derived from numerous discussions that I had with Meles Zenawi between 1988 and 2012. I initially developed the framework of the 'political marketplace' as a critique of Meles's theory of the 'democratic developmental state'. In particular, I saw monetized or marketized politics as a threat to the stateled developmental order that Meles envisioned: I argued that as well as the two scenarios he envisaged, namely economic transformation versus a relapse into poverty and chaos, there was a third: a political marketplace.
---
Ethiopia in Turmoil of US, Saudi-Backed Coup, Not 'Reforms'
Nearly five months after a change in power in Ethiopia, the country is witnessing an outbreak of deadly communal violence in several regions. The surge in conflict has come after many years of political stability in the Horn of Africa nation, stirring fears that the country may be facing widespread chaos and even break-up. There have also been other deadly clashes in southern, central and western regions. Notably, the sparse Western media coverage tends to depict the violence as occurring in spite of "reformist" Abiy Ahmed. Whereas, more accurately, the surge in violence appears to be the responsibility of the new ruling faction around the prime minister.
---
Political Leadership and Political Economy in Contemporary Ethiopian Politics
Ghelawdewos Araia, PhD August 16, 2018
In this article, I will discuss the basic tenets of political leadership and political economy in the context of the current crisis in Ethiopia and in light of the ethnic-based disturbances that are quite enigmatic to explain, but for all intents and purposes it looks that ethno-nationalist tendencies and practices targeting certain ethnic groups, are artificially inseminated by some forces who wish to see Ethiopia torn apart by civil wars. I am of the opinion that these disturbances will eventually subside and the ulterior motives of the obscure forces will fail, but at this juncture of their history Ethiopians are required to stand in unison and cannot afford to stand by and watch when a nation-wide crisis hovers over Ethiopia.
---

Vision and the Politics of Ethiopianity: The leadership of Abiy Ahmed.
By Teodros Kiros (Ph.D.
National consciousness, unlike ethnic consciousness, is a cultural construct. Whereas ethnic consciousness is natural to the self, national consciousness is a product of cultural construction and is mediated by the artificial body, called the state. It is the state and its various institutions which organize citizens to develop a relationship with other ethnicities and enjoy their diversities under conditions of peace and prosperity. National consciousness is in fact nothing more than a politically organized relationship of citizens with one another as ethnically conscious members of ethnic groups. The task of the state is to be critically vigilant about Negative Ethnicity, "
---
The Killing of Engineer Simegnew Bekele will not Deter Ethiopians from Completing the Grand Ethiopian Renaissance Dam
IDEA Editorial July 27, 2018
July 26, 2018 or Hamle 19, 2010 (EC) will be remembered as the saddest day in Ethiopian history. The great Engineer and hero Simegnew Bekele has fallen victim to the enemies of Ethiopia who hired mercenaries to do their mission in obstructing and if possible halting the completion of the GERD. Ethiopia indeed has lost one of her brightest and brave sons, but the paid agents and the sponsoring governments (or political groups) are too naïve and too shortsighted to entertain such a foolish idea of deterring Ethiopians from completing the Dam by just shooting and killing the chief engineer. They may have underestimated Ethiopian resolve and resilience, two important values that are part and parcel in the corpus of Ethiopian patriotism. The murderers may have forgotten the long and rich history of Ethiopians that is directly correlated with their unflinching determination to preserve Ethiopian sovereignty, independence, and territorial integrity. It is for this apparent reason that Ethiopia is defined or perceived as the quintessential symbol of independence for Africans in the continent and in the Diaspora elsewhere in the world.
---
This great novel based on a true story, authored by Yishak Abraha, will soon be distributed for public consumption in Addis Ababa and the rest of Ethiopia as well as North America
Ethiopia and Eritrea Have a Common Enemy
Abiy Ahmed and Isaias Afwerki are racing toward peace because they both face the same threat: hard-liners in the Tigrayan People's Liberation Front.
BY BRONWYN BRUTON | JULY 12, 2018, 8:22 AM
Ethiopia's new Prime Minister, Abiy Ahmed, made headlines across the world with his surprise move last month to resolve his country's two-decade-long fight with Eritrea. The nation of Eritrea broke free from Ethiopia through a referendum in 1993, and the two nations then fought a bloody war that is thought to
have left as many as 100,000 people dead from 1998 to 2000.
---
Economic geology value of oil shale deposits: Ethiopia (Tigray) and Jordan
Yohannes Yihdego, Hilmi S. Salem, Bediaku G. Kafui & Zarko Veljkovic
ABSTRACT
Oil shale is an organic-rich, fine-grained sedimentary rock, containing kerogen, from which liquid hydrocarbons (called shale oil) can be produced. The oil shale deposits in the Tigray region are found in the northern parts of Ethiopia, Eastern Africa. They are of Upper Paleozoic in age, existing as remnants of the Cretaceous erosion period, underlain by tillites and overlain by sandstones. They were formed during the glacial retreat followed by marine deposition of shales in a basin created by the enormous load of the glaciers. The Ethiopian-Tigray oil shale deposits cover an area extending over approximately 30 km2, with an average mineable bed-thickness of 55 m, showing on the upper part inter-beds and laminations of shaley limestones. The oil shale resources in this region are estimated to be approximately 4 billion tonnes. The exploitation of the Ethiopian-Tigray oil shale deposits is an excellent alternative to fulfill the fuel and other petroleum products' demand of Ethiopia. This study sheds light on the oil shale resources in the Ethiopian region of Tigray, as they are fairly investigated, regarding their geological characterization, and future strategies for their exploration and exploitation potentia
---
The Ascendance of a New Regime and Contradictory Policies and Measures in Ethiopian Politics
Ghelawdewos Araia, PhD July 4, 2018
As always, the Ethiopian phenomenon is complicated, complex, and shrouded in mystery to say the least. Given the admixture of a lingering feudal mode of thinking (the mode of production is done away with) with unpolished and haphazard modernity (considering the exposure of Ethiopians to Western values and technology), obscurantism in the Ethiopian political culture is not surprising. Hybrid politics, however, is dangerous because it tears apart Ethiopians between the archaic framework of thinking and the relatively science-based general orientation. Ethiopians, thus, are suspended between two irreconcilable poles, and adding fuel to the fire, the present generation of Ethiopians are even in a much worse condition for the following reasons:
---
SUPREME COURT TO HEAR SUDAN'S APPEAL ON NAVY SHIP BOMBING
June 25, 2018 (GIN) – Sudan has been given the green light to appeal an award of damages for the bombing of the Navy ship USS Cole that killed and injured U.S. sailors almost two decades ago. The damages, totaling $314.7 million, were awarded as compensation for 17 American sailors killed and 39 injured in the bombing of the Navy destroyer in a Yemeni port by a band of al Qaeda fighters said to be financed by Sudan. According to reports at the time, the suicide bombers attacked the Navy ship which was in port in Aden, Yemen, for refueling. The explosion a hole in the hull of the ship.
---
13,000 AFRICANS LEFT TO DIE IN THE SAHARA AFTER EXPULSION BY ALGERIA
June 25, 2018 (GIN) – In one of the most shocking reports on the ill-treatment of refugees and asylum-seekers, the International Organization for Migration has confirmed that thousands of African migrants are being left to die in blistering desert heat after being deported by the government of Algeria and dumped in the Sahara. A new investigation by the Associated Press has prompted an avalanche of media reports although the deportations have been going on for more than a year. Amnesty International and Human Rights Watch released reports about them this year and last year but such reports received little major media coverage until now.
---
Revisiting Badme: The following two articles were authored by Dr. Ghelawdewos Araia , and for readers and researchers interested to fully understand the essence of the articles and also to make reflections on the Border Commission decision following the Algiers Agreement between Ethiopia and Eritrea in 2000, it is imperative to read: 1) No amount of jubilation can hide Ethiopia's territorial loss (2002); 2)The "Alternative Mechanism" Should Uphold Ethiopian Sovereignty and Territorial Integrity (2003) and the links for the above titles respectively are: http://ethiomedia.com/commentary/ghelawdewos_on_border_ruling.html and http://ethiomedia.com/press/uphold_ethiopian_sovereignty.html
For Interpretation Services of Ethiopian Languages (Tigrinya, Amharic) please contact the Institute of Development and Education for Africa (IDEA) by calling 203-747-2763 or writing via webmaster@africanidea.org
---
ratification and Gratitude for the Reemergence of Pan-Ethiopian Agenda & Discerning the Invisible Hand in Ethiopian Politics: Special Message to PM Abiye Ahmed
Ghelawdewos Araia, PhD May 26, 2018
The main title of the article is pretty much clear; the companion title, however, is not quite obvious and intelligible, but I will make it comprehensible to the reader when I delve into the current Ethiopian politics. As always, I will try to be objective and fair in my overall analysis and investigative discourse pertaining to the recent political change in Ethiopia.
The TGE's policy of Kilil and self-determination is commendable, but the consequence of fragmentation as a result of new wave of ethnic political consciousness, and the inability of some minority nationalities to become economically and politically viable, would ultimately preoccupy Ethiopians to otherwise unforeseen problem.
---
ሬድዮ ስኒት - እዋናዊ ኩነታት ሃገርና - June 08, 2018 - Interview with Dr. Ghelawdewo
s Araia
---
Ethiopian Observer Editorial
In his most recent article entitled Gratification and Gratitude for the Reemergence of Pan-Ethiopian Agenda, Dr. Ghelawdewos Araia proposed, among many other suggestions he presented, the erection of the fallen obelisk of Aksum. Professor Ghelawdewos is a leading Ethiopian scholar in education, international studies, political economy, and history, and a prolific writer on contemporary and current issues; he has contributed hundreds of scholarly works, not to mention his books on Ethiopia in English, Amharic, and Tigrigna. He also has written extensively on areas pertaining to his field of expertise mentioned above. Therefore his present noble idea embedded in novelty in regards to the erection of the fallen obelisk of Aksum is not surprising; what is significant in his proposal is the fact that he argues, the standing of the obelisk is tantamount to the rise of Ethiopia, or as he further extrapolates, the erection of this enormous stele will symbolically represent the emergence of Ethiopia as one of the success stories in Africa, if not the world.
---
Swapping Ethiopia's Debt for the Construction of Adwa Pan African University
Professor Desta, Asayehgn
Against odds, Ethiopian patriots won a decisive victory over the aggressive colonial Italian army at the battle of Adwa on March 1, 1896. Consequently, the Battle of Adwa helped Ethiopia maintain its sovereignty while inspiring other African countries that had been defeated and divided by European colonizers. After the victory, Ethiopia served as a role model for the entire black race, even inspiring other colonized countries worldwide to repulse aggression with dignity and to assert their own independence. For instance, Japan employed several of Ethiopia's heroic strategies from the Battle of Adwa to liberate itself from Russia's aggression in 1904 (Levine, 2014). More importantly, the Battle of Adwa forced the Italian invaders to shed their long-held and false illusions about the black race.
---
At African Confab, a Call for Justice for Children
By Global Information Network
Children are very much on the political and public agenda in Africa today. The African Union has adopted a charter to protect them and a mechanism to hold governments accountable for the fulfilment of their rights. Even so, the reality on the ground is somber and sobering. The number of child prisoners in Africa is in the thousands, and may even be as high as 28,000.
Against this background, children's rights defenders, campaigners, lawyers, academics, journalists, ministers, policy-makers and law-makers are gathering this week in Addis Ababa, Ethiopia, for the Continental Conference on Access to Justice for Children in Africa. A new report – "Spotlighting the invisible: Access to Justice for Children in Africa" – reveals how children across the continent are denied access to justice and paints a distressing picture of discrimination, inadequate funding, poor training, unaccountable traditional justice systems and slow progress on children's rights.
---
DEBATE HEATS UP OVER SOUTH AFRICAN 'WHITE PRIVILEGE'
May 7, 2018 (GIN) – Members of the opposition Democratic Alliance are reportedly squabbling over a casual remark by the head of the party, Mmusi Maimane, who observed that white privilege and black poverty were critical issues that needed to be addressed.
"I firmly stand by comments I made on Freedom Day," Maimane tweeted on Sunday. "South Africa remains deeply unequal, with black South Africans locked out of opportunities. We must focus on solving the problem. Liberation of one race is not the enslaving of another - all of us, black & white, must come together to build one South Africa for all."
Freedom Day is a public holiday tha commemorates the first post-apartheid elections in 1994
---
Zimbabwean's Cheer a Musical 'Lion' Returning From Exile
By Global Information Network
After 14 long years in the U.S. state of Oregon, singer, composer and bandleader Thomas Mapfumo has come home to Zimbabwe. His recent performance, for some 20,000 ticket holders at the open-air Glamis Arena, only slowed down as the sun began to rise.
"I thought maybe I wasn't going to be able to come back here while I was still alive," Mapfumo confessed. "But by the grace of God, I'm here After running afoul of former president Robert Mugabe, Mapfumo, known by his totem name Mukanya, took the painful decision to leave the country for the U.S., playing his last show in 2004.
---
---
Ethiopia is now Africa's fastest growing economy
By Chris Giles, CNN
CNN) Ethiopia, Africa's second most populated country, is forecast to be the fastest growing economy in Sub-Saharan Africa this year, according to new data from the IMF. Ethiopia's economy is predicted to grow by 8.5% this year. The figures signal continued economic expansion following a long period of impressive growth. In the last decade, Ethiopia has averaged around 10% economic growth, according to the IMF. To boost the economy, the country is pursuing a number of large-scale infrastructure projects, including the Grand Renaissance Dam and a railway network.

---
Winnie Madikizela-Mandela: The world reacts to the death of a lioness

Easter Monday saw the death of a South African woman so famous she could be referred to by just one name: Winnie. In the hours following the confirmation of Winnie Madikizela-Mandela's passing at 81, tributes and reaction locally and from around the world poured in to honour – and sometimes criticise – the anti-apartheid icon. By REBECCA DAVIS and BHEKI SIMELANE. 1
The crowd of mourners gathered outside Winnie Madikizela-Mandela's Soweto home on Monday evening was evidence of a woman who remained adored by millions of South Africans until the end of her life. The crowd of mourners gathered outside Winnie Madikizela-Mandela's Soweto home on Monday evening was evidence of a woman who remained adored by millions of South Africans until the end of her life. 2 "I always wished to meet her," Soweto resident Zakhele Shabala lamented."It will take eternity to get someone like her. We aspired to have a female president because of her."
---
Possible Challenges for the Newly Elected Prime Minister of Ethiopia
Professor Asayehgn Desta
Last Tuesday, March 27, 2018, the Ethiopian Broadcasting Corporation announced Dr. Abiy Ahmed's landslide election to Chair the ruling party, the Ethiopian People's Revolutionary Democratic Front (EPRDF). Voters elected Dr. Abiy assuming he was a progressive voice, a reformist, cue-taker, open to suggestion, and because he has a proven ability to divert profound social crises in his hometown, a point he developed into his doctoral dissertation. Despite Prime Minister Hailemariam's resignation and the public's opposition to the government's state of emergency declared in February 16, 2018 tailored to uphold the rule of law and stem a wave of anti-government protests, the Oromo youth's anti-government protests that emerged in late 2015 and gradually spread to the northern part of the Amhara region of Ethiopia, demanding more political inclusion, economic equality and social justice. Thus, protesters temporarily suspended changes in decision-making process immediately after Dr. Abiy's victory (Quartz Africa, Feb, 16, 2018)
---
IDEA Hails the Africa Continental Free Trade Agreement (AfCFTA)
IDEA Editorial March 30, 2018
Ghelawdewos Araia, PhD
We at the Institute of Development and Education for Africa (IDEA) are delighted to witness the launching of the continental free trade area that would, in effect, supersede all existing regional blocs like ECOWAS, SADC, COMESA, etc without contradicting or contravening the mission and objectives of the latter. At long last, the Africa must Unite motto of the 1958 Accra conference, then attended by only eight independent African countries, will become a reality. On May26 1963, the pan-African movement to unite Africa culminated in the signing of the OAU Charter by 31 African countries. The OAU became AU (African Union) in May 26 2001, and between the establishment of the Organization for African Unity (OAU) and AU, a significant number of regional organizations were founded, but the idea of integrating the entire continent was conceived long before the AfCFTA was signed by forty-four African countries on March 21, 2018 at Kigali, Rwanda.
---
Dr. Ghelawdewos Araia shares his opinion on Ethiopia's Political transition and future path after the recent resignation of its PM, domestic violence, and security challenges.
Dr. Araia, recently published an article recent and offered the following recommendations for the government to consider:
The Government and the legally operating opposition parties in Ethiopia should enter dialogue with the sole purpose of fostering national unity and retooling Ethiopian nationalism while at the same time de-emphasizing ethnic politics. If this kind of national reconciliation is tried, it should be done in public in which the Ethiopian people also become participant-observers. This would also be a momentous historic event at unleashing a political culture of toleration and inclusiveness and a reflection of the ideals and sentiments of the Ethiopian nationhood.
GHANA GOLD MINERS THREATEN NATIONAL WALKOUT OVER PROFIT-DRIVEN MINING LAYOFFS
Mar. 13, 2018 (GIN) – A South African mining company with a long-term contract to extract Ghana's precious gold reserves is facing nationwide strikes after it announced plans to outsource some 2,000 jobs from their operations in Ghana.
Gold Fields Ghana, which holds leases for 51,500 acres, produces about 550,000 ounces of gold per year at its Tarkwa mine and employs directly and indirectly about 8,000 Ghanaians, said that outsourcing would enable the firm to remain profitable.
But plans to vacate contracts with thousands of workers were rebuffed as "horrifying" by Ghana's Trades Union Congress (TUC) "given the already precarious employment situation." The corporation's maneuvers to protect profits are also meeting strong resistance from the Ghana Mine Workers Union which has charged Gold Fields with "acts of corporate greed at the expense of Ghanaian mine workers. "In an interview with the news site Fin24, Prince William Ankrah, the 16,000-member union's general secretary, laid down the gauntlet. "We cannot allow this to happen, all the reasons given by Gold Fields are flawed," Ankrah declared.
---
IN A SURPRISE TWIST, SIERRA LEONE OPPOSITION TAKES THE LEAD IN ELECTION COUNTDOWN
Mar. 12, 2018 (GIN) – An opposition candidate has taken the lead out of a field of 16 hopefuls in a tight presidential race. If neither candidate receives 51% of votes cast, a runoff is required.
Earlier in the day, presidential candidate Julius Maada Bio of the opposition Sierra Leone People's Party scored 848,438 (43.3%) votes cast while the candidate of the ruling APC (All People's Congress), Samura Kamara, was behind with 833,519 votes (42.6%).
Recounts have been ordered for 154 of the nation's 11,122 polling stations. In a grueling campaign, candidate Kamara ran on a record of building roads and connecting electricity during his party's 10 years in office. But the APC was tarnished by claims of corruption, mishandling of the 2014 Ebola epidemic and a massive mudslide last year that killed over 1,000 people on the outskirts of Freetown.
---
STATE DEPT'S AFRICA VISIT TO 'REAFFIRM PARTNERSHIPS' IS CUT SHORT
Mar. 12, 2018 (GIN) – An extended visit to Africa this month by the U.S. Secretary of State to mend fences after the President's crude description of African and Caribbean countries was cut short this week by pressing issues at home, most likely including the President's unexpected overture to North Korea.It was the first tour of the continent by Secretary of State Rex Tillerson and he took tough questions about the President's remarks. "Those statements shocked almost all Africans," Chadian Foreign Minister Mahamat Zene Cherif said at a press conference next to Tillerson, but added, "We made efforts on either side to move ahead and look at the future with optimism." Quietly, however, Chadian President Idriss Déby made his anger known about his country being targeted in a Muslim travel ban despite close working relations between the two countries on anti-terrorism.
---
Ethiopian Jews threaten mass hunger strike over Israel move
By ELIAS MESERET, ASSOCIATED PRESS ADDIS ABABA, Ethiopia — Feb 28, 2018, 2:31 PM ET
In an emotional gathering, representatives for thousands of Ethiopian Jews announced Wednesday they will stage a mass hunger strike if Israel eliminates funding to allow them to join their families in that country.
Hundreds met at a synagogue in Ethiopia's capital, Addis Ababa, to express concern that Israel's proposed budget removes the funding to help them immigrate to reunite with relatives. Many held photos of their loved ones.
Most of the nearly 8,000 Ethiopian Jews in the East African nation are said to have family members already in Israel. Some told The Associated Press they have been separated for well over a decade.
---
Misreading History and Political Science and the Exigency of Smooth Power Transition in Ethiopia
Ghelawdewos Araia, PhD February 18, 2018
Any given society, including our own Ethiopian society, must be examined in the context and methodological framework of history and political science, because the two social science disciplines can effectively dissect and analyze the nature and characteristics of systems and phenomena. As Charles Tilly and Robert E. Goodwin aptly put it, "the ultimate aim of political science is to identify general laws of political process that cut across the details of time, place, circumstances and previous history." Furthermore, these scholars tell us that "knowledge of historical context provides a means of producing more systematic knowledge of political processes."1 It is this kind of methodological rigor that is clearly missing in the Ethiopian Diaspora charlatan groups. They have heavily depended on the ethnic factor to explain present Ethiopian politics, and as a result they have completely misread history and political science. Consequently, they have made wrong diagnosis of the Ethiopian reality and singled out Tigrayans from other Ethiopians in an attempt to isolate and target Tigrigna-speaking Ethiopians. The Diaspora opposition attempted to construct a rational analysis of the Ethiopian political ....
---
Retrospective and Prospective Analysis of
Ethiopian University Student Activism for Diversity Curricula
Asayehgn Desta, Sarlo Distinguished Professor of Sustainability
Dominican University of California
Following the dismantlement of the Military Junta—the "Derg"—in 1991, the Ethiopian People's Revolutionary Democratic Front (EPRDF), a product of the 1960s and 1970s, Addis Ababa University's university student movement and an adherent of Marxism and Leninism ideology came to power; it vigorously embarked on actualizing the self -determination of the various Nations, Nationalities and Peoples of Ethiopia. That is, in contradiction to the socialization process of the ancient regime and the military Junta who favored a centralized type of government, after coming to power, the EPRDF propagated and endorsed an ethnic-based federal type of government structure in Ethiopia (Hailemariam, 2017).
---
Managing Ethiopia's political crisis
by Goitom Gebreluel & Biniam Bedasso 
7 Feb 2018
Nemera Mamo is a co-author of this article. He is a teaching fellow at SOAS, University of London.
Ethiopia has been experiencing recurrent mass protests, riots and ethnic conflicts over the past two years that have claimed the lives of thousands and displaced hundreds of thousands.
These events have led observers and members of the ruling Ethiopian People's Revolutionary Democratic Front (EPRDF) to conclude that the very survival of the Ethiopian state is at stake. State collapse is so far an extreme and unlikely scenario given that the conflicting parties are internal actors in the system and have a vested interest in its survival. A more likely but still dangerous scenario is a long-term vicious cycle of political conflict and economic stagnation that cripples state and society.
---
Geopolitical Laboratory
How Djibouti Became China's Gateway To Africa
Djibouti, one of Africa's smallest countries, has become China's "strategic partner." The Chinese have built a military base and a port, and is currently constructing a free trade zone, fast establishing it as Beijing's gateway to the continent. A police car appears in a cloud of red dust on the dirt road between the boulders. A young man in uniform opens the window and starts grousing in French. The Chinese men he is rebuking don't understand any of it, but slowly realize where the anger is coming from. They had forgotten to register with the sentry guarding the entrance to the large construction site above the coast.
---
Institute of Development and Education for Africa (IDEA)

Revising and Reposting a 2005 Article in 2018

This article in Amharic was first published in 2005; we are now reposting it in February 3, 2018, because its content very much reflects the current crisis surrounding ethno-nationalism and the psychology of ethnic affiliation vis-à-vis the overarching Ethiopian national identity. Moreover, it looks that some of the ideas incorporated in the article such as "one cannot chose to be born in this or that ethnic group" has now resonated among Ethiopians, ranging from youth and adult to Gospel preachers. I personally am gratified that at long last the present Ethiopian generation has begun articulating the necessity and significance of pan-Ethiopian agenda, and hopefully Ethiopia will make a transition from mono-ethnic regional states to multi-ethnic entities. In order to have a good grasp of the essence of the old article, I urge that readers read between lines and make sense out of it while at the same time use it for their respective discussion circles and/or forums as well as social media networks. Please read the article in its entirety by opening the following link: www.africanidea.org/Doc5.pdf
---
Nearly 40 years ago, in his mid-twenties, Dr. Amare Tegbaru wrote this historical novel, which contains Vol I & II, while on death row, from 1978–1982, in a maximum-security prison. He was jailed during the bloody military dictatorship of Colonel Mengistu Haile Mariam. Despite his agonizing wait for the death squad that could appear to take him at any moment, he dared to write on discarded cigarette packets and newspapers. What makes Yandit Mider Lijotch, a fictional historical novel a memorable classic is its clear eyed honesty and integrity. It paints almost photographic images of that battlefield along with the freedom fighters' turbulent emotions around the survival of an independent Ethiopia. The urban poor—workers and children—normally ignored in the literary history of Ethiopia are given prominent roles. The novel offers a deeper understanding of the role of women, the challenge of male supremacy and the complicated issues of gender equality in family and societies.
---
Observing and Analyzing the New Egyptian-Ethiopian Accord with Cautious Optimism
Ghelawdewos Araia, PhD January 26, 2018
I am optimistic by nature, but given the jittery politics and unfathomable political discourse and diplomacy of the Egyptian leaders, I like to observe and analyze the recent meetings and subsequent agreement reached between Egypt and Ethiopia with cautious optimism. There is no doubt that both sides, that is, the Ethiopian and Egyptians diplomats, were satisfied by the outcome of the three-day meeting (beginning January 16, 2018) and discussions wrought in an effort to iron out differences. After he returned home, the Ethiopian Prime Minister Hailemariam Desalegn, for instance, told Ethiopian journalists that he was personally gratified with the agreements reached on various cooperative agendas; he underscored that both countries have agreed to cooperate in many sectors including agriculture, industry, health, education, and tourism. Beyond these sectors, both countries have also agreed to work together and create synergy in some (e.g. tourism) in sectors such as investment, mining, electricity, water resources, and culture.
---
A major geopolitical crisis is set to erupt over who controls the world's longest river
When Ethiopia's prime minister Hailemariam Desalegn visits Egypt this week to discuss bilateral cooperation in sectors like health, education, and agriculture one contentious issue will stand out: the completion of Africa's largest dam.It is no secret what Egypt thinks about the Grand Ethiopian Renaissance Dam (GERD), the centerpiece of the Horn of Africa nation's bid to become Africa's biggest exporter of electricity. From the get-go, Egypt was opposed to the idea of the dam, and politicians including former president Mohamed Morsi were caught on air proposing military action against Ethiopia.
---
Ethiopia's lawmakers approve ban on foreign adoptions
By Elias Meseret
ADDIS ABABA, Ethiopia — Ethiopian lawmakers have approved a ban on foreign adoptions amid concerns about mistreatment of children overseas. The approval came after rare heated debate as some lawmakers worried that the East African nation does not have enough child care centers to handle the effects of the ban. Ethiopia had been among the top 10 countries for adoptions in the United States, according to State Department figures released last year. Actress Angelina Jolie is among the people who have adopted a child from the country. For more reading :
"We can't be Silent on the Reality Surrounding Abused Ethiopian Adoptees: Appeal to Diaspora Ethiopia an the Ethiopian Government"
Institute of Development and Education for Africa (IDEA)
---
Ethiopia frees all political prisoners and closes notorious Maekelawi jail in surprise decision
Ethiopians were quick to respond, even with social media sites currently blocked
Elias Meseret Addis Ababa, Ethiopia
In a surprise move, Ethiopia's leader on Wednesday announced plans to drop charges against political prisoners and close a notorious prison camp in what he called an effort to "widen the democratic space for all."
Prime Minster Hailemariam Desalegn's comments came after anti-government protests engulfed much of the restive Oromia and Amhara regions in recent months, bringing many businesses, universities and transport networks to a standstill. The protests spread into other parts of the East African country, leading to a months-long state of emergency that has since been lifted
---
Reflections on The Ethiopian Condition.
BY Tedros Kiros (Ph.D.)
A few years ago, I wrote sustained articles on the Idea of Ethiopianity, the corner stone of Ethiopian Pride, manifest in the classical battle at Adwa, where our Ethiopian ancestors gave their lives, so that we Ethiopians can live in dignity and prosperity.  I would like to refuel the engines of Ethiopianity on which I have contributed.
---
Book Review
Dr. Fongot Kini-Yen Kinni is Dean of the Faculty of Law and Deputy Vice Chancellor of Research and Cooperation at Bamenda University of Science and Technology, Cameroon. He is a prolific researcher, writer, designer, artist, musician, philosopher and poet, who has travelled widely in Africa and the world.
Kinni, Fongot Kini-Yen. Pan-Africanism: Political Philosophy and Socioeconomic Anthropology for African Liberation and Governance, Research and Publishing CIG, Bamenda, Cameroon, 2015, Volumes 1-3, ISBN: 9956762768.
This work is a paramount contribution to humanity. This is a three-volume set that documents the history and trajectories of the worldwide ideological movement of Pan-Africanism. Kinni argues that the universal unity of the movement to fight racism and oppression with self-determination and liberation is an unbreakable force for social change that remains pertinent and alive today.
Kinni uses historical records and anthropological perspectives of cultural and socioeconomic diversity to collect and spread through this work, the struggles of Africans and people of African descent across the world,
---
Now a days I have been seen driving
A Mercedes downtown.
People gaze at me with puzzled looks--
The Mercedes Benz speaks to them;
I don't know what it evokes,
---
BILLIONAIRE CYRIL RAMAPHOSA PICKED AS NEW AFRICAN NATIONAL CONGRESS LEADER
Dec. 18, 2017 (GIN) – After a bruising battle for votes within the governing African National Congress, billionaire tycoon Cyril Matamela Ramaphosa edged out his rival in the final minutes of the ANC's 54th national elective conference in Johannesburg, opening the prospect of his winning the presidency in 2019. Ramaphosa, 64, won in a squeaker against Nkosazana Dlamini-Zuma, one-time minister, doctor, and former chair of the African Union Commission who campaigned on a platform of youth development and "radical economic transformation" aimed at transferring more wealth to the black majority. In the final days before the vote, President Zuma also added his pledge to make higher education free for all South Africans.
There were 2,440 votes for the business-friendly Ramaphosa to Dlamini-Zuma's 2,261, indicating not only the closeness of the race but also the deep divisions within the party after 10 years under President Jacob Zuma.
---
AN ALARMING RISE IN DEPORTATIONS FOR SOMALI-AMERICANS IN MINNESOTA
Dec. 18, 2017 (GIN) – As bombs rain down on Mogadishu, officers of the U.S. immigration service have been stalking the Somali expat community in Minnesota, snatching suspected immigrants without documents to the distress of families there.
Among those recently placed on a plane bound for Somalia was Mohamed Hussein, according to a report by Minnesota Public Radio. Hussein arrived in Minnesota as an infant more than 20 years ago. Somalia is a country he's never seen and where he knows no one.
---
CONTROVERSIAL KENYAN ADVOCATE OF GENETICALLY MODIFIED SEEDS PASSES IN BOSTON
Dec. 18, 2017 (GIN) –The Kenyan director of the Science, Technology and Globalization Project at Harvard University, Professor Calestous Juma, passed away in Boston, Massachusetts, this week, after a brief illness. He was 64. At the time of his passing, Juma served as Professor of the Practice of International Development, and was affiliated with the Belfer Center for Science and International Affairs, the Center for International Development, and the Mossavar-Rahmani Center for Business and Government. The Harvard Kennedy School recalled Juma as a widely acclaimed academic whose research and writing focused on science, technology, and environment, and on the ways in which they could be harnessed to improve the lives of people. He won multiple international awards for his work on sustainable development, and was named among the 100 Most Influential Africans for 2016 by New African magazine.
---
Trends and Patterns in Contemporary Ethiopian Politics Ghelawdewos Araia, PhD December 13, 2017
Time and again I addressed and seriously underscored the significance of Ethiopian unity, because from day one since the ascendance of the EPRDF to power, I sensed a political program that could possibly undermine the unity of the Ethiopian people and subsequently the fragmentation of the Ethiopian nation-state. This concern of mine, shared by multitude of Ethiopians, was expressly stated in my debut book published twenty-two years ago, and it goes as follows: The TGE's policy of Kilil and self-determination is commendable, but the consequence of fragmentation as a result of new wave of ethnic political consciousness, and the inability of some minority nationalities to become economically and politically viable, would ultimately preoccupy Ethiopians to otherwise unforeseen problem.1
---
Is the Tigrai People's Liberation Front a Communist Party? A Brief Review
Professor Desta, Asayehgn
Since the oust of the brutal socialist military dictatorship from power in 1991, a large portion of the Ethiopian people have desired and dreamed living in a democratic system of government rather than a communist-dominated government. The Ethiopian people wished their country's democratic system would entertain 1) free and fair elections; 2) active participation of the Ethiopian citizens in politics and civic life; 3) protection of the human rights; and 4) the existence of rule of law, in which the laws and procedures of the country apply equally to all citizens (See for example, Stanford University, 2004).
The Ethiopian elites redefined the transitional Ethiopia's political and social structure. Starting with the formation of the Ethiopian Constitution in 1994, the Ethiopian government was forced to cope with new realities and to seek its own path toward the formation of the Federal Democratic Republic of Ethiopia.
---
---
---
Ethiopian Orthodox Tewahedo Church: History, Doctrine, and Challenges
Ghelawdewos Araia, PhD November 20, 2017
ኢትዮጵያ ታበጽህ እደዊሃ ሃበ እግዚአብሔር
መዝሙር ዳዊት ፮ ፰: ፫ ፩ Psalm 68:31Given the present challenges the Ethiopian Orthodox Tewahedo Church (henceforth EOTC) has encountered, this article intends to critically examine the internal and external foes of the Church and expose the agent provocateur mission to emasculate and if possible destroy the EOTC, and I will do so by way of discussing the history, doctrine, and challenges of the Church. However, at the outset, I like to make my position clear that I happen to be a scholar and a professor but not literati in theology; in fact, admittedly, my knowledge of theology is minimal and negligible, to say the least. Moreover, I would like to make it clear that I will not apologize to anyone for defending the EOTC, and it is for the following reasons:
---
China Poly Sees Ethiopia Gas Exports by 2019, Minister Says
By Nizar Manek
China Poly Group plans to start exporting natural gas from Ethiopia's eastern Ogaden basin by mid-2019 as it continues to explore near the border with Somalia, Petroleum Minister Motuma Mekassa said.
Shipments from the Calub and Hilala fields will be exported along a 700-kilometer (435-mile) pipeline to a port complex being built in neighboring Djibouti, Motuma said in an interview in the capital, Addis Ababa.
"They want to export the gas to Asia," Motuma said.
---
Proportional Representation Electoral System: The Pathway to Democratizing the Ethiopian Constitution and Mitigating Ethnic Conflict
Desta, Asayehgn, Professor, Dominican University of California
Given the widespread and outrageous repression prevalent in Ethiopia during the Derg's era, Ethiopians had no other choice but to welcome the guerilla fighters that have been fighting to overthrow the dictatorial military government for more than fifteen years. After the military government was dismantled, with little or no consultation of the Ethiopian masses, the emerging Ethiopian People's Revolutionary Democratic Front (EPRDF) instituted an ethnic federation to form the current Federal Democratic Republic of Ethiopia.
---
DIRECTOR OF WORLD HEALTH BODY CANCELS JOB OFFER TO ZIMBABWE PREZ
Oct. 23, 2017 (GIN) – The Ethiopian director-general of the World Health Organization has rescinded his appointment of Pres. Robert Mugabe as Goodwill Ambassador after four days of heavy international pressure. Tedros Adhanom Ghebreyesus, whose own appointment sparked controversy in his home country, had appointed the Zimbabwean leader to the ceremonial position of honor. Tedros, who goes by his first name, apparently was unprepared for the firestorm the appointment would ignite.
"I have listened carefully to all who have expressed their concerns, and heard the different issues that they have raised," he said in a statement issued Sunday. "I have also consulted with the Government of Zimbabwe and we have concluded that this decision (to rescind the appointment) is in the best interests of the World Health Organization.
---
Manufacturing of Eco-friendly Textiles: A Case Analysis of an Industrial Park in Mekelle, Ethiopia
Desta, Asayehgn, Sarlo Distinguished Professor of Economic Development, Barowsky School of Business, Dominican University of California
Hadush Berhe, Assistant professor of Industrial Engineering, Ethiopian Institute of Technology, Mekelle University
Introduction
Because of extensive growth in infrastructure (roads, schools, railways, water, electricity), and the booming construction industry, Ethiopia's Gross Domestic Product (GDP) had grown at the rate of 10% per annum from 2003/04 to 2014/15. At the same time, as measured by the international poverty line of less than $1.90 per day, the poverty trends in rural and urban areas of Ethiopia have decreased from 55.3% in 2000 to 33.3% in 2011 (World Bank. 2017).
---
Here is why the Grand Ethiopian Renaissance Dam (GERD) won't be a Danger to Egypt's Water Necessity
Ghelawdewos Araia, PhD October 7, 2017
This essay, in effect, is a response to a recent USA Today special piece entitled "Here is Why Egypt's Nile River is in Danger" and contributed by Jacob Wirtschaffer on September 27, 2017.
Time and again, I have scribbled on the Nile issue pertaining to the concerns of Egypt with respect to shortage of flow of water as a result of the GERD construction in Ethiopia. To some extent, Egypt's concern is legitimate because the country would simply cease to exist without the Nile; the Nile indeed is the lifeline of the Egyptians and it is not without reason that the ancient Egyptians of Kemet worshipped the god of the Nile named Hapi. However, Egyptian politicians, for the most part, are jittery when it comes to the waters of the Nile and their concern is overblown and out proportion, and at times they exhibit unnecessary and infantile provocation against Ethiopia.
---
Geez Qene Translations
1 Eጣነ ሞገር/Etane Moger (Casting Incense)
---
BOOK REVIEW By Solomon E. Gebre Selassie
DELIVERANCE: A Tale of Colliding Passions and the Muse of Forgiveness
Author: Professor Bereket Habte Selassie
Publisher: Red Sea Press
Published: 2017
Pages: 330
This is a book essentially about the Ethiopian People's Revolutionary Party (EPRP). The author is no stranger to most Ethiopians and Eritreans. He held several positions of power in Ethiopia, such as Attorney General, Associate Justice of Ethiopia's Supreme Court, Vice Minister of Interior, and Mayor of the Eastern Ethiopian City of Harer. After switching sides by going over to Eritrea, he was mostly known as the principal architect of Eritrea's constitution which never saw the light of day. After a falling out with the Isayas regime, he is currently Professor of African and Afro American studies at the University of North Carolina at Chapel Hill, and he also teaches at the School of Law there.
---
IDEA Editorial on Current Politics in Ethiopia and Kenya

September 20, 2017

Precautionary Measures in Ethiopian Politics can Mitigate and/or Overcome Local and Regional Conflicts

Compared to conflict-ridden countries like Somalia, South Sudan, and the Democratic Republic of the Congo, Ethiopia is by far stable and peaceful, although the country has never been free of conflicts in its enduring long history; a good example of ethnic conflict in Ethiopia is very much reflected by the present Oromo-Somali territorial disputes and confrontations. Long before the regional states were established, there were intermittent conflicts between the many transhumance of Ethiopia, and the present conflict between the Oromo and Somali Ethiopians could have been exacerbated by the pastoral mode of production of the two peoples; more specifically and arguably, the Oromo-Somali confrontations are manifestations of disputed grazing areas and water sites (wells and streams). This IDEA editorial is interested in exploring the brief history of the conflicts and concludes with a possible permanent resolution to the conflicts.
---
KENYA, GOING GREEN, SLAMS THE DOOR ON PLASTIC BAGS Aug. 28, 2017 (GIN) – If it's a choice between suffocating seabirds, strangling turtles or the convenience of a plastic bag, Kenya is taking the side of marine animals.
Starting this week, citizens producing, selling or even using plastic bags will risk imprisonment of up to four years or fines of $40,000. It's the world's toughest law attacking plastic pollution which threatens land and sea.
Throughout Kenya, plastic bags are found everywhere — on roofs, on walls and clogging drainage. Kenyans are estimated to use 24 million bags a month.

WILL AFRICA'S RICHEST MAN 'MAKE AMERICA GREAT AGAIN'?
Aug. 28, 2017 (GIN) – Alhaji Aliko Dangote, the 60 year old Nigerian cement tycoon, has his eye on new investment prospects and is tempted by U.S. opportunities in renewable energy and petrochemicals.
"Let's say that by 2025, I'm looking at (investing) between $20 billion and $50 billion outside Africa. Mind you, we don't do small things," said Dangote, who is worth $11.1 billion, according to Bloomberg's Billionaires Index.
Dangote Group will consider investments in Asia and Mexico, but will focus mainly on the U.S. and Europe, he said. "I think renewables is the way to go forward, and the future. We are looking at petrochemicals but can also invest in other companies."
Over the last five years, Dangote diversified both geographically and into new industries. Dangote Cement Plc, which accounts for almost 80 percent of his wealth, has expanded into nine African countries aside from Nigeria. In 2015, he began building a 650,000 barrel-a-day refinery near Lagos, Nigeria's main commercial hub, and he's constructing gas pipelines to the city from Nigeria's oil region with U.S. private equity firms Carlyle Group LP and Blackstone Group LP.

ANGOLAN RULING PARTY DECLARES VICTORY BUT OPPOSITION FAILS TO AGREE
Aug. 28, 2017 (GIN) – The party that ruled Angola for nearly four decades, amassing a vast fortune from the production of oil while its 29 million citizens were consigned to poverty, declared victory in last week's national elections – but victory was not sweet.
The nation's two largest opposition parties rejected provisional results in which the incumbent Popular Movement for the Liberation of Angola (MPLA) received a majority of votes.
---
FinTech is Accelerating the Digital Transformation of Banking in Africa
Due to their potent blend of trail‐blazing technology and disruptive innovation, FinTech players have the ability to accelerate the digital transformation of financial services in Africa and, in turn, further spur incumbent banks to rapidly ramp‐up their own innovation initiatives to meet the financial needs of under‐served markets across the continent.
August 2017, Addis Ababa, Ethiopia: FinTech players are increasingly becoming an important part of the fabric of Africa's financial services ecosystem and the leading banks on the continent are now more urgently seeking to harness technology innovations, collaborate with FinTech start‐ups, and create a platform to scale much faster – to make digital financial services pay.
---
---
With Sukuk & Innovation Driving New Growth Momentum, the Prospects for Islamic Finance in Africa Look Increasingly Promising
Despite being in the early phases of development, the Islamic finance industry in Africa is fast gaining the attention of key stakeholders including central banks & regulatory authorities, as well as the leading international Islamic financial institutions and investors seeking to tap into high-growth opportunities on the continent
Wednesday 9th August 2017, DJIBOUTI: The footprint of Islamic banking in Africa is set to expand further as the continent seeks to deliver on the economic and strategic opportunities provided by Shariah‐compliant financing. Sukuk has emerged as a viable and strong source of attracting international funding for infrastructure projects in Africa and the continent has recently witnessed a surge of successful Sukuk debuts.
---
KENYAN TEENS HEAD FOR SILICON VALLEY WITH 'APP' TO END FGM
July 24, 2017 (GIN) – When historians write Africa's digital story, Kenya will likely assume its place as the cradle of the internet revolution on the continent.
ELECTION RACES TO WATCH – KENYA, RWANDA AND ANGOLA
July 24, 2017 (GIN) - Major elections are taking place in three African nations next month: in oil giant Angola, East African powerhouse Kenya and tiny, rapidly developing Rwanda. Rwandans go to the polls August 3-4. The undisputed favorite is the longtime president who has ruled since the end of the tiny nation's horrific 1994 genocide.
HATE SPEECH ROILS MINNEAPOLIS AFTER POLICE SHOOTING OF WHITE WOMAN
July 24, 2017 (GIN) – Somali-American activists are denouncing the recent outbreak of hate speech, Islamophobia and xenophobia linked to the fatal shooting of a white Australian woman by a Somali-American police officer.
---
VENDORS IN TEARS AS ZAMBIA'S BIGGEST OUTDOOR MARKET BURNS
July 10, 2017 (GIN) – A fire of unknown origins raced through the largest outdoor market in Zambia, destroying the livelihood of its many vendors. Goods worth millions of kwacha – the Zambian currency – have gone up in flames.
Images on social media show how the fire which began July 4 and was barely extinguished by July 7 destroyed the Lusaka market
---
Djibouti asks AU to deploy observers along its disputed border with Eritrea
By Aaron Maasho | ADDIS ABABA
Djibouti has asked the African Union to deploy observers along its disputed border with Eritrea after Qatar withdrew its peace-keeping troops two weeks ago, the Djibouti foreign minister said on Monday.
The Qataris were sent to the region after clashes broke out between Eritrea and Djibouti in 2008, but they were pulled out without warning on June 14. gave no reason for the withdrawal, but it came days after both Djibouti and Eritrea sided with Gulf Arab nations that had broken off relations with Qatar.
---
21st Century Ethiopian Politics should be Reoriented Toward National Reconciliation and a Home Grown Ideology
June 28, 2017
This article intends to address the current complex and complicated Ethiopian politics in Ethiopia and the Diaspora by way of infusing theoretical explanations and furnishing some ideological tenets for the sake of clarity and for overcoming the dearth of political culture amongst the Ethiopian political groupings at home and the Diaspora. Furthermore, this article will attempt to diagnose the prosaic and disillusioning realities that have now afflicted much of the Ethiopian Diaspora and some opposition groups in Ethiopia.
Let there be Light all Over Africa
Ghelawdewos Araia, PhD
June 20, 2017This article is partly inspired by the May 3-5 2017 World Economic Forum (WEF) for Africa that was held in Durban, South Africa, and partly by the overall promising progress African countries are making in spite of the fact that we still witness enormous challenges for the continent, especially in overcoming poverty, illiteracy, disease, and instability in some pockets. However, this essay is mainly inspired by the 'Electrifying all of Africa' panel, which was part of the WEF Africa conference.
---
FinTech and the Positive Transformation of Banking in Africa
The impact of Blockchain, Open Banking, Mobile Money and Payments innovation are radically transforming the financial services landscape as FinTech disruptors intensify the challenge to Incumbent Banks in Africa and kickstart new opportunities
25th May 2017, Addis Ababa, Ethiopia: The unique environment for financial services in Africa is fertile ground for innovative FinTech players who are capitalizing on the opportunities to disrupt or leapfrog established business models to make financial services more affordable, accessible and profitable across the continent.
---
---
MALIAN 'CARDINAL OF PEACE' IS ELEVATED BY THE POPE
UNPLEASANT SURPRISE UNVEILED FOR WEST AFRICANS IN AMERICA – YOU'RE DEPORTED
NIGERIA'S FIVE WEALTHIEST MEN COULD END POVERTY IN THAT COUNTRY – OXFAM
NIGERIA'S ABDUCTED GIRLS REUNITED WITH PARENTS AT LAST
---
Illusion or Reality: Is the town of Adwa growing in Leaps and bounds?
Professor Asayehgn Desta
On March 1, 1896 Ethiopian patriots achieved an unprecedented triumph against Italy's aggressive colonization at the Battle of Adwa. It is exciting to know that the honorable Prime Minister of Ethiopia, Ato Haile Mariam Desalgne has laid down a commemorative monument dedicated to the establishment of the Adwa Pan-African University 120 years after this historic battle. Although the infrastructure in Adwa is currently inadequate, the prospective university center is key to Adwa's future.
The university's site is very close to the Enda Aba Girma Church, where the Italian Brigadier Vittorio Dabormid and the remaining Italian brigade was finally wiped out (Jonas, 2011). The stone monument was erected very close to the statue and burial place of the known Ethiopian hero, Ras Alula (Aga Nega). In addition, the University will be close by the church of Aba Germa, where some of the belongings of the Holiness Abuna Paulos, Patriarch of the Ethiopian Orthodox Tewahado Church, are found
---
National Academy for Training& Capacity Building (NATCB)
Introduction:
The National Academy for Training and Capacity Building (NATCB) was founded in 2010 as Nonprofit Organization and it registered as training provider in 2015 as specialized institution in leadership training and consultations in Sudan. It has several credits locally and globally, and go on with future vision indicators that training and development become an exigent issue and strategic option in organizations, or rather one of features of life.
---
Remembering and Bidding Farewell to a Wonderful Woman and Friend: Mehret Iyob
Ghelawdewos Araia, PhD 4/21/2017
I was shocked and completely taken over by the bad news on the passing of Mehret Iyob; I did not know until a friend told me five days after the untimely death of Mehret and her body laid to rest on April 15, 2017 at Asmara, a city where she was born and brought up. The passing of Mehret is a major loss for her immediate and extended families and it is with deep sorrow that I am extending my condolences to her husband, Beraki Gebreselassie, her children, and her sisters Ararat Iyob and Ruth Iyob, and the rest of her brothers and sisters.
---
Proposed Language Reform for Ethiopia: Volume I
Three Qua Publishing December 2016; made in the USA, Charleston, SC, January 2017
Authored by Lou T. M. Kahssay
Reviewed by Ghelawdewos Araia, PhD
April 20, 2017
The title of the book tells it all. Proposed Language Reform for Ethiopia meticulously (and I gather painstakingly) diagnosed the problem and shortcomings of the Ethiopian written system (commonly known as Ethiopic or Geez) in particular and the language in general, and came up with a radical departure from the traditional Ethiopian orthography. "Due to the Ethiopic alpha syllabic script and fusional nature of the Ethio Semitic languages," says Lou Kahssay, "it is difficult to maintain alphabetical order for the majority of word derivations and inflections without reforming the orthography to some degree. The existence of too many word derivations, widespread spelling inconsistencies and a large number of characters in the Ethiopic writing system means only a small fraction of words in Ethio Semitic languages can be entered in any dictionary let alone to be ordered alphabetically." (Preface)
---
The Necessity of Circumspection in Ethiopia's Foreign Policy with respect to the future Ethiopia-Eritrea Relations
Ghelawdewos Araia, PhD April 14, 2017
Once Ethiopia accepted the Algiers arbitration and the decision of the EEBC, I realized (like many of my colleagues) that Ethiopia would encounter complex foreign policy parameters while it attempted to redeem its relations with Eritrea. And facing the Border Commission, at the outset, Ethiopia was dealing with colonial treaties of 1900 (for the central sector), 1902 (for the western sector), and 1908 (for the eastern sector), all treaties that were long dead and also made null and void by Italy when it temporarily occupied Ethiopia from 1936 to 1941. On top of this, in due course of deliberations by the Border Commission, there were so many confusing names of places and rivers that were presented by the two parties as part of their documentary evidences or exhibits. I recall that Ethiopia maintained that there was no such river named Muna in the 1900 Treaty; Ethiopia's position was right because Muna was just part of the Endeli River stream. However, contrary to Ethiopia's correct position, the EEBC upheld the name 'Muna' tout court.
---
Kidane Alemayehu, My Journey with the United Nations and Quest for the Horn of Africa's Unity and Justice for Ethiopia
Kidane Alemayehu, My Journey with the United Nations and Quest for the Horn of Africa's Unity and Justice for Ethiopia, RoseDog Books, Pittsburgh, Pennsylvania, 2017; 353pp. $30.00; ISBN: 978-1-4809-7048-9
Getatchew Haile
Prof-Getachew-Haile The journey which author Ato Kidane Alemayehu chronicles in his new book takes him through Lesotho, Tanzania, Uganda, United Arab Emirates and the Horn of Africa as a representative of the United Nations, and ultimately to establish an organization dedicated to confronting "Fascist Italy and the Vatican." His book contributes valuable information to the history of East Africa, the United Arab Emirates, and to the rationale behind Ethiopia's struggle to win recompense from Italy for crimes committed during the Fascist era. Ato Kidane describes his varied experiences in beautiful, lucid English, and indeed it is a credit to Ethiopia and its educational system that the United Nations looked to her for qualified people to serve in other African countries.
---
Fasil Amdetsion
Attorney, Foreign Policy Advisor
Fasil Amdetsion is an Ethiopian-American lawyer with expertise in international law and international affairs. He previously worked as an attorney at the New York law firm of Wachtell, Lipton, Rosen & Katz; and, as Senior Policy and International Legal Advisor at the Ministry of Foreign Affairs of Ethiopia. He has spoken or authored pieces on international affairs, international law and the Nile, education and development in Africa, and modern African history. He is currently a member of the Board of Advisors of Seeds of Africa and a member of the Board of Directors of Jazzreach. He is a also a Term Member of the Council on Foreign Relations. He was previously a member of the Board of Directors of the African Services Committee. He is a graduate of Yale University and Harvard Law School.
---
Editorial note
In relation to the 80th Fascist Occupation of Ethiopia and the subsequent atrocities and massacre of Ethiopians, the Institute of Development and Education for Africa (IDEA) would like to furnish a statistical data that could serve as companion to the Press Release by the Global Alliance for Justice. One source for the Italian atrocities and crime against Ethiopians during 1936-1941 is Arthur James Baker's book The Rape of Ethiopia and here below are the losses on the Ethiopian side:
Killed in action: 275,000
Patriots killed: 78,500
Women, children, and others killed by bombing: 17,800
Massacre of February 1937: 30,000
Persons who died in concentration camps: 35,000
Patriots executed by sentence of Summary Courts: 24,000
Persons who died from privations due to the
Destruction of their villages: 300,000
Total: 760,300
---
NIGERIANS PUT THE BRAKES ON SUPERHIGHWAY CUTTING DOWN RAINFOREST
Mar. 20, 2017 (GIN) – Bulldozers approaching the communities of the southern state of Cross River, with orders to raze up to a million homes and cut down an ancient tropical rainforest, were stopped in their tracks as an environmental impact statement for a proposed superhighway was rejected by officials.

As conceived, the roadway would link northern Nigeria to a proposed deep seaport in the south, covering 162 miles and displacing along the way some 180 indigenous communities, a national park and adjoining forest reserves that are home to some of the country's most endangered species.
---
The Historical Responsibility of Ethiopian Public Scholars in the Redemption of Ethiopian History Book Ghelawdewos Araia February 27, 2017
Theda Skocpol once said, "Our roles as public scholars, as influential citizens, and as mentors for civically engaged young adults have never been more important than they are right now."2 Theda's eloquent statement (appeal) on scholars is quite a fitting to the central thesis of this essay and to the message I want to convey to my fellow Ethiopian scholars. It is our solemn duty and responsibility to educate the young Ethiopians and lead them by example so that they embrace the authentic history of their country and this would have a tremendous positive impact on the psychological makeup of Ethiopian youth. To be sure, the young Ethiopians are not only the torchbearers of what we kindled but they are also the leaders of tomorrow. It is thus crucial that we arm our young citizens with Ethiopian historiography.
---
Professor Richard Pankhurst has a made a transition; he died in Addis Ababa, Ethiopia at the age of 89 and he will be laid to rest at the Trinity Cathedral. On February 22, 2009, the Institute of Development and Education for Africa (IDEA) posted an article to honor and celebrate the achievements of Dr. Pankhurst, the paragon of professors, and today IDEA celebrates his life by reposting the 2009 article: www.africanidea.org/Professor_Richard_Pankhurst.pdf
---
Somalia's Aircraft Hangar Could be the Birthplace of Democracy in the Troubled Horn of Africa Nation IDEA Editorial February 10,2017
On February 8, 2017, the Somalis, at last long, witnessed a peaceful transference of power from one regime to the other, and this was a rare political commodity in the history of Somalia since 1991. On February 8, the Somali members of parliament (MPs) were convened in a very unusual temporary conference hall, which happen to be the aircraft hangar in Mogadishu; the Somali's MPs chose this venue for security reasons but this very place could signal the reemergence of civil dialogue and incipient democratic culture among the Somali people.
When the voting process in the Hangar was in progress, the MPs did not enjoy the company of peaceful electorate of the public at large, as it is standard practice in stable democracies. Due to lack of security, the Somalis were unable to conduct elections in public squares and mobilize the Somali people from district to district and encourage them to vote for their favorite candidates; it is for this apparent reason that the MPs were compelled to opt for a secret ballot.
---
---
Published in Cooperative Waters Magazine (1st ed)
Time to Think about Ethiopia's Post-GERD Nile Policy
Fasil Amdetsion
The eventual completion of the Grand Ethiopian Renaissance Dam will be a much-celebrated event in Ethiopian history for two oft-remarked reasons. Soaring 170 meters high, spanning 1,800 meters in width, and capable of generating 6,000 MW, the GERD will be Africa's largest hydroelectric dam. As such, it is a remarkable feat of modern engineering. Just as the GERD's colossal dimensions have reshaped the landscape surrounding it, the dam's construction has upended the customary official rhetoric and politics of the Nile basin. Heretofore, Ethiopia limited itself to assertions of its right to develop the Nile; whereas, Egypt reacted to any minor suggestion of the mere consideration of construction by upper riparian as an existential threat to be met by an apoplectic reply. Construction of the GERD has pushed Egypt to grudgingly acknowledge that dialogue between riparian states is the only way to reach mutually acceptable solutions to competing claims over the Nile
---
GAMBIA BEGINS NEW ERA AFTER UNPOPULAR LEADER PACKS AND RUNS
Jan. 23, 2017 (GIN) – Former President of The Gambia, Yahya Jammeh, packed a Chadian cargo plane with luxury cars and went into exile late Saturday, barely missing the west African regional troops on their way to remove him by force if necessary.
Jammeh, who lost a re-election bid on Dec. 1 but resisted stepping down, accepted an invitation from Pres. Teodoro Obiang, a highly-unpopular leader in the Central African nation of Equatorial Guinea. This sparked objections by the opposition Convergence for Social Democracy (CDS), pointing out that Gambia's instability was a result of ex-president Jammeh's own refusal to relinquish power after 22 years.
---
A WISH LIST FOR SUCCESSFUL OPPOSITION AND GOVERNMENT NEGOTIATIONS

Solomon Gebreselassie

The fact that the TPLF/EPRDF regime initiated a negotiation proposal with the opposition inside the country regarding the multi-faceted problems of the country is commendable. The regime further stated that it was dropping its stubborn demand from years past that MEDREK sign its civic charter as a precondition to negotiate. This is also a welcome sign.

Obviously not all the legal opposition invited by the government to the negotiation are genuine opposition parties. Some are clones of the regime, and still others have a high negative rating by the people. And then of course there are opposition groups that are not part of what the government calls "legal", a few of which have even been categorized as terrorist.
---
---
Government as Employer of Last Resort: A Tentative Proposal for Solving Youth Unemployment in Ethiopia
Desta, Asayehgn, Ph.D. Sarlo Distinguished Professor of Sustainable Economic Development, Barowsky, School of Business, Dominican University of California
Abstract
Despite having a favorable Gross Domestic Product (GDP) for more than fifteen years, Ethiopia is currently faced with exceptional challenging youth unemployment. The youth unemployment and idleness in Ethiopia has contributed to massive social unrest in several Ethiopian urban areas. To calm down the massive instability in the country that were precipitated mainly by the unemployed youth, the Ethiopian government has allocated 0.72 percent of its GDP to resolve the youth unemployment in the country. Realizing that the actions taken by the government will not have a substantial impact, this study has proposed that using the Employer of Last Resort (ELR) economic model in collaboration with Ethiopia's Technical, Vocational Education and Technical (TVET) institutions, so that the ELR could be used as a road map to create pathways for a smooth transition between classrooms and office or factory jobs.
---
---

---
Introduction
The choice of electoral system has a profound effect on the future political life of a country (IDEA, 2005). After the promulgation of the Federal Democratic Republic of Ethiopia in 1995, Ethiopia declared that its electoral system — the set of rules that specify how voters can express their preference (ballot structure) and how the votes are translated into parliamentarian seats or elect legislature (Aziri, E. and Saliaj, 2013) — would be based on majoritarian or winner–take-all electoral votes. That is, the Constitution and the amended electoral law (Article 25) state that Ethiopia follows the majority system, under which the candidate who receives more votes than any competitors within a constituency is declared the winner (Ethiopian Election, 2016).
---
African geologists warn of possible 'Fukushima' at site of proposed nuclear reactor
Global Information Network | December 1, 2016
Russian President Vladmir
(GIN)—Geologists at the Africa Earth Observatory Network fear that a nuclear power station built over canyons in bedrock, as proposed by South Africa's state-owned utility Eskom, is at risk of deadly surge storms and tsunamis—not unlike those triggered by the meltdown at the Japanese plant in Fukushima. Eskom disputes the findings.
---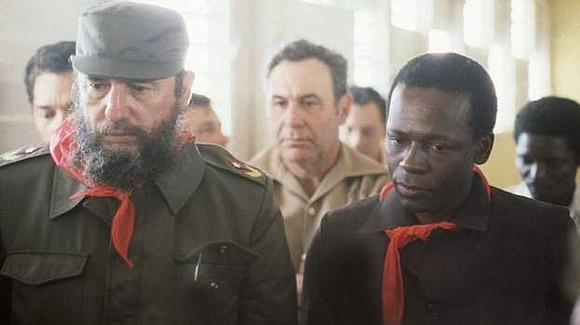 FIDEL WAS 'A STRONG VOICE FOR SOCIAL JUSTICE,' U.N. SECRETARY-GENERAL
(GIN)—U.N. Secretary-general Ban Ki-moon extended sympathies to the Cuban people on the passing Friday, Nov. 25, of their longtime president, Fidel Alejandro Castro Ruz, who he called "a strong voice for social justice."
Admired by leftists and people of the developing world as a revolutionary champion of the poor, the former president died at the age of 90. Monday, tens of thousands of Cubans, some wrapped in red, white and blue Cuban flags, lined the streets from Havana to Santiago de Cuba as a funeral cortege made its way across the country, carrying the ashes of the renowned leader.
Speaking to reporters at a conference in Turkmenistan, Ban praised Fidel Castro's advances in the fields of education, literacy and health.
---
Curbing Corruption in Ethiopia:
Applying Democratic Autonomy at the Local Level
Desta, Asayehgn, Sarlo Distinguished Professor of Sustainable Economic Development
Introduction
Ethiopia seems to be in a paradox. While its economy has been on a growth trajectory for the last fifteen years, more recently, Ethiopia's landscape has been overwhelmed by deplorable rampant corruption and massive youth unemployment that has contributed to social upheaval in some parts of the country. In my earlier research, as a talking point, I proposed that Ethiopia needs to apply a deliberate use of an economic model known as "Employer of Last Resort" to fully tackle the existing youth unemployment. Briefly discussed, the "Employer of Last Resort" paradigm suggests that governments don't need to entirely control employment but should give grants to privately administered institutions to facilitate and guarantee full employment opportunities to the unemployed who are ready and willing to work at a minimum wage in environmentally sensitive projects (Desta, 2016 and Baker 1993).
---
Dr. Ghelawdewos, ever since, premier Melez Zenawi, passed away (peace be to his soul) I started praying for Ethiopia daily in my daily morning prayers and I never ever miss a day praying for the peace and safety of Ethiopia since that time! I was deeply saddened to hear the ethnic/tribal riots and violence that broke out in Ethiopia recently and I even intensified may prayers for Ethiopia during this time. I really, really, do love Ethiopia and I believe even more importantly God loves Ethiopia because Ethiopia, as I believe, is a unique country to God! I keep wondering that Ethiopia existed as a nation for thousands of years and even long before Europe or North America existed as countries and yet Ethiopians were always united for the love of their country and kept defeating all kinds of enemies throughout their long history. I am wondering, what happen to that deep spirit of national unity now? Why is it missing and can it be revived again? Sometimes, I feel that the government of Ethiopia has focused so much on improving the economic development of Ethiopia that it has even forgotten or neglected to maintaining to work the collective feeling of national pride Ethiopian citizens.
---
Foreign Intervention, the Politics of Burning Public Property, and State of Emergency Declaration in Ethiopia
Ghelawdewos Araia, PhD November 4, 2016
While the EPRDF brought about significant material culture transformation for Ethiopia, it was unable to make gains in the realization of a democratic culture. Some of the EPRDF leaders that I know in person envision a democratic Ethiopia and underscore the significance of democratic practices, but the collective EPRDF leadership is stuck in patron-client relations as manifested in the various gradations of government apparatuses, from local to state, and to federal levels. The rationale behind the patron-client relations is that loyal cadres and elites rather than opposing and challenging groups are accommodated and favored by the ruling party.
---
PRESS RELEASE Mengistu Hailemariam is going to be brought to justice

ጋ ዜ ጣ ዊ መ ግ ለ ጫ መንግሥቱ ኃይለማርያም ለፍርድ ሊቀርብ ነው!
---
Strengthening Business Ties Between Italy and Africa
By   Fasil Amdetsion •   September 23, 2016
Many large Italian companies have little or no presence in Africa. Major reasons for the lack of a more significant Italian corporate presence in Africa are the misinformation and biases that continue to color perceptions about the continent. As one Italian commentator aptly put it, "In recent years, one can observe Italian business' unawareness of the dynamics of Africa markets; perceptions are still anchored on dated impressions and prejudices of the 1980s of an Africa in decline."
---
---
From Retroactive to Proactive Strategic Management Style: Redressing Widespread Social Unrest in Contemporary
Ethiopia
Desta, Asayehgn,  Sarlo Distinguished Professor of Sustainable Economic Development
Though it is uncertain who has been appropriating it, Ethiopia's economy has been showing monumentally high economic growth for the last fifteen years. Given this economic environment, Ethiopia's investment climate has been on the right trajectory and as a result it has been appealing to many domestic and foreign investors.
---
WORLD BANK ISSUES DIRE WARNING ON DIRTY AIR
Sep. 12, 2016 (GIN) – What's deadlier than malaria, four times as deadly as HIV/AIDS and flies under the radar for most policymakers worldwide? Air pollution. That's the finding of a new report by the World Bank and the Institute for Health Metrics and Evaluation (IHME). The culprits are particles of dirt, smoke, gases, microscopic liquid droplets and heavy metals and are the fourth cause of death, the study found, with sub-Saharan Africa and South Asia accounting for more than half of the estimated 5.5 million lives lost to diseases associated with pollution in 2013
---
A Road Map to Resolving Contemporary Ethiopia's Political Crises: A Comment on Lt. General Tsedaikan GebreTensae'sArticle
 Desta Asayehgn, Sarlo Distinguished Professor of Sustainable Economic Development
Recently, Ethiopia has been facing many kinds of surprising political activities. Though over the years, the regime in power turned deaf ears to genuine constructive criticisms from a number of Ethiopian scholars, the regime may now be turning its attention to them because uprisings have emerged not only in numerous parts of the country, but also in an interesting article was being posted on a number of websites. It was written by Lt. General Tsadakan Gebre Tensae, the former Chief of Staff of the Ethiopian Armed Forces (hereafter referred to as the author), who has dramatized the political crisis in Ethiopia. However, it should be made clear to the readers that the Amharic version in the Reporter (Hamli, 24, 2008) is slightly different from the English version posted in the Horn Affairs in English (August 4, 2016).Thus, it should be known that I have used both the Amharic and English versions, along with General Tsadkan's response to Prof. Messay Kebede's in order to review and assess the author's position
---
United Nations Economic Commission for Africa (Addis Ababa) »
Universities to Develop Curricula in Response to Africa's Land Governance Challenges
Addis Ababa, 26-28 July, 2016 — Senior leadership drawn from sixteen African universities and institutions of higher learning endorsed key recommendations to review land governance curricula, with a view to ensuring land professions better respond to Africa's realities. Participants, who also included representatives of RECs, Member States, Civil Society Organisations and the private sector, were attending a three-day validation workshop, organized by the Land Policy Initiative (LPI).
---
United Nations Economic Commission for Africa (Addis Ababa) »
Addis Ababa to Host the 10th African Development Forum
Addis Ababa — Preparations are underway for the Tenth African Development Forum (ADF) to be convened by the Economic Commission for Africa, the African Union and the African Development Bank.
The forum, which brings together a large number of participants, including Heads of State and Government, policy makers of African member States, development partners, UN agencies, academics, civil society organizations, the private sector, eminent policy and opinion leaders, among others, will be held in Addis Ababa, Ethiopia, from 15-17 November on the theme; "Migration and Africa's transformation". Parallel events will take place from 13-14 November.
---
Pan-Ethiopian Agenda Vs Sectarian Ethnocentric Politics
Ghelawdewos Araia, PhD August 4, 2016
This essay, as its title suggests, intends to discuss the significance and preponderance of an overarching Ethiopian nationalism over narrow ethnic nationalism. This is not the first time I have addressed a pan-Ethiopian agenda that is more inclusive vis-à-vis exclusive or divisive ethnocentric politics; I have indeed produced many similar articles in the past , some of which are: 1) ለኢትዮጵያ የሚበጅ የፖለቲካ ስትራተጂ መቀየሰ የሁላችን ሐላፊነት ነው (2006); 2) የትምክህተኝነትና የጠባብ ብሔርተኝነት አደገኛነት; 3)
Beyond Ethnocentric Ideology and Paradigm Shift for A Greater Ethiopian Unity
---
---
---
Published on Jun 30, 2016
Former President Thabo Mbeki was the keynote speaker at a session to celebrate 120 years of the battle of ADWA. This session was part of the Africa Unity for Renaissance Conference & Africa Day Expo on 25 May 2016.
The session took place at Ditsong Museum of South Africa in Tshwane.
He will addressed the session on "The 120 Years of the Adwa African Victory." Led by Empress Taitu, the wife of Emperor Menelik II, and the Emperor's generals, the patriotic Ethiopian army defeated the Italian colonial forces at Adwa, Ethiopia on 1 March 1896 and thus secured Ethiopia's independence from colonial rule.

The Necessity of Strategic Vision in the Ethiopian Israeli Relations
Ghelawdewos Araia, PhD July 9, 2016
Strategic vision entails a long-term comprehensive plan and its objective is essentially to promote the interests of a country without making worse-off the other country that is involved in the partnership discourse. The latter concept or policy is facilitated and translated into action via diplomacy, a fine vehicle that manages international relations. Incidentally, Ethiopians are astute diplomats and suffice to read the letter exchanges of Emperors Yohannes and Menelik with foreign heads of states and dignitaries in the late 19th century and early 20th century, not to mention the clever diplomatic ventures of Emperor Haile Selassie. The legacy of these leaders is still visible amongst present Ethiopian diplomats.
---
እንኳን ደስ አላችሁ ፈለግና ቆስጠንጢኖስ
መክሊትን አገኛችሁ የቤቱ ፋኖስ
---
---
On the Mechanics of Ethiopian Economic Progress, Some Recent Promising Developments, and Some worth of Thinking
By Hluf Hagos Shiqar1 June 24th, 2016
"Learning really means getting out of our comfort zone; in some cases, it can mean suffering before our ideas take off" – Paolo Gallo (2016), "3 Ways to Become a Learning Machine."
Introduction: Economists and development specialists have long been building models to try to understand the mysteries of what drives economic growth and how it could be sustained such as by culture, by government institutions, or by patterns of industrialization. Ethiopia, sometime used to be crowned with the name of famine despite the fact that it has had economic institutions required for sustained economic progress and was as prosperous as any place in the world in 400 AD, has for some time now been praised for its prudent macroeconomic management and performance.
---
Crisis erupts over police-linked killing of Kenyan human rights lawyer
Global Information Network | July 6, 2016
(GIN)—Four police officers have been arrested in the torture/murder of a noted Kenyan human rights lawyer and two other men.
The Law Society of Kenya called it "a dark day for the rule of law" and a countrywide boycott of the courts has been called.
The respected lawyer disappeared with his client and a taxi driver after filing a charge of police brutality. The officers are being held without bail while an investigation is underway.
---
Proclamation by the Mayor of Frankfort (Kentucky)
Whereas, Dr. Gashaw WeneNeshet Lake has been a member of the Kentucky State University family for 30 years, serving in the capacity as a tenured professor and Dean of the School of Public Administration.
---
The Trump Phenomenon & American Politics
Ghelawdewos Araia, PhD June 22, 2016 
Most often, history comes up with surprises in the social and political realms, and with the advent of history's enigma people are puzzled and have a hard time understanding the power nexus, more so the emergence of "unlikely" individuals and ascendance to the highest echelon of power relations. The reason why people are confused and puzzled with respect to such kind of historical irony, for the most part, emanates from their existential expectations and assumptions that only wise and astute individuals should wield state power. Contrary to this assumption, however, many foolish, crazy, and retarded individuals have assumed power and became the leaders of their respective countries in the distant past, the medieval era, and in our modern period. Examples abound in human history, but suffice to mention some of them: Nero of ancient Rome; Ivan the Terrible of Russia; Hitler of Germany; Mussolini of Italy; Pol Pot of Kampuchea; Mobutu of Democratic Republic of Congo; and Mengistu Hailemariam of Ethiopia
---
---
Ethiopia: Heavy Fighting Reported Along Ethiopia, Eritrea Border
By Salem Solomon
The Eritrean Ministry of Information issued a statement Sunday accusing the Ethiopian government of launching a military attack against the country. Ethiopia denies initiating the attack, accusing Eritrean forces of prompting a counterattack by Ethiopia.
The brief statement from the Eritrean Ministry of Information said the attacks occurred on the Tsorona Central Front. Tsorona is a village located near the border, a little over 35 kilometers from Adigrat, an Ethiopian town in the Tigray region.
Ethiopian Communications Minister Getachew Reda said Eritrean forces from around the Tsorona region made unusual, aggressive movements, eliciting a response from the Ethiopian side. He denied it was a significant battle.
---
Reflections on Strategy for Sweden's Development Cooperation with Ethiopia
Ghelawdewos Araia, PhD June 1, 2016
This paper intends to systematically analyze Sweden's development cooperation with Ethiopia (2016-2020) in the context of the multivariate facets or component parts of the Strategy and in conjunction with Ethiopia's role in the transformation process and overall development agenda. First, however, I like to present a brief synopsis of the distinctive history of Sweden that ultimately led to the Swedish Model. Sweden is one of the most fascinating, prosperous, and peaceful country in our planet earth; and this is not a mere historical accident or coincidence. What makes Sweden one of the most successful and best countries in the world has to do with its long tradition of peaceful resolution to conflicts and its rich political culture in social democracy; admittedly, however, Sweden was engaged in wars with Denmark, Russia, and Poland in the 17th century and it even became a regional power in the Baltic zone in the same century.
---
IDEA Extends Gratitude to Diretube for the Patrice Lumumba Video

May 28, 2016

We at the Institute of Development and Education for Africa (IDEA) are gratified to watch a brief documentary video on Lumumba put out by Diretube. While we thank Diretube for posting this video for our consumption, we particularly wish to convey our heartfelt appreciation to the presenter Shewenzu Melaku; the script writer Simneh Getaneh; project manager Teshome Tadesse; and editor Benti Abera.

The video entitled Leadership in Africa: The Legacy of Patrice Lumumba, dramatically captures the early 1960s political crisis in the Congo that led to the ultimate murder of Lumumba. By all measure, the documentary did a marvelous job in depicting the Lumumba experience but it was too short to fully document the politics of Congo in the early 1960s; and while the video critically examined the interference of Belgium and the United States in the Congo affairs, it does not extrapolate the heyday of the Cold War as manifested in the Congo and in which the Soviet Union was also involved.
---
Establishing the Ethio-Adwa Pan-African University:
Some Suggestions
Professor Desta, Asayehgn
The defeat of the Italian forces by Ethiopian patriots at the Battle of Adwa on March 1, 1896, became a mountain of pride and inspiration to millions who cherish black heritage. Later, in 1914 and 1917in Jamaica and in the United States, Marcus Garvey, a well-known African nationalist, ignited his supporters against white racism by stressing emphatically the way the Ethiopian patriotic forces dismantled Italian aggression at the Battle of Adwa. Using phrases such as "Ethiopia thou land of our fathers," Garvey further galvanized his followers to adopt his "Back to Africa Movement" slogans. To arouse passion against colonial aggression and racism, Benito Sylvian of Haiti, Joseph Vitalien of the West Indies, Booker T. Washington, Ida B. Wells, and W.E. B. Du Bois, all represented Ethiopia as a tower of independence, and the Battle of Adwa gave hope that European colonization could be resisted with dignity.
---
NIGERIA TO SIGN VISA-FREE PACTS WITH EIGHT COUNTRIES
BY LUCY CLARKE-BILLINGS ON 5/25/16
The Minister of Foreign Affairs, Geoffrey Onyeama, says plans have been concluded to sign visa-free pacts with eight African countries to promote economic partnership on the continent.
Onyeama made the announcement on Tuesday, at a news conference in Abuja, marking one year of President Muhammadu Buhari's administration. The minister, who did not disclose the names of the countries involved, noted that trading among African countries had been very low. The pact, he said, is expected to cause an upsurge in economic activities.
"Africa is the centrepiece of our foreign policy but it is a paradox that as a Nigerian, you cannot go to an African country without a visa, unlike what is obtainable in Western Europe," he said.
---
Linkages between Economic Growth and Food Security:
An Eclectic Perspective
We live in a world where of the 80,000 edible plants used for food, only about 150 are being cultivated, and just eight are traded globally. In a world where we produce food for 12 billion people when there are only 6.3 billion living, 800 million suffer from malnutrition.
Vandana Shiva. World-renowned environmental leader (Manifesto on the Future of Food & Seed, 2007).
Professor Desta, Asayehgn
Abstract
The causal linkage between food security and economic growth hasn't been fully resolved. That is, does food security contribute to economic growth or does economic growth result in food security; or is there a two-way causal relationship between economic growth and food security? The causality has not yet been ascertained. Drawing on previous research and insights, this study attempted to find and understand the relationship between food availability and economic growth. A review of existing secondary studies indicates that food insecurity, low food intake and the variable access to food endemic in Ethiopia, is not due to the lack of economic growth and income distribution.
---
Africa: Economic Gains From Closing Gender Gap Far Outweigh Cost - Mckinsey
By Emma Batha
Copenhagen — World could add $12 trillion to annual GDP in 2025 if every nation bridged gender gap
The economic returns from investing in closing the gender gap are six to eight times greater than the spending required on areas like health, education and financial inclusion, analysts told a global women's rights conference on Tuesday.
Recent research by McKinsey Global Institute (MGI) showed the world could add $12 trillion to annual GDP in 2025 if every nation bridged its gender gap at the same pace as the best performing country in its region.
A new study, unveiled at the Women Deliver conference in Copenhagen, shows the cost of achieving this return would be $1.5 trillion to $2 trillion.
---
Kenyan businessman shot dead, opposition sees political motive
Fri May 6, 2016
NAIROBI May 6 (Reuters) - Kenyan businessman and government critic Jacob Juma was shot dead in his car late on Thursday in Nairobi, the police said on Friday, a killing the opposition said appeared to be politically motivated.
There was no immediate comment from the government, but officials have repeatedly accused the opposition of seeking to stoke tensions with what they say are trumped up accusations against the government ahead of next year's elections.
Police spokesman Charles Owino said the reason for the shooting late on Thursday was not clear. "We cannot get a motive unless we manage to get the killers," he said, adding that the case was being investigated.
---
---
Beyond Ethnocentric Ideology and Paradigm Shift for a Greater Ethiopian Unity
Ghelawdewos Araia, PhD April 20, 2016
This essay intends to address the current Ethiopian affairs in the context of ethnocentric politics and Ethiopian unity, twin themes that I have discussed numerous times in my previous works, but it will also respond to some critics pertaining to my VOA interview on Wolkait-Tsegede district of Ethiopia. The latter, though it unnecessarily stirred controversy especially among the disgruntled and misinformed Ethiopian groupings, it is very much relevant to the kernel of this paper.As indicated above, I have addressed the issue surrounding ethnic politics and Ethiopian unity several times in the past, and my first article entitled "Nation Building Beyond Ethnic Nationalism" was published in The Ethiopian Mirror in 1992.1 The central thesis of this article was straight forward and clear: Ethiopians to transcend ethnic nationalism and embrace rather a pan-Ethiopian agenda. My recommendation then had resonated among the Ethiopian Diaspora because, unlike today, Ethiopians were not inoculated with the virus of narrow and sectarian ethnic nationalism.
---
Africa's Billionaires Among Tax Dodgers In Panama Leak
Posted by: keesto Posted date: April 12, 2016 In: International | comment : 0
image002Africa's most talked-about and admired billionaires are among the dozens of world leaders named in the so-called Panama Papers – a huge trove of records listing tax dodgers and other misdeeds leaked to a media outlet in Germany and published in papers around the world this month. The massive leak of confidential documents from the Panama-based firm Mossack Fonseca has even pointed a finger at Africa's richest man whose net worth is said to exceed $17 billion. While the leak does not say if the shell companies associated with Dangote and associates were used for illegal dealing, they have raised questions if the prominent businessman and industrialist has been paying his fair share of tax in Nigeria.
---
Multi-party Consensus Autonomous Self-Rule Democracy: A Briefing for Tomorrow's Ethiopia
Professor Desta, Asayehgn
Unlike the tenets of a majoritarian democracy, according to Lijphart (1977), a consensus democratic federal nation needs to be governed by the existence of: 1) a grand coalition (including the ruling elites of each unit to rule in the interest of their constituencies in elections, cabinets, parliament, civil service, etc); 2) a mutual veto (requiring consensus rather than majority rule); 3) proportionality (representation based on the population of each unit); and 4) segmental autonomy (each federal unit is autonomous and has its own sphere of authority, either territorially or functionally). As paraphrased by Shah. "…in the context of deeply divided places, this would appear to be a rather pleasant outcome whereby political parties representing different ethnicities would come together to form coalition governments, hence, ensuring broader representation of interests and minimal exclusion." (2013).
---
Rediscovering Ethiopian History and African Wisdom
Compiled, edited and translated by IDEA Staff, 10/13/2004
IDEA likes to introduce its readers to a piece of Ethiopian history not so well known in the academic community and scholarly discourse, and an African wisdom that was literally obscured and buried. This is an attempt to excavate and revive some objective facts of the remote past that may well serve the present generation of Ethiopians and enable them to rediscover their past experience and subsequently formulate policies in the political and cultural realms.
In the present rediscovery, Tigray, the quintessentially Ethiopian northern state throughout history represents the piece of Ethiopian history; and the wisdom is an extraction from the literary works of Bilatin Geta Hiruy Woldeselassie.
---
PRESS RELEASE
THE PASSING OF CLARENCE MLAMLI MAKWETU
On behalf of Veronica Zodwa Sobukwe and the Sobukwe family, the Robert Mangaliso Sobukwe Trust and its trustees would like send our condolences to the Makwetu family. uTatu Clarance Mlamli Makwetu was a family friend, and he was a pillar of support to the family, especially to Mrs. Sobukwe during difficult times. The loss of a leader the calibre of utatuMakwetu will be felt not only by the Makwetu family but by the nation as a whole. He was a leader with no excuses to give; he fought for the least of our people, and led those that had nothing to lose. He has truly served, suffered, and sacrificed for this glorious continent.

---
---
The Contradiction between Good Governance and the Developmental State in Ethiopia
Ghelawdewos Araia, PhD March 21, 2016
Good governance has now become the vogue, if not the primary policy agenda of developing countries around the world that seek aid from international financial institutions (IFIs) like the World Bank and the International Monetary Fund (IMF). The concept was launched during the United Nations Millennium Development Goals (MDGs), a major UN agenda initiated at the turn of the 21st century, a program of action to be achieved between 2000 and 2015, but most of the developing nations were unable to realize the MDG.
---
Modifying the 'One Size Fits All' Good Governance Agenda for Ethiopia
Desta, Asayehgn- Sarlo Distinguished Professor of Sustainable Economic Development, Barowsky School of Business, Dominican University of California  
Introduction As advocated by neo-liberal entities, the agenda of good governance is grounded on democratic principles that create on-going interaction processes that are supposed to solidify, governmental structures, functions and practices of the state and its people. As the a key driver to economic growth to alleviate poverty in developing countries, the interaction process of good governance embeds core guidelines that include, the rule of law, citizen participation, transparency, accountability, and elimination of corruption.
---
Chris Hani's killer Janusz Walus given parole in South Africa
A court in South Africa has ruled that the killer of anti-apartheid hero Chris Hani should be freed on parole after more than 22 years in prison. Hani's widow, Limpho condemned the white judge's decision to free Janusz Walus as racist.
Walus' lawyers argued he should be freed in the spirit of reconciliation. He was convicted in October 1993 and was serving a life sentence for the murder which threatened to derail South Africa's transition to democracy.
---
---
---
THE SORROWS OF ETHNIC FEDERALISM IN ETHIOPIA Solomon Gebreselassie January 2016
At the end of 2015 and going onto the first weeks of 2016, about 140 Oromo youth were murdered, and about 5,000 incarcerated by forces of the ruling Tigrean People's Liberation Front (TPLF)/Ethiopian People's Revolutionary Democratic Front (EPRDF) party. Theircrime? They participated in a peaceful demonstration protesting the widespread dispossession of farmlands in the Oromia regional state bordering the capital Addis Abeba. A similar protest, although not claiming as many lives, had taken place nearly 2 years ago in some areas of the regional state. The federal government and the regional party OPDO have since halted the policy of the expansion of the planned development into Addis's suburban areas. Civil disobedience, as part of the peaceful struggle in Ethiopia, empowered the protesters and proved once again that Ethiopians can assert their natural rights by engaging in peaceful, defiant acts.
---
Global Information Network | January 26, 2016
Africa UN(GIN)—The present composition of the United Nations is a thorn in the side of some African leaders who question why none of the five permanent members to the Security Council is a black African.
The Security Council is a powerful decision-making body within the house of nations. It is charged with maintaining global peace, admitting members to the UN and approving changes to the agency's charter.
It has 15 members, but only five are permanent and hold veto powers. They are Russia, China, France, the UK and the USA.
---
To U.S. military base in Djibouti: Guess who's coming to dinner?
Global Information Network | January 26, 2016
Djibouti President Ismail Guelleh and Jia Qinglin, a top Chinese advisor.
(GIN)—China has received a green light from the nation of Djibouti to build its first overseas military base in that Horn of Africa nation. The question is: will they get a welcome basket from neighbors France, Japan and the U.S.? All three have military bases there as well. Chinese Foreign Ministry spokesperson Hong Lei said the new facility will give logistical support to China's fleet that performs escort duties in the Gulf of Aden and off the Somali coast.
Those escort missions have been ongoing for some years. With "real difficulties in replenishing soldiers and resupplying fuel and food," China found it necessary to have nearby and efficient logistical support, he said
---
Democratic Self-rule Federalism: The Legitimacy of Self-Determination in Ethiopia
Professor, DestaA sayehgn
Based on the recent unrest that has been precipitated by the Oromo people in Ethiopia, a number of observers such as Davison,2015;Muindi, 2016; and Borago, 2016, have argued that the Addis Ababa Master Plan has not only undermined self-determination but also contributed to a further loss of autonomy and the marginalization of Oromos living on the outskirts of the Federal capital, Addis Ababa. As stated by the European Parliament (1, 21, 2016): for the past two months,
…Ethiopia's largest region, Oromia, has been hit by a wave of mass protests over the expansion of the municipal boundary of the capital, Addis Abba, which has posed risks of eviction for farmers from their land
---
Ethiopia Should Manage Internal Political Crisis
Ghelawdewos Araia, PhD January 18, 2016
This article is intended to address the current political crisis surrounding Oromo outbursts in Ethiopia by providing a general pattern of political science theory in regards to crisis management.
The present Oromo protestation is instigated by the so-called "Addis Ababa-Oromia Integrated Master Plan" because protestors perceived the Master Plan as 'land grab' from the Oromia region. To the best of my knowledge, there is no such thing as 'land grab' unless there is a hidden agenda of the Addis Ababa City Administration to systematically expand the Addis Ababa Zone by incorporating Oromia adjacent lands.
---
On ANC anniversary day, resurgence of hate speech noted
Global Information Network | January 12, 2016
anc gathering(GIN)—President Jacob Zuma delivered the annual Jan. 8 address marking the birth of the African National Congress movement launched in 1912. Speaking at the Royal Bafokeng Stadium in Rustenburg, he opened with some ANC history:
"We are celebrating that which brings us together as South Africans—the ANC and its undying commitment to this country and its people. The ANC has worked hard to earn its special place in the hearts of South Africans
---
Water rationing new reality in southern Africa
Global Information Network | December 22, 2015 (GIN)—The science of climate change is not an open question in Africa. The only question is how quickly safe drinking water can be rushed to the countries now experiencing their worst droughts in decades. Water shortages are the frightening new future for African cities and towns. The southern African nation of Botswana is one of the worst hit, U.N. expert Leo Heller confirmed. Heller, the U.N.'s special rapporteur on the Human Rights to Safe Drinking Water, toured close to a dozen communities, health facilities and schools in a recent nine-day trip. His findings were troubling.
---
Rwandans, defying odds, give President Kagame third term option
Global Information Network | December 22, 2015
(GIN)—In a setback to the international community which lobbied heavily for a "no" vote, Rwandan citizens overwhelmingly gave a thumbs up to a third term option for President Paul Kagame. Kagame, now completing his second term, was previously unable to seek an additional term according to the constitution. The head of the National Electoral Commission (NEC), reporting results on Saturday, said that 98.4 percent of voter supported the proposed constitutional change. More than 98 percent of registered voters participated in the ballot exercise. Some 40,000 Rwandans in the diaspora also voted.
---
Cultural Racism in the Obama Era
Bronx Currents gives Bronxites the opportunity to attend community meetings, debates, and symposiums, now via BRONXNET. Bronx Currents provides full coverage of many of the events that help to determine the future of our borough. Additionally, the program features documentaries that capture the people and flavor of our borough and sporting events featuring local high school and college teams - See more
---
Famine and Development: Contradiction in terms in the Ethiopian Context
Ghelawdewos Araia, PhD December 6, 2015
Given the promises of development in my home country, I never thought I was going to write on the Ethiopian famine again, because it logically follows that famine (a widespread hunger) would not apt to occur in the midst of intensive development projects such as infrastructure (which is visibly testified) and agricultural and rural as well as industrial developments (which could not be verified easily and which require research and close scrutiny to understand).
---
Ethiopia's Themed Restaurants as Cultural Ambassadors for Culinary Diplomacy and Recipes for the Tourism Economy.
Background:
In the year 2012, the world registered about 1.035 billion or 1,035 million tourists. Subsequently, Africa's share was about 52 million tourists. As past records showed (2011), Morocco and South Africa registered about 9.3 & 8.3 million tourists, respectively, while Ethiopia picked up about 523 thousand tourists. [1] Tourism, as a whole, is a service based industry. It has strict criteria that adhere to factors, ranging from good business environment to safety and security. In order to get a fair share from the industry, Ethiopia has to promote its immense natural resources, and incorporate them into an exclusively service based industry.
---
The Paradox of History: When Chauvinists Shift Positions and Forge Unholy Alliances
Ghelawdewos Araia, PhD October 31, 2015
I always have said to my friends and colleagues in the academia that history, at intervals, comes up with surprises and the latter are often revealed when relatively unpredictable phenomenon appears on the horizon and when what is brewing in a given political crisis is not clearly perceived. What we are witnessing at this juncture of Ethiopian history is a more obscure political atmosphere in which chauvinist actors seemingly have taken center stage in politics, especially among the Ethiopian Diaspora.
---
---
---
Fisshea Desta's Reminiscence of the Ethiopian Revolution: A Critical Review Professor Desta, Asayehgn
Considering Meison's visionary ideologue, EPRP's firm convictions, and the Derg's commitment to unity and sovereignty, if these were to operate in a conducive socio-political and economic environment, they would have ushered in Ethiopia's successful development!
(Fisshea Desta, as paraphrased by professor Desta.)
Last year, while we were reviewing KhasayAbraha Bisrats' book , entitled "A Special Love for Assimba" at the National Archives and Library in Addis Ababa, Ethiopia, one of the reviewers, Professor GebruTareke, brought to the attention of the audience that in addition to the books written by former President Mengistu Haile Mariam (hereafter Mengistu) and former Prime Minister Fikre Selassie Wegderase (hereafter Fikre Selassie), the former Vice President, Fisshea Desta (hereafter Fisshea, or the author) has written an account of his memories of the Ethiopian Revolution during the Derg's (an Amharic word for committee) era.
---
Africa: We Can Defeat Poverty – Melinda Gates
October 5, 2015
INTERVIEW By United Nations
United Nations Secretary-General Ban Ki-moon calls the efforts to achieve 'Millennium Development Goals' over the last 15 years "the most successful anti-poverty movement in history'. The final report on the goals says the number of people living in extreme poverty has declined by more than half, as has the death rate of children under five years old. Deaths of mothers in pregnancy and childbirth has dropped almost as much – by 45 percent. School enrollment is up. Gender inequality has diminished. But millions still live in poverty and hunger and die from preventable causes. Last week the UN General Assembly adopted ambitious new targets for the next 15 years – the Sustainable Development Goals – aimed at eliminating poverty and its ills.
---
Africa Rising? No, Africa Stalled
Cape Town — Africa's premier survey of the quality of governance across the continent shows that it has not improved in the past four years. "Overall governance progress in Africa is stalling," says Mo Ibrahim, the Sudanese-born entrepreneur whose foundation runs the Ibrahim Index of African Governance.
The latest edition of the index, the first to include data from all 54 countries across the continent, was published on Monday. The authors of the new report used data for the four years between 2011 and 2014 to compare progress in different categories of governance, and in different countries.
---
Beyond the Usual: Re-thinking Ethiopia's Ethnic Federalism for the 21st Century
By Professor Asayehgn Desta
Beyond the Usual: Re-thinking Ethiopia's Ethnic Federalism for the Century. The implementation of Ethnic-federalism for the last twenty years in Ethiopia has produced polarizing debates
Abstract
A review of the political and ideological stalemate demonstrates that the concept of federalism has produced a polarizing debate among scholars. That is, federalist regimes have been rigorously challenged from theoretical and from practical points of view. Supporters of multi-ethnic federalism defend it as an effective operational device for granting autonomy to distinct peoples. They forcefully swear that federalism is indispensable for self-rule, encouraging shared governance, and giving each region the opportunity to enjoy a proportional share of economic investment to support development. On the other hand, the scholars that espouse a democratic autonomous self-ruling type of federalism are skeptical and also question the viability of a centralized Federal state.
---
---
Critique and Reflection on EPRDF's Policies and Practices
Ghelawdewos Araia August 28, 2015
This essay is intended to critically examine the policies and practices of the Ethiopian Peoples' Revolutionary Party (EPRDF), the ruling party of Ethiopia, but before I delve into the main corpus of this paper, at the outset, I like to make crystal clear that 'critique' is not synonymous with 'oppose', although the latter is also perfectly healthy and should be tolerated as such in a democratic political system. Thus, 'critique' means analyses of an objective reality critically examined in order to influence public policy and consequently implement doable development programs that, in turn, would transform the Ethiopian society.
---
The President
The White House
1600 Pennsylvania Avenue, N.W.
Washington, DC 20500.
Dear President Obama,
Subject: Appeal for Justice on Behalf of Ethiopia
The Global Alliance for Justice – The Ethiopian Cause (GAJEC) presents its compliments to H.E. Mr. Barack Obama, the President of the United States of America and submits this letter of appeal for consideration.
We are writing to you, Mr. President, on behalf of GAJEC, which is a civic organization committed to research and advocacy related to issues of justice for Ethiopians As you well know, Mr. President, most of the processes of humanity's historical transformation have occurred under domination and oppression of man by man. As the axis of time has pointed towards the present, however, more democratic political arrangements have proliferated, thanks in part to the efforts and goodwill of the US. This has encouraged former oppressors and colonizers to regret and apologize for their inhumanity and cruel misdeeds against their former subjects and victims
---
RODOLFO GRAZIANI A WAR CRIMINAL WHO ESCAPED JUSTICE
Kidane Alemayehu
INTRODUCTION

Rodolfo Graziani was one of Fascist Italy's top military leaders during Benito Mussolini's rule of that country. Although Graziani had important military roles in Italy, Libya and the Italo-Turkish wars, this article is, on the main, focused on his devastating war crimes in Ethiopia. The war was part of Fascist Italy's "civilizing mission to Ethiopia", resulting in the massacre of hundreds of thousands of Ethiopians, including 30,000 people killed within only three days in Addis Ababa during February 19-21, 1937 as well as over 2,000 monks and parishioners at the Debre Libanos Monastery. Graziani was not prosecuted at an international court despite Ethiopia's attempt to bring him to justice under the United Nations war tribunal.
---

THE FASCIST INVASION OF ETHIOPIA AND THE PAPACY
By Rev. Dr. Mikre-Sellassie G/Ammanuel
1. The Attitude of the Vatican
The Vatican took a somewhat equivocal attitude throughout the Italo-Ethiopian conflict. The pope, Pius XI, tried to display a kind of neutrality in all his official political positions regarding the Italo-Ethiopian dispute. He kept silent while Mussolini was making military preparations for war against Ethiopia and while the League of Nations was trying its best to bring peaceful settlement to the dispute. The Pope neither spoke in support of the League's attempt to avert hostility and the subsequent war between the two belligerent countries nor did he himself take any initiative to bring peace while church leaders in different countries strongly expressed their concern about the matter and appealed to the League of Nations to do everything possible to bring peace.
G. W. Baer, commenting on the Vatican attitude, has the following to say:
---
INTERNATIONAL CONFERENCE ON JUSTICE FOR ETHIOPIA
REGARDING THE FASCIST WAR CRIMES DURING 1935-41
The conference is scheduled to be held in Washington, DC on September 26, 2015 under the auspices of the Global Alliance for Justice – The Ethiopian Cause (GAJEC).
BACKGROUND
In 1935 Fascist Italy invaded Ethiopia and during the course of the following five years it committed savage war crimes killing thousands of peaceful citizens and leaving the country in ruins. Italy's unprovoked invasion included:
---
---
Economic Growth and Governance in Ethiopia:
An Observation Professor Desta, Asayehgn, Ph.D.
Over the past decade (2003 to 2013), Ethiopia has shown a dramatic increase in its economic growth. When compared to the regional average of 5.3 percent, Ethiopia's Gross Domestic Product has grown at the rate of 10.8 percent per year. In tandem, Ethiopia's extreme poverty line in both rural and urban areas has also declined from 38.7 percent from 2004-2005 to 29.6 percent in 2009-2010. As planned by the United Nations, Ethiopia has also achieved some of the Millennium Development Goals (MDGs) in areas such as child health services and safe water requirements. Moreover, Ethiopia has also made encouraging progress in gender parity mainly in primary education, as well as in HIV/AIDS, and malaria disease control (Ethiopia/Overview, April, 05, 2015). Given these dramatic, noticeable improvements, the cardinal question that stands to be answered is: can Ethiopia's economic growth be attributable to market-enhancing strategies?
---
Prospects for peace in South Sudan fading fast
Global Information Network | August 18, 2015
(GIN)—Dismissing efforts, including those of President Obama, to sign off on a peace agreement and end the 20-month long civil war in the world's newest nation, South Sudanese President Salva Kiir declined to sign, saying he needed more time for consultations. Seyoum Mesfin, mediator for IGAD, a regional group, told the media.Rebel leader and former Vice-President Riek Machar did sign the agreement. Among the issues in dispute were the structure of the government, the powers of the president, and the vice president, power-sharing percentages, security issues, and the demilitarization of Juba and other places.
---
Africa: Power Projects Take Time But Access to Electricity is Spreading –
Paul Hinks
interview
Washington, DC — Paul Hinks, CEO of Symbion Power, has had a 30-year career in the energy sector, the last five focused on Africa. The independent power producer and engineering contractor builds, owns and operates electricity infrastructure. Since 2012, Hinks has also served as chairman of the Corporate Council on Africa. He was interviewed in the company's Washington, DC headquarters.
---
Green Journey "Ethiopia's Agricultural Revolution"
---
Revitalizing Ethiopia's Manufacturing Enterprises through the Japanese Production Management Strategy, Kaizen, Tate Publishing 2015  
Authored by Asayehgn Desta, PhD Reviewed by Ghelawdewos Araia, PhD July 18, 2015
Asayehgn Desta, our colleague in the academia and scholarly research, has produced an excellent book on contemporary Ethiopia's political economy in general and macroeconomic analysis in particular. The book presents a comprehensive survey, analysis, and critical remarks on Ethiopia's industrial enterprises in the context of Kaizen, a Japanese management system that "a number of Ethiopian enterprises" have adopted in order "to redesign their manufacturing enterprises and eventually improve their competitiveness in the global market" as stated in the Introduction of the book.
---
Ethiopia Should Welcome Obama as if He is Her Own Son!
Ghelawdewos Araia, PhD July 2, 2015
However Ethiopia, and by extension Africa, view the Obama political persona and character, call him prodigal son or the lost son of Africa, the land of the origin of humanity should welcome him as if he is her own son. In the micro sense, Obama is African-American but in the macro sense and also in the broader context of the etymology of the term Ethiopia (denoting 'sun-burnt face'), he is Ethiopian. Therefore, his sojourn to Ethiopia on July 2015, in fact, evokes the Homeric depiction of Ethiopia, as land in which the gods enjoy their respective excursions. Obama, thus, will enjoy his sojourn in Ethiopia not only with the Ethiopian people but in the company of the gods as well.
Ethiopia should welcome Obama not only as her own son, but she also should baptize him with the sacred waters of the land and offer him an adopted Ethiopian name, preferably Tesfa (hope), because he is the hope for thousands upon thousands of young Americans, and more specifically for African Americans. By default, Obama has become the vital force and inspiration for black Americans who survive every single day against all odds in democratic and prosperous America.
---
Summit of women of African descent opens in Nicaragua
Global Information Network | June 30, 2015
(GIN)–Some 270 women from 220 countries gathered in Managua, Nicaragua over the past weekend to launch a political platform that addresses discrimination against people of color. At the end of the three day meeting, the women participants and representatives of more than 400 black women's organizations adopted a political strategy, timed to coincide with the International Decade for People of African Descent (2015-2024).

A panel discussions conducted with Dr. Ghelawdewos Araia On the issue of Djibouti, its past, present, and future relationship. 
---
Africa tracks: construction of key Djibouti-Ethiopia rail line to finish
Djibouti (AFP) - The leaders of Djibouti and Ethiopia will oversee the completion of a railway linking their two capitals on Thursday, with the ambition that the link might eventually extend across the continent to West Africa.
Djibouti's President Ismail Omar Guelleh and Ethiopia's Prime Minister Hailemariam Desalegn will attend the ceremonial laying of the last track in the 752-kilometre (481-mile) railway, financed and built by China, linking the port capital of Djibouti with landlocked Ethiopia's capital Addis Ababa.
---
JOIN US FOR PROF. HAILE GERIMA'S KICKSTARTER
We are very pleased to announce our joining the fund raising campaign for the renowned film maker, Prof. Haile Gerima's new film Yetut Lij. The goal is to make sure that this film is fully made through the direct effort of the community. If successful, we can all claim a stake on this independent and promising film. Details on the film and its project description can be found on the web site: YetutLijMovie.com
---
Critical Reflection on Ethiopia and the Horn of Africa Conference
Ghelawdewos Araia, PhD May 29, 2015
This critical reflection aims to systematically appraise the papers presented by some panelists in 'Ethiopia and the Horn of Africa Conference' (May 9-10, 2015, Arlington, Virgina) and furnish constructive ideas for the sole purpose of provoking discussion among Ethiopians at home and in the Diaspora. I have seen some of the videos of the conference, but the one that I watched with some focus and interest was the panel of Ermias Legesse Waqjira, Drs Getachew Begashaw, Messai Kebedde, and Berhanu Nega.
---
Election Eve Reality on the Ground and Possible Post-election Scenario in Ethiopia
Ghelawdewos Araia, PhD May 22, 2015
I have been following the pre-election debates and the overall spirit and visible excitement of the Ethiopian people to cast their votes on May 24, 2015. Despite some shortcomings exhibited by the contending parties' representatives, the debates were nonetheless a learning process for the Ethiopian people, the political parties running for office, and the Ethiopian Peoples' Revolutionary Democratic Party (EPRDF) or the ruling party. In one form or another, the debates served as vehicles of enlightenment for the larger Ethiopian audience. It was clear from the outset that the 2015 pre-election debates were going to be by far advanced and civilized compared to the two previous elections of 2005 and 2010.
---
We (ETHIOPIANS) GET THE GOVERNMENT WE DESERVE? By Tecola W Hagos
Introduction
In a couple of weeks, Ethiopia's national election is upon us in the middle of a year full of unprecedented cruelty and barbarism against defenseless Ethiopian migrants in Libya and South Africa. We have individually and collectively suffered the barbarism of some Arabs in Libya and the savagery of some Zulus in South Africa. This is only the tip of the iceberg, for things will turn out even worse unless we make some fundamental and profound changes in the leadership of the Ethiopian Government and in each of us Citizens of Ethiopia.
---
Strategies to combat and defeat the international menace of ISIS
Ghelawdewos Araia, PhD May 3, 2015
Dedicated to the 30 Ethiopians who were shot and beheaded by ISIS in Libya on April 19, 2015
While the overall general trend of history could be reasonably predicted, history itself often comes up with relatively unfathomable phenomena, and we humans are caught at the crossroads and thresholds and rather become helpless. This might sound ironic but it happened many times in history every time societies encountered quandaries and conundrums, as well as social calamities manifested in the form of Nazism, Fascism, Jihad etc. In the above context, thus, the new ex machina of Islamic State of Iraq and al-Sham (ISIS) or Islamic State of Iraq and the Levant (ISIL), would be one more surprise of history. Ex machina, is a positive attribute to a Godly appearance in religious tenets or a sudden appearance of a character in a drama that would provide solution to an insoluble difficult problem; it would be inappropriate to depict ISIS as ex machina in its literal sense, but I am using it only as "a sudden appearance of a phenomenon." ISIS, far from providing solutions to problems, is in fact an international menace and global challenge. This menace should be combated and defeated.
---
'It's degrading,' says Ethiopian-Israeli soldier beaten by police
By Oren Liebermann, CNN
Jerusalem (CNN)—The Ethiopian Jewish soldier at the center of a viral beating video that has sparked protests across Israel says he supports the anti-racism demonstrations, but condemns the violent clashes that erupted. Cpl. Demas Fikadey, 21, told CNN he was a block away from his house in Holon, a suburb of Tel Aviv, when he tried to cross the street. Fikadey says an officer stopped him from crossing, then grabbed his bike and cell phone. Fikadey says he urged the police officer not to use force, but by then, another officer had joined in. The video shows the two officers push Fikadey to the ground and hold him down for approximately one minute before allowing him to stand up. The entire incident is caught on a nearby security camera, but the video has no sound.
---
South Africa's Incredible Amnesia: Forgetting Africa's Contribution to the Liberation Struggle
IDEA Viewpoint April 24, 2015
We at the Institute of Development and Education for Africa (IDEA) are disturbed by the ongoing xenophobic violence in South Africa against African immigrants. Hence we present this viewpoint and reflection so that our subscribers have a good flavor and understanding of the mob action against fellow Africans. We begin with a brief historical note and proceed in analyzing and critically examining the South African wave of anti-immigrant attacks.
South Africans and other Africans may not know or remember the Massavana story because it took place so long ago, but that of Mandela and the struggle of liberation is a recent memory and South Africans are cognizant of the sympathy and solidarity extended to them by fellow Africans. At least the South African leadership knows too well about Mandela's training in Ethiopia, the African National Congress (ANC) base camp in Tanzania, and the support they have enjoyed from Zambia, Zimbabwe, other SADC (Southern Africa Development Community) nations, as well as other Africans.
---
---
Former military man declares victory in Nigerian polls
Global Information Network | April 1, 2015 |
Opposition party wins election in West African economic giant, Goodluck Jonathan ousted
GIN)–Showing a "commendable determination to register their vote and choose their leaders," Nigerians by the hundreds of thousands lined up at polling stations across the country to select the next president and National Assembly of their country, U.S. and British witnesses to the hotly-contested presidential polls observed. In a joint statement by the British foreign secretary and the U.S. secretary of state, the observer governments "welcomed the largely peaceful vote on March 28."
Concerns over the possibilities of fraud were quietly swept away when the national election commission called the winner of the country's presidential poll as Muhammadu Buhari of the All Progressives Congress (APC).
---
---
Ethiopia Should Allow Free Press and Legitimate Dissent to Flourish
Ghelawdewos Araia, PhD March 16, 2015
This article is intended to address the role of the free press and legitimate dissent in the enhancement and establishment of democracy in Ethiopia. Ethiopia had missed a golden opportunity in finding a democratic culture during the formative period of the 1974 revolution. Soon after the outbreak of the Ethiopian revolution, a modicum of democracy was allowed by default when the emerging Derg elements pretended as protectors of the Revolution while Ethiopians staged massive demonstrations freely. Moreover, the EPRP and Meisone intellectuals conducted series of ideological debates via their respective journals, namely Goh and Tsedey, but all these semblance of democracy were soon suppressed by the military junta.
---
The Institute of Development and Education for Africa (IDEA) would like to invite its subscribers to view a video on the integration of Ethiopia and Djibouti. This video reinforces Dr. Ghelawdewos Araia's article entitled The Unification of Ethiopia & Djibouti will be of Paramount Historical Significance and his recent VOA Amharic interview (http://amharic.voanews.com/content/article/2595509.html). The following video actually depicts the sincere real thinking or ordinary Ethiopians and Djboutians on the integration of both countries.
---
---
Cyber Politicians' Bad Omen & Critique on the Doomsday Scenario of Ethiopia

Ghelawdewos Araia, PhD February 21, 2015

First and foremost let me make my position crystal clear why I decided to write this piece. I am not affiliated to any political organization nor am I interested to address any party, governing elite, or government in relation to this essay. I see myself as an independent scholar who advances a modicum of advocacy on behalf of Ethiopia, and I would be more than willing to perform as a spokesperson for my country.

As the subtitle of this essay implies, I am critiquing the recent video clip entitled US Policy: Ethiopia A Failed State1 that has been circulating among Ethiopians in the Diaspora. I am perplexed and flabbergasted by the contents of the narrative of the video surrounding a pending disaster for Ethiopia, and while I am not interested in totally refuting what has been presented in the video, I am however disappointed by the egregious negligence and exclusion of the Ethiopian people, the ultimate force who play a pivotal role in determining the fate of Ethiopia. Moreover, the video completely ignores the greatness of Ethiopia that I will address later in order to reinforce my thesis of 'Ethiopia, too big a nation to fail'.
---
---
The Unsung and Forgotten Ethiopian Heroes and Heroines
Ghelawdewos Araia, PhD February 4, 2015

Too many to remember and call their names
Heroes and heroines of utmost altruism
Who fell on behalf of a noble struggle and
Who gave their lives for justice, freedom, and
Equality for all nationalities of Ethiopia

Some of them were buried in shallow graves
In ravines and mountainsides
Others may have enjoyed a proper burial by their comrades
Yet, they too were buried in unmarked fox holes
---
‹‹ኢትዮጵያና ጂቡቲ ለበለጠ ኢኮኖሚያዊ ምናልባትም ፖለቲካዊ ውህደት ሊሠሩ የሚገባበት ጊዜ ነው›› ጠቅላይ ሚኒስትር ኃይለ ማርያም ደሳለኝ
---
ኢትዮጵያና ጅቡቲ በምጣኔሀብት ለመዋሀድ የያዙት እቅድ
ኢትዮጵያና ጅቡቲ በምጣኔሀብት ለመዋሀድ የያዙት እቅድ
ኢትዮጵያና ጂቡቲ የኢኮኖሚ ውህደት ለመፍጠር እየሰሩ መሆናቸው ይታወቃል። ውሎ አድሮም ወደ ፖለቲካዊ ውህደት የማምራት እድል እንዳለው ይገመታል።
View on amharic.voanews.com
---
Egypt Should Rethink Its Death Sentences over Muslim Brotherhood
IDEA Editorial February 2, 2015
The Institute of Development and Education for Africa (IDEA) appeals to the Government of Egypt led by President Abdul Fattah el-Sisi, to rethink and reconsider the death sentence of 183 Muslim Brotherhood (MB) members and refute the Court's decision. The rationale of IDEA's appeal is not simply based on human rights parameters, but also on anticipating the negative consequences of the capital punishments that might otherwise haunt Egypt in the long haul.
We at IDEA prioritize development and education issues pertaining to the African continent, but since politics and its attendant detachments like human rights and democracy are inseparable from development agendas, we have also produced and posted numerous articles on Africa, which are essentially political in nature.
---
Book Title : "Fitsum New Imnetie"

"Key Shibir", "Red Terror"
"The truth of Kefetegna 15"
By Nesibu (Alulla) Sibhat
Book Review by: Abera S, Chicago Illinois USA
---
UNESCO Should Recognize Ethiopian Epiphany as Intangible Cultural Heritage
Ghelawdewos Araia, PhD January 24, 2015
UNESCO has already recognized Ethiopia's most popular Meskel festival (the founding of the True Cross holiday) as one of the world's intangible heritages and Ethiopians were appreciative of the constructive undertaking rendered by the UN agency for education, science, and culture. There is no doubt that Ethiopians would be more appreciative if UNESCO recognizes Timket (Ethiopian epiphany), which is as popular as Meskel, as yet another intangible Ethiopian heritage.
---
The Historic Ethiopian-Egyptian Renewed Diplomacy and Cooperation
Ghelawdewos Araia, PhD January 12, 2015
I am gratified to witness the renewed Ethiopian-Egyptian diplomacy and cooperation after much turbulence, mistrust, and bellicose political climate that have griped the two African nations for decades. To be sure, it was Egypt that had promoted animus belligerendi (a near war attitude) against Ethiopia since the days of Emperor Haile Selassie. Now, thanks to the wise leadership of President Field Marshall Abdel Fatah el-Sisi and the pragmatic vision of the Egyptian people, Egypt has completely reversed its old policy and enhanced a friendly foreign policy toward Ethiopia. Ethiopia, on the other hand, had advanced a more conciliatory and compromise d'arbitrage (resolving disputes peacefully) policy toward Egypt, but finally, so it looks, the Ethiopian patience paid off.
---
A BITTERSWEET TOAST TO ALL THE JOURNALISTS IN JAIL By Global Infor...
December 30,2014
Dec. 29 (GIN) – Of the thousands of relentless scribes who dig for a story, dodge bullets, follow paper trails, shine a light in the darkness, some 220 news writers around the world will spend New Year's this year in a faraway jail. This month, Kenyan writer Janet Otieno-Prosper dedicated her essay in the Africa Review to remembering the public watchdogs arrested for their attempt to tell the truth. "I have dwelt on many subjects, from women and children rights, to environment and health," she wrote. "Today, I use this column to give a toast to those journalists who will be spending their Christmas, and perhaps New Year, in jail." A list prepared by the NY-based Committee to Protect Journalists gives the story. - See more at:"Ethiopian journalist Temesghen Desalegn jailed with 17 colleagues after a court in Addis Ababa convicted him in connection with opinion pieces published in the now defunct Feteh news magazine. He was sentenced this October to three years on charges of defamation and incitement. Eritrea shames Africa with 23 in jail (Ethiopia has 17). Vietnam follows closely with 16 as Egypt and Syria each follow at 12. - See more at: http://www.blackstarnews.com/global-politics/africa/a-bittersweet-toast-to-all-the-journalists-in-jail.html#sthash.5xLSw9Eq.dpuf
---
Ghelawdewos Araia, PhD
December 17, 2014
The unification of Ethiopia and Djibouti would be a historical reaffirmation of the genetic linkage of the two peoples. I argue that the peoples of Ethiopia and Djibouti are genetically and historically inextricably linked together, not only to imply that their respective countries are geo-politically intertwined, but also to undergird the common heritage, historical experiences, the oneness of cultural ethos, same language, and linguistic semiotics shared by the two peoples on either side of the Ethiopia-Djibouti border. The two main ethnic groups that make up Djibouti are the Afar and Issa, whose ancestral homes are in Ethiopia. Wherever they may be, all Afar people claim Awsa, Ethiopia as the birthplace of their ancestors. Likewise, all Issa (a Somali clan) strongly believe that their original home is Ugaz (in greater Dire Dawa, Ethiopia).
---
Sovereignty and Democracy in Ethiopia: A Reflection on Gebru Asrat's Book
Reviewed by Desta, Asayehgn, Ph.D. Professor of Sustainable Economic Development, Barowsky School of Business, Dominican University of California
Over the past forty years, we have been hearing and reading a lot about the Tigrai People's Liberation Front (TPLF) which dismantled the inhuman and atrocious Military dictatorship that ruled Ethiopia from 1974 to 1991. It was not only highly skilled in military operations but was visionary. The impression that was widely circulated was that when the TPLF came to power it would protect Ethiopia's sovereignty, adhere to the rules of law and ensure that equity and social justice would prevail , and above all democracy would be the norm of Ethiopian society.
---
Annotated Bibliography of New and Noteworthy Books on Ethiopia
Ghelawdewos Araia, PhD
---
---
We can't be Silent on the Reality Surrounding Abused Ethiopian Adoptees: Appeal to Diaspora Ethiopia & The Ethiopian Government
December 13, 2014
I want to die in my own country; I don't want to die in somebody's country
Abey, Ethiopian homeless in Seattle, Washington
Children with no voice
Pastor Berhanu Seyoum, Mekane Iyesus Ethiopian Church, Seattle, Washington

The Dan Rather video clip on abused adoptees and subsequent homeless Ethiopian teenagers in Seattle, Washington is a wakeup call for all of us Ethiopians. After exchange of ideas and information and discussing the adoption enigma in some detail, we at the Ethiopian Observer and the Institute of Development and Education for Africa (IDEA) have decided to take a more proactive position on the problem of illegal human trafficking and adoption of apparently orphan Ethiopian children, and use this opportunity to call upon all Ethiopians in the Diaspora and the Ethiopian Government to come up with some novel solution to this invidious problem.

---
Studies on Contemporary Ethiopian Social Issues
Ghelawdewos Araia, PhD
Institute of Development and Education for Africa (IDEA)
December 1, 2014
Dedicated to Hanna Lalango ለ ሃና ላላንጎ መታሰብያ
This scholarly article on Ethiopian social issues attempts to fill a lacuna in Ethiopian contemporary social studies with particular focus on social ills that have proliferated in Ethiopia as of recent but ironically underreported by the Ethiopian media. Social problems, including crimes, are not unique to Ethiopia and they are apt to develop, if not mushroom, especially in nascent expanding urban centers. However, we Ethiopians, and especially intellectuals, have historical responsibility to research and study the social problems and influence public policy for the sole purpose of overcoming the problems.
---
---
IDEA Rare and Special Collection Books for Sale
Books on Ethiopia, African Studies, African-American Studies, Political Science, Political Economy, International Studies, History, and Literature are available for purchase. Note: Book prices plus shipping and handling are final, and once books are purchased they cannot be returned for refund.
How to Order: Select your title and make check payable to IDEA, Inc. and add $4 for shipping and handling cost (and add $2 for additional copy, i.e. if you order 2 books, mailing cost would be $6; if 3 copies, $8 etc) and mail your check to 975 Mix Ave, Suite 3K, Hamden, Ct 06514. The price for each book is noted against the corresponding title of respective books. For questions:
email webmaster@africanidea.org
---
---
Girmay Zahilay: A young man with positive energy and bright future
Giramy Zahilay is a lawyer and recent graduate of the University of Pennsylvania Law School. Born in Gedaref, Sudan, he immigrated to the United States with his family at age three and grew up in Seattle, Washington. He received his B.S. in Biological Sciences from Stanford University in 2009. Before Law School, he spent a year working at a law firm in San Francisco, and another year working to fight poverty in America through the Congressional Hunger Center in Washington, DC. During law school, he had the opportunity to intern at the White House and assist President Obama's legal team by conducting research and writing memos on various legal issues ranging from policy implementation to federal ethics
Ethiopian Culture and Holidays in Adigrat, Ethiopia : EBC Sunday Entertainment Video
---
---
Current Issues in Educational Development in Selected African Countries: A Comparative and International Education Perspective
Ghelawdewos Araia October 13, 2014
This article intends to critically examine the state of educational developments in Botswana and South Africa from Southern Africa; Ethiopia and Tanzania from East Africa; Ghana, Nigeria, Senegal, and Sierra Leone from West Africa; and Egypt and Morocco from North Africa. The methodology employed throughout the text of this article is the comparative and international education perspective, but the latter, as some people assume, is not simply about comparisons and contrasts. It goes deeper rather in exploring the educational theory and practice in international context, delves into the purposes of schooling, educational access and opportunities, accountability, as well as professionalism and quality education. The methodology also involves demographic attributes, geographical and economic realities, as well as political and cultural factors.
---
---
---
Obama Praises Development in Ethiopia
Sep 28th, 2014
---
US-ETHIOPIA-OBAMA-DESALEGN PRESIDENT OBAMA: Well, I want to extend a warm welcome to Prime Minister Desalegn and his delegation. When I spoke previously at the Africa Summit about some of the bright spots and progress that we're seeing in Africa, I think there's no better example than what has been happening in Ethiopia — one of the fastest-growing economies in the world. We have seen enormous progress in a country that once had great difficulty feeding itself. It's now not only leading the pack in terms of agricultural production in the region, but will soon be an exporter potentially not just of agriculture, but also power because of the development that's been taking place there.
---
The ISIS Factor: What Islamic Jihad Means for Ethiopia and the Rest of Africa
IDEA Viewpoint
Ghelawdewos Araia, PhD September 20, 2014
ISIS is the latest mystique obscurity of the Islamic Jihad variety, but Jihad is not novice to Ethiopia and/or the rest of Africa. The acronym ISIS actually should read ISIL meaning Islamic State in Iraq and the Levant (the geographic area that includes Iraq, Jordan, Israel, Syria, and parts of Turkey). The geopolitics of ISIS, though conceptual rather than actual, includes the entire Middle East, all Horn of Africa countries, all North African countries, some African countries, Spain, and countries like Indonesia in South East Asia.
The new ISIL Jihad extremists who gained momentum in destabilized Syria and Iraq have preferred to use the name ISIS, perhaps inadvertently or by design, in order to have a catchy name that corresponds to the ancient Egyptian goddess, Isis (Aset).
---
Fingerprint Geometric Analysis
Andres J. Washington
---
Kahsay Abraha the author of Yeasimba Fikir interview with VOA
Date: Monday, September 8, 2014, 7:28 PM GREEN PEACE TAKES AIM AT SOUTH
AFRICA'S 'ESKOM' OVER AIR-BORNE KILLER COAL DUST Sep. 8 (GIN) –
Environmental activists at Green peace Africa have launched a global campaign to block efforts by Eskom, South Africa's public power utility, to release more polluting coal dust in the air. The dust has been linked to an uptick in premature deaths now estimated at 2,700 every year. Green peace is pushing its campaign in the wake of an application by Eskom to postpone compliance with new minimum emissions standards aimed at reducing the damaging health impacts of air pollution. The new standards will impact the north-eastern Mpumalanga Province where 12 coal-fired power plants are clustered on the western high-altitude
---
FIGHT OVER SPOILS TURNS DEADLY IN LEADERLESS LESOTHO By Global Infor...
September 03,2014
In the Mountain Kingdom of Lesotho, encircled by South Africa, there's trouble in paradise.
Prime Minister Tom Thabane, fearing a military coup, slipped out of the country Saturday night,
to reappear in Johannesburg calling for intervention by that country's security forces. Thabane believed
he was a target by his coalition partner seeking his ouster so he blocked a no-confidence vote in
parliament and suspended the entire body in June. Lesotho has endured numerous military coups
since gaining independence from Britain in 1966. In the current skirmish, Thabane, 75, commands
the loyalty of the police. The deputy prime minister, Mothetjoa Metsing, has the support of the army. -
---
LIBERIA CONTENDS WITH EBOLA AS DIASPORANS URGE 'REGIME CHANGE'
Sep. 2 (GIN) – Photos of Liberian President Ellen Johnson Sirleaf looking tired or grim suggest the toll the current Ebola epidemic has taken on the 75 year old leader. The crisis, for which the region was ill-prepared, has taken over a thousand lives – some 700 in Liberia - and many of the improvised control strategies appear to have backfired including the quarantining of the overcrowded West Point slum. This week, nurses at Liberia's largest hospital walked off their jobs, demanding better pay and equipment to protect them against the deadly epidemic. "From the beginning of the Ebola outbreak we have not had any protective equipment
---
TO BE NAMED FOR SIERRA LEONEAN MD WHO TREATED VICTIMS OF EBOLA
Sep. 2 (GIN) -
The family of Sheik Humarr Khan has set up a foundation in his name to help pay for the education of future medical workers and provide support to the families of doctors and nurses who lose their lives in the field, The Lancet, a medical magazine reported in a recent issue. "He was very aware of the dangers of his work, but selflessly worked around the clock to ensure that patients received the best possible standard of care", said Kristian Andersen, a postdoctoral researcher at Harvard University.
"He saved the lives of many patients." Khan, virologist and expert in viral hemorrhagic fevers who led Sierra Leone's Ebola response, died from Ebola in Kailahun, Sierra Leone, on July 29. He was 39.He was born in Lungi, Sierra Leone, on March 6, 1975. Humarr Khan's brother Alhajie recalled how one day, before school exams, Sheik read the obituary of a German doctor who had come to Sierra Leone to help treat people with Lassa fever. He had contracted the disease and died. Sheik, then 15 years old,
---
---
The Art of the Kaizen Approach for Sugar Production in Ethiopia:
Lessons from the Methara Sugar Factory
Asayehgn Desta, Ph.D. Sarlo Distinguished Professor of Sustainable Economic Development, Barowsky School of Business, Dominican University of California
---
Business Process Reengineering (BPR) deals with fundamental organizational change, or is the great-leap approach to redesigning and retooling. It seeks to bring a radical approach to creating a breakthrough in organizations trapped in outmoded and outdated business processes. Top managers and consultants design new ways of doing things and force companies to go beyond continuous improvement of existing products, services, and processes. Though innovative, BPR is being challenged by some companies looking for a strategic remedy that will contribute to the sustainable improvement of their performance and quality, add value for their customers while minimizing cost and eliminating waste.
---
Africa News in Brief from Global Information Network
Tuesday, July 29, 2014, 10:09 AM FRENCH FIRM LOSES BID TO OWN
AFRICA'S 'ROOIBOS' TRADEMARK Jul 28 (GIN) –South African tea planters won a major victory over European and U.S. Tea dealers this week. They defeated efforts by a French firm to gain control of the name "Rooibos" - a popular tea that grows in South Africa - by trademarking it abroad. Under the agreement, Rooibos, which means 'red bush' in Afrikaans, will refer to tea grown in the Cederberg mountains in the Western Cape where it's been farmed for generations. The indigenous shrub-like plant is known for its health benefits, sweet taste and many uses. These include herbal teas, fruit juices and other foodstuffs, as well as healthy and beauty products.
---
---
SURVIVORS OF 'BIAFRA WAR' IN NEW PUSH FOR REPARATIONS
Jul. 14 (GIN) – Survivors of the Nigerian civil war that raged for 3 years and whose horror was captured in
unforgettable photographic images that shocked the world have renewed their demand for compensation for
the suffering of those years.

Ndigbos, a socio-cultural Igbo group, were cut down in a brutal war that followed years
of political wrangling among three regional-political sectors joined in an uneasy alliance by British colonialists. The newly-independent Nigeria consisted of Yoruba, Igbo and Muslim Hausas. After a deadly coup and counter-coup, the Igbos declared their intention to breakaway and form a sovereign republic called Biafra. Their intention triggered a war against the new republic which had minimal defenses. A military blockade of the Biafrans
in 1968 led to a humanitarian disaster including widespread civilian hunger and starvation in the besieged Igbo areas. The Biafrans claimed that Nigeria used hunger and genocide to win the war, and they sought aid from the outside world. Only five countries (Tanzania, Gabon, Côte d'Ivoire, Zambia and Haiti) officially recognized the endangered Biafra republic.
---
---
CHILD MARRIAGE – NIGERIA'S OTHER SCOURGE
Jun. 30 (GIN) – Nearly 300 school-age girls are still in the hands of Boko Haram, a Nigerian terrorist group, but they're not the only group of young women yanked from school against their will and made to work at the beck and call of husbands they did not choose. A new exposé rips Nigeria for its record number of child brides – some as young as 9.
According to the U.N. Population Fund, Nigeria has one of the highest rates of child marriage in the world.
---
May 31, 2014
Book Launching and Discussion on Contemporary Ethiopia
The Institute of Development and Education for Africa (IDEA) is proud to announce the launching of Dr. Ghelawdewos Araia's book, Ethiopia: Democracy, Devolution of Power, and The Developmental State in Washington DC on June 28, 2014.
IDEA encourages all Ethiopians and scholars on Ethiopia in the Washington DC Metro Area to join the fascinating discussion on contemporary Ethiopia. Professor Haile Gerima will introduce the book signing ceremony and Dr. Araia will engage the audience in a lively and interactive intellectual discussion.
Venue: Sanfoka Video and Books, 2714 Georgia Ave, Washington DC 20001
Time: Saturday June 28 at 3 pm
---
'INVEST IN OUR GIRLS,' SAYS LIBERIA'S 'MA ELLEN,' IF AFRICA IS TO RISE
Jun. 16 (GIN) – In an open letter dated June 16 – the International Day of the African Child – Liberian President Ellen Johnson-Sirleaf warned there would be no "Africa Rising" without a serious "investment in our girls."

The key cornerstone to addressing some of the world's most pressing challenges is through providing a quality education to all children, especially girls, the former World Bank official known as "Ma Ellen" declared.
"To not invest in and prioritize girls' education, we as African leaders are telling our women that we do not care," she said. "As one of those women, I will not accept this and I urge all our leaders to invest in our children's future. Investing in girls' education is not only a moral imperative, it is a smart investment."
The Liberian leader noted that Africa had the dubious distinction of having the highest rate of girls not in school and in sub-Saharan Africa nearly four out of five poor rural girls are not completing primary school.
---
HASHTAG' CAMPAIGN FOR KIDNAPPED GIRLS SPARKS DISPUTE

Jun. 9 (GIN) – Is the social media campaign to bring back the abducted Nigerian schoolgirls an effective tool to win their freedom or just trending until the next big thing comes along? That's the question heating up the news wires with rescue efforts at an apparent standstill and new dramas coming on the media stage.
Staff writer Joshua Keating in Slate.com was among the questioners. He compared #BringBackOurGirls to the #StopKony campaign of 2012. "Stop Kony was the most successful viral video in history and succeeded in making Joseph Kony and the Lord's Resistance Army internationally famous," he wrote.
But the video had flaws. "It not only fudged basic facts of geography and chronology, but failed to provide viewers with any social, political or economic context for Kony's violence," Keating said.
---
NEW PRESIDENT OF MALAWI TAKES POWER UNDER FELONY CLOUD

June 2 (GIN) – In his second try for elected office, Peter Mutharika captured the winning margin of victory and edged out Malawi's first woman president – Joyce Banda.


The 74 year old Mutharika, brother of a former president, was declared the victor last week in a disputed election. But he comes into office under a cloud, accused of attempting a constitutional coup two years ago by hiding the death of his brother, President Bingu wa Mutharika, in order to block Mrs. Banda – then vice-president – from assuming the presidency.
When President Bingu wa Mutharika suffered a cardiac arrest on April 5, 2012, brother Peter allegedly pushed forward a measure allowing him to become President, overriding the constitution. A secret meeting to swear him in failed and Mrs. Banda was elevated to the top job.
---
---
The Passing of an African American Giant in Literary and Political Movements: Maya Angelou 1928-2014

May 28, 2014
The Institute of Development and Education for Africa (IDEA) extends its condolence to the immediate and extended families of Maya Angelou and celebrates her life as jack-of-all-trades and quintessential poet laureate. Maya Angelou became famous with her first book entitled I know Why the Caged Bird Sings; she directed Down in the Delta, a film that made her famous, and the whole world also witnessed when she came to read a poem for the presidential election of Bill Clinton in 1993.

Melvin Donalson in his book CORNERSTONES: An Anthology of African American Literature tells us how Maya sees herself in her own words: "for the black voice and any ear which can hear it. As a composer writes for musical instruments and a choreographer creates for the body, I search for sound, tempos, and rhythms to ride through the vocal cord over the tongue and out the lips of Black people…I write because I am a black woman, listening attentively to her talking people."
---
May 20, 2013
In light of Egypt's leader, Field Marshal Abdel-Fattah al-Sisi plan to visit Ethiopia, the Institute of Development and Education for Africa (IDEA) recommends Ethiopian policy makers to make reflections on an editorial entitled Egypt has no choice but to cooperate with Ethiopia, published on June 12, 2013. IDEA also encourages its subscribers to re-read the said editorial and come up with constructive ideas in an effort to support the Ethiopian people's initiative to construct and complete the Grand Renaissance Dam. The editorial, written almost a year ago, can be accessed by the following link: www.africanidea.org/Egypt_has_no_choice.html
---
ATTENTION UNIVERSITY LIBRARIES, INSTITUTIONS, and Bibliophiles
Seize the moment for a highly acclaimed book entitled ETHIOPIA: Democracy, Devolution of Power, and The Developmental State
Author: Dr. Ghelawdewos Araia
ISBN: 978-0-578-12124-6
Paperback
Publisher and distributor: Institute of Development and Education for Africa (IDEA)
Price: $30 plus $5 for shipping and handling
For book order, please visit www.africanidea.org and for contacting the publisher you may email via webmaster@africanidea.org or call (203) 747-2763, (203) 789-1990, and (203) 537-0240. Libraries and other institutions should send their order number, mail address, email, and phone number in order to expedite delivery. The book has been reviewed in many blogs and websites, including Amazon and the author has enjoyed several book launch and reception events at higher institutions of learning including Teachers College, Columbia University.
Please see attachment for book image
---
Creating Territorial Boundaries to Design the Political Order of
Self- rule and Shared-rule of Federal Units: A Review
Desta, Aayehgn, Professor of Sustainable Economic Development, Barowsky School of Business, Dominican University of California
Federation involves a territorial division of power between constituent units – sometimes called provinces, cantons, possibly cities and states, and the central government (Watts, 1998). In other words, federalism may be defined as a form of governmental and institutional structure designed by the will of the stakeholders to maintain unity while also preserving diversity (Odion, 2011). The main characteristics of federalism include: 1) political power that is structurally dispersed among centers of authority to encourage both self and shared rule; 2) subordinate units prescribed by areas of jurisdiction that cannot be invaded by the central authority; 3) leaders of subordinate units who draw their power heavily from local sources independent of the central authority; 4) governmental institutions of the sub-units that have democratic rights to choose their own officials and develop (by forming their own constitution, symbols, anthems, etc) their own policies within their areas of jurisdiction; 5) leaders and representatives of each sub-unit who possess a legally protected base from which they can voice their opposition to the central authority; and 6) governors of each unit chosen not by the ruling political party but are elected by local residents ( Feeley,1994).
---
Revised Edition, The Red Sea Press 2014
Authored by Zewde Gabre-Sellassie, PhD
Reviewed by Ghelawdewos Araia, PhD
May 6, 2014
Zewde Gabre-Sellassie's book pioneered in fully exploring and documenting the political biography of Emperor Yohannes in detail and in depth. Other books on Yohannes include that of Bairu Tafla's Chronicle of Yohannes IV: 1872-1889; Tekle Tsadiq Mekuria's Atse Yohannes 'na Ya Ethiopia Andinet (Emperor Yohannes and the Unity of Ethiopia); and Mamo Wudneh's Yohannes (fiction in Amharic), not to mention numerous articles including mine entitled The Martyred King of Kings: Emperor Yohannes IV that I wrote in 2006 (www.africanidea.org/atse_yohannes.pdf)

.The Red Sea Press posthumously published Yohannes IV of Ethiopia: A Political Biography, first put out by the Clarendon Press in 1975, now revised and updated by the author. The book is organized into thirteen chapters and supplemented by nine appendices that greatly enriched the respective chapters and more specifically the historical themes of the text, and this becomes handy for the casual reader as well as the scholar engaged in serious research.
---
---
---
Nigeria holds up release of highly acclaimed film by popular novelist
Apr. 28 (GIN) – A new film based on the highly-praised novel by Nigerian author Chimamanda Ngozi Adichi has run into "regulatory issues" from Nigerian censors who have delayed its release
South African who fought toxic waste dumping wins environmental prize
By Alessandra Scipione
Apr. 28 (GIN) - A South African environmentalist Desmond D'sa has been awarded the 2014 Goldman Environmental Prize. Desmond D'Sa, a community leader and co-founder of the South Durban Community Environmental Alliance in 1996, campaigned against toxic waste dumping in South Durban, a poor but highly industrialized area, finally successfully obtaining the closure of the chemical dump.
SOMALI MOTHER OF STOWAWAY TEEN WEEPS TO LEARN OF HIS RISKY FLIGHT
Apr. 18 (GIN) – The mother of the 14 year old boy who risked death to stow away in the wheel well of a plane bound for Hawaii wept upon learning of his life-threatening adventure. Ubah Mohamed Abdullahi, who lives in a refugee camp in Ethiopia, says it was the first news she had heard about her lost son for six years.
South Africa Celebrates 20 Years Of Democracy
Bill Chappell
People attend South Africa's Freedom Day celebrations in Pretoria, with the federal Union Building in the background Sunday. The day marks the end of the apartheid era, when all races went to the polls to vote in historic 1994 elections. President Jacob Zuma led Freedom Day celebrations in Pretoria Sunday, as South Africa marked the 20th anniversary of democratic rule. The nation held its first general elections in 1994, when voters sent Nelson Mandela to the presidency with a resounding win that helped the country distance itself from the scourge of apartheid.
---
Uniting A Continent:
A Celebration of the Organization of African Unity
Dr. Gelawdewos,

As our community of supporters have propelled Tsehai for the past decade, we look to nourish and expand even further. Today we launch a month-long Indiegogo campaign to support the publication of our newest project, Uniting a Continent. Indiegogo is an online crowd-funding website that allows projects to be funded through a word-of-mouth approach, which incorporates the individual donor as essential to the project's completion. Uniting a Continent is a beautifully designed and informative book that chronicles the formation of the Organization of African Unity (OAU), and exemplifies the rich cultural heritage of each African nation. We believe this book will contribute to the telling of a story that needs to be told, one that will continue to be told by future generations.
---
Ethiopia and Israel in the Days of Haile Selassie
Authored by Haggai Erlich, PhD The Red Sea Press, 2014
Reviewed by Ghelawdewos Araia, PhD April 17, 2014
Haggai Erlich is a renowned Israeli historian and an Ethiopianist, and this is not the first time he is writing about Ethiopia. One of his excellent books on Ethiopia put out by the Lynne Rienner Publishers in 1986 is Ethiopia and the Challenge of Independence. What makes Alliance and Alienation different is the fact that the book is heavily focused on diplomacy and intelligence with respect to the Ethiopian-Israeli relations. The book also provides the reader some secretly conducted diplomatic ventures and investments of the Israeli Government as well as the unofficial sojourn of Israeli leaders in Ethiopia.
Alliance and Alienation
Ethiopia and Israel in the Days of Haile Selassie PDF format
---
The Misdirection of Healthcare Facilities:
Don't You Need to Wake up Before it's Too Late?
Professor Desta, Asayehgn
While the fundamentals of human rights place health services as indispensable for the exercise of other human rights conducive to living a life of dignity, the human capital theory locates health as fundamental to enhancing the efficiency and productivity of the labor force. Given these as fundamental rights of health services, it is disheartening to note that a number of policy makers in a number of developing countries don't seem to have a sustained political will to allocate their limited heath sector budget to providing accessible health care facilities for their citizens.
---
HOPES OF QUICK AND EASY VICTORY FADE FOR EMBATTLED ANC
Apr. 14 (GIN) – As the May 7 election day in South Africa nears, former friends and allies of the ruling African National Congress are betting that voters will follow them out of the party or at least send a strong message that the country's current direction is not good enough.
A number of veterans of the anti-apartheid struggle and former government leaders have even launched a "Vote NO!" campaign that could dash ANC hopes for a quick and easy win.
Among the veterans is former intelligence minister Ronnie Kasrils, former deputy health minister Nozizwe Madlala-Routledge and other ANC stalwarts.
---
The Ground Water Potential of the North African Region and the Nile Issue
Asmamaw Temesgen was a native of Lake Tana Region, source of the Abay River, April 7, 2014.
This article was designed to provide a brief overview on the Geo-scientific information and the economic potential of the enormous natural water reserves in the North African Region. Focus was made to the growing water resource demands of the region, particularly on the "Nile River Saga". The writer has a Geo-scientific back ground and aims to draw more attention to some of the relevant information about the ground water potential of the region that has not been covered from the Egyptian's standpoint. He also tries to connect the information gap and aspects that has to be dealt with, when dealing the Nile Issue. Furthermore, it is to allow the readers to understand the importance of a massive water potential in the North African Region.
---
BLUE NILE MONOLOGUE
Ghelawdewos Araia, PhD April 3, 2014
I was born millions of years ago
Perhaps 180 million years geological timeline
When Gondwanaland broke up
During the Mesozoic period
When crustal extension took place
Beyond the Lake ŢanaNear the mountain called Denquez
---
On behalf of the Institute of Development and Education for

Africa (IDEA), Dr. Ghelawdewos Araia will soon begin reviewing

several books on Ethiopia and two of the books whose

image is shown here, 'Alliance and Alienation' by Haggai Erlich and

'Yohannes IV of Ethiopia' (revised edition) by Zewde Gebre-Selassie

will be the first to be reviewed. Readers interested in purchasing the books can directly contact the the publisher at the address below:

The Red Sea Pres, Inc.

541 W. Ingham Ave. Suite B

Trenton, Nj 08638

(609) 695-3200

awprsp@verizon.net http://www.africaworldpressbooks.com/
---
The Battle of Adwa, African Victory in the Age of Empire: A Reflection
Desta, Asayehgn, Ph.D, Sarlo Distinguished Professor of Sustainable Economic Development, Dominican University of California
Introduction
The defeat of Italy by Ethiopia on March 1, 1896 at the Battle of Adwa, then the vibrant capital of Tigrai, not only demonstrated the resilience and patriotism of Ethiopians but also made Ethiopia the steward of future hopes for the emancipation of the other nations that were subjugated under foreign rule. For example, Japan, used Ethiopia's experience as its model and developed a strategy to fight against Russia in 1904. However, for a number of the European colonialists, when they heard that Italy was defeated by the heroic Ethiopian army at the Battle of Adwa in 1896, they were surprised and humiliated that members of the white race had lost. They suddenly had to rethink their ideas and policies about Africa being predominantly inhabited by primitive people that needed colonial rule in order to advance into a modern world.
---
---
---
Two more colossal pharaoh statues unveiled in Egypt
March 25, 2014
By Jay Deshmukh, Riad Abou Awad
The Daily Star
Archaeologists unveiled two colossal statues of Pharaoh Amenhotep III in Egypt's famed temple city of Luxor Sunday, adding to an existing pair of world-renowned tourist attractions. The temple is already famous for its existing 3,400-year-old Memnon colossi – twin statues of Amenhotep III, whose reign archaeologists say marked the political and cultural zenith of ancient Egyptian civilization
---
March 5, 2014
The Ethiopian Community Development Council (ECDC) is seeking help from the Ethiopian Diaspora and other donors
The Institute of Development and Education for Africa (IDEA), Inc. would like to encourage its subscribers to extend financial contributions to ECDC's Axumite Heritage Foundation (AHF) library project at Aksum, Ethiopia. The construction of the library had begun in 2010 but AHF was unable to complete its project due to financial constraints. IDEA has deep appreciation to ECDC and AHF's initiatives and strongly believes that this great purpose needs the support of all of us.
---
Folder Header: Nepotism and misappropriation as management practices within the African Peer Review Mechanism
By Ramata Sore ramata.sore@gmail.com
Since its inception, the credibility of the APRM was based on a Panel of independent persons. This Panel led the assessments of the countries that are members of the institution. And these assessments were free from political pressures and manipulations. And in the course of its actions, the Panel was supported by a technically competent and motivated Secretariat. Thus, the assessment reports on governance have enabled many African citizens to participate in political debates in their respective countries, as said the Senegalese Marie-Angelique Savane, one of the former leaders of this structure.
---
The Ethiopia Eritrea No War No Peace Situation has to End
The Horn of Africa is the most conflict ridden region in the world. The people and the land are devastated by endless wars. The de facto no war no peace policy that has persisted between Ethiopia and Eritrea for the last 13 years affects the lives of millions in both countries and the stability of the whole region. Bringing this conflict to a peaceful resolution is of paramount importance.
The devastating 1998 - 2000 war between Ethiopia and Eritrea cost billions of dollars in infrastructure damage, missed investment opportunities and lost aid, claimed about 100,000 lives, and dislocated millions of people. Instead of the end of the war bringing peace, for the last fourteen years the policy of both countries has been "no war no peace." As bad as open war is, an endless no war no peace situation is insufferable.
---
Overcoming Water Scarcity Problem in Ethiopia
Ghelawdewos Araia, PhD
March 12, 2014 መጋቢት 3 2006
In anticipation of World Water Day, which will be observed on March 22, the Institute of Development and Education for Africa (IDEA) presents ideas and strategies to overcome the problem of water scarcity and water public works in Ethiopia. It may sound paradoxical for Ethiopians (the people of the Blue Nile) to go thirsty when their country, in fact, is the source of all waters that replenish the gift of life for the neighboring peoples. But, that is the stark reality now. Therefore, this Amharic article proposes several methods to solve water shortage problems in Ethiopian communities and IDEA hopes they will be implemented and effectively reverse the current problem that has afflicted many districts in the country.
---
February 10, 2014
What happened to the African Renaissance?
Postliberation Eritrea
Special issue of the journal Africa Today, Volume 60.2
Guest editor: Tekle M. Woldemikael AFT-60_2-Cover-1
Twenty years ago, Eritrea conducted a successful referendum, gaining independent state status. It received recognition as a new African Renaissance state, and was on the forefront of African renewal and rebirth, which included the nations of South Africa, Namibia, Uganda, and Ethiopia as well. This occurred after many gloomy years of pessimism about progress,
---
Ethiopia: The Monastery At Debre Damo - History the Origin of Ethiopian Self-Confidence
By Richard Dowden, 25 February 2014
allAfrica Analysis
No wonder the monastery at Debre Damo has survived unmolested for some 900 years among the vast Tigrayan Mountains of Northern Ethiopia. Getting to it is arduous - the last stretch is achieved via an 80 foot rope. A few feet from the top my arms gave out and I couldn't move. I dangled desperately searching for a foothold. There wasn't one. The drop was dizzying. After what seemed like an hour, I felt the second rope, made of strips of cowhide stitched together, take my weight and I was ignominiously pulled up to the ledge. The strong young monk who had hauled me up took my trembling hand and greeted me formally.
---
Wretched of the Earth Ethiopian Genius
February 26, 2014
The Ancient Egyptian Kemetic creation theory and the Big Bang creation theory of the universe have something in common: Void. Out of nothing (empty space) came out something. This Ethiopian genius, whose name is Ishak Ayiris also came out from an impoverished Ethiopian parents, who had nothing and who were in fact wretched of the earth, to borrow Fanon's book title. Ishak has now a bright future and the Institute of Development and Education for Africa (IDEA), with pleasure, brings the story of Ishak Ayiris to the attention of its readers. Please read!
http://www.mirror.co.uk/news/uk-news/eton-college-council-estate-kid-3185903
---
Critique on and Supplement to Bank Sector Reform in Ethiopia
Ghelawdewos Araia, PhD February 24, 2014
This essay, as its title suggests, intends to critique and supplement Bank Sector Reform in Ethiopia by Drs. Desta Asayehgn and Admassu Bezabeh that was published by (IDEA) Inc. (www.africanidea.org/Banking_sector_in_Ethiopia.html). I found their abstract interesting, especially in some parts where the authors present sound arguments and are leveled against government policies as constructive criticism, and I will endorse the ideas that I agree with. On some of their ideas, however, I have different views, reservations and disagreements; hence I will critique those ideas in an effort to make input and insight for future considerations.
---
---
Banking Sector Reform in Ethiopia: An Abstract
Admassu Bezabeh, Ph.D, School of Business and Leadership, Dominican University of California San Rafael, California
Desta, Asayehgn, Ph.D. School of Business and Leadership , Dominican University of California, San Rafael, California.
The fragile and inefficient state-dominated banking sector that existed in Ethiopia during the military government (1974-1991) was a major hindrance to economic growth. Since it took power in 1991, the current government has implemented a number of reforms. For instance, in 1994, the government legalized domestic private investment in the banking industry. In addition, it restructured the two development banks as commercial banks, and introduced a new Banking and Monetary Proclamation that gave more autonomy and further clarified the National Bank of Ethiopia's activities as the regulator and supervisor of the banking sector.
---
Manufacturing in Africa: An Awakening Giant
February 7, 2014
A quiet boom in manufacturing in Africa is already taking place. Farming and services are still dominant, backed by the export of commodities, but new industries are emerging in a lot of African countries." Less than an hour's drive outside Ethiopia's capital, Addis Ababa, a farmer walks along a narrow path on a green valley floor after milking his cows. Muhammad Gettu is carrying two ten-litre cans to a local market, where he will sell them for less than half of what they would fetch at a dairy in the city. Sadly, he has no transport. A bicycle sturdy enough to survive unpaved tracks would be enough to double his revenues. At the moment none is easily available. But that may be about to change. A construction boom is fostering access to high-voltage power. The spread of mobile telephony, including mobile banking, helps small suppliers struggling with overheads. IBM, an American computer giant with an eye on Africa, goes so far as to say that "software is the manufacturing of the future". Consumers will still want to buy hardware, but growing local demand is creating a market for African app and software developers
---
Prof. Shibru Tedla at Meet ETV with Tefera Gedamu
A conversation with Prof. Shibru Tedla, Executive Director, Ethiopian Academy of Sciences (EAS) by Tefera Gedamu : Meet ETV
---
Ethiopian Foreign Policy & How the Delicate Balance of diplomacy and negotiation should be maintained
Ghelawdewos Araia, PhD
IDEA Editorial January 25, 2014
Since the beginnings of people-to-people and state-to-state interaction thousands of years ago, the Horn of Africa has always been a troubled region and by comparison the most volatile and unstable area in Africa. The impetus behind these continuous conflicts is partly induced by geopolitics and foreign intervention and partly engendered by complex mode of productions as well as the mindset and lack of vision of the people
---
---
In vigilant defense of press freedom
The Ethiopian Reporter
Article 29 of the Ethiopian constitution explicitly guarantees freedom of the press and provides that the press shall, as an institution, enjoy legal protection to ensure its operational independence and its capacity to entertain diverse opinions. This provision is a replica of Article 19 of the Universal Declaration of Human Rights (UDHR). Article 29 enshrines the right to hold opinions without interference, as well as the right to freedom of expression without any interference including freedom to seek, receive and impart information through any medium of one's choice. It also prohibits any form of censorship and stipulates that any citizen who violates any legal limitations on the exercise of these rights may be held liable under the law.
---
የመጽሃፍ ግምገማ
---
A Special Love for Assimba: A Psychological Catharsis for 'Kahsay Abraha Besrat'
Asayehgn Desta, Sarlo Distinguished Professor Sustainable Economic Development
January 4, 2014, I drove from San Rafael to Oakland, California, for about forty-five minutes to have a get-together dinner with one of my best friends, Kidane Haile and learn more about the innovative projects that he is undertaking in Kenya, Nigeria and Morocco. In the course of our discussion, the owner of the restaurant came and showed us a book entitled "Ya Assimba Fekere" or My Special Love for Assimba."
---
King Menelik Has Investments Here November 7, 1909
Abyssinia's Ruler said to be a Heavy Buyer of America Railways Stock
Today the Abyssinian ruler has extended the range of his financial operations to the United States, and is a heavy investor in American Railroads. What with his American Securities and his French and Belgian mining investments. Menelik has a private fortune estimated at no less than twenty- five million dollars.
---
---
Ethiopia aims to create new generation of entrepreneurs
By James Jeffrey
Addis Ababa, Ethiopia
Damenech Zewudie decided it was time to strike out on her own after 33 years working in secretarial and administrative roles for various employers in Addis Ababa.Now she is the proud owner of a two-month-old business selling injera, the large, thin pancake-like staple which is the base of almost every Ethiopian meal."I never used to think about owning a business," Ms Damenech says. "Then I saw how no-one was selling injera where I live - so I took a chance." state-run training and support scheme called the Entrepreneurship Development Programme (EDP).
---
Accession Number: MO 63.1306
Collection: Gifts from Heads of State
Title: Filigree Bowl
Maker: Maker unknown
Date(s) of Materials: ca. 1960
Place Made: Ethiopia
Medium: Silver, gold plate
Dimensions: 16 3/8"
Description: Footed bowl decorated with eighteen pierced and filigreed lobes of silver. Applied to the rim are gold filigree flowers and a gold crest of His Imperial Majesty.
Historical Note: This bowl was presented to President John F. Kennedy by His Imperial Majesty Haile Selassie, Emperor of Ethiopia (1930-1974), during his state visit to the White House in October 1963.
Gifter: Haile Selassie I, Emperor of Ethiopia (1930-1974)
Copyright Status: Donated to the United States
Digital Identifier: JFKSG-MO-1963-1306
Subject(s): Gifts
Heads of state
Person(s): Haile Selassie I, Emperor of Ethiopia, 1892-1975
Place(s): Africa
Ethiopia Source http://www.jfklibrary.org/Asset-Viewer/Archives/JFKSG-MO-1963-1306.aspx
---
Reflections on Africa Competitiveness Report 2013

Ghelawdewos Araia, PhD

December 27, 2013

The Africa Competitiveness Report 2013, put out by the World Economic Forum (WE Forum), is a comprehensive analysis and critique of the overall development status of thirty-eight African countries. It has also recommendations on how Africa can uplift itself and successfully become part of the global economy. Based on the World Bank and the African Development Bank (AfDB) data base and recommendations, the Report makes a thorough assessment of African countries' economic parameters, ranging from their use of information technology to regional integration in the context of other successful countries outside Africa, as well as developed nations that could become major foreign direct investment (FDI) potentials.
---
Urgent UN-AU Task Force is needed to quell the South Sudan Unrest
December 19, 2013
UN Secretary General Ban Ki-Moon's concern is to be appreciated, but beyond expressions of concerns and admonishes the United Nations and the African Union should establish an emergency task force to intervene in South Sudan before the country descends into an all out civil war. The current skirmish between the forces of President Salva Kiiri and the forces of the ousted Vice President Riek Machar cannot be simply viewed in the context of power struggle; it could easily degenerate into ethnic wars between the Dinka (Kiiri's people) and the Nuer (Machar's people). If the current infighting is not somehow mitigated by a joint UN-AU task force, bloody ethnic clashes could ensue in the predominantly Nuer territory of Likuangola state, which is adjacent to the Gambella Regional State of Ethiopia, and this part of the Horn of Africa may once again witness ethnic cleansing.
Almost a year ago, that is, on January 9, 2012 the Institute of Development and Education for Africa (IDEA) posted a viewpoint entitled "The Tragedy of South Sudan" and we invite our subscribers to read what we have then anticipated: www.africanidea.org/South_Sudan_tragedy.html
---
'GAME CHANGERS' OF IDENTITY POLITICS IN ETHIOPIA
I am gratified to have this book in my possession and I must thank, first, Gedion Wolde Amanuel for compiling the many articles and essays, including mine that make up the text of this work, and second A. Asamnew for mailing the book to my address. The book is dedicated to Wallelign Mekonnen and Marta Mebrahtu, and more specifically to the 40th anniversary of the sacrifice of these two prominent student leaders. Although the book is for Wallelign and Marta, it also extends credit to all Ethiopian students who equally paid sacrifices for a better Ethiopia.
---
Tribute to Nelson Madiba Mandela
Ghelawdewos Araia, PhD
December 5, 2013
The great Nelson Mandela has departed; he left us for good but his soul, his ideas, and his openly declared determination for the liberation of his fellow Africans lives on. He himself foretold his passing when he remarked on the death of Walter Sisulu ten years ago. Sisulu's "passing was not unexpected," said Mandela, "we had long passed the age when either of us would protest against the brevity of life."
I made reference to the above quote in my eulogy article entitled "Sharing Nelson Mandela's Grief over the Death of Walter Sisulu" in 2003. In that article, this is what I said in part: I like to share Nelson Mandela's moving tribute to Walter Sisulu who died on May 6, 2003.In direct contrast to some African leaders who suffer from kleptomania and low self-esteem, Mandela and Sisulu rank among the best and the brightest Africa has ever produced. These two great Africans were comrades-in-arms for more than six decades, whose unflinching stand in the struggle for free South Africa have proved to the world their unparalleled heroism and altruism.
---
Clash of Civilizations Conundrum and Controversy in The Ethiopian Context
Ghelawdewos Araia, PhD
December 4, 2013
This essay is intended to address some important issues surrounding 'clash of civilizations' as discussed by Seife Hailu in his article entitled "Is the war of the west equal to the war on the rest? What can we learn from the anti-Ethiopians "wars" in Saudi Arabia?" This article was posted on www.tigraionline.com on November 20, 2013. I am interested in thematically highlighting the points I have concerns with only. Otherwise, the author has done a good job in his overall approach to solving or dealing with a problem, and I like to extend my gratitude to him. In the latter spirit, thus, I am going to make some input by way of critiquing the conceptual framework of "A Clash of Civilization".
---
Saudi Arabia should be expelled from the UN & Ethiopia should take Serious Diplomatic Measures
Ghelawdewos Araia, PhD
IDEA Editorial
November 12, 2013
The rape of Ethiopian women émigré and the physical assault and murder of young Ethiopian men by Saudi thugs on November 11, 2013 is unacceptable, unconscionable, and downright the height of brutality and savagery unparalleled in recent memory. The attack perpetrated by hundreds, if not thousands, of mob gangsters against few innocent Ethiopians was committed under the watch of the Saudi authorities and the latter should be held responsible for the injuries sustained by young Ethiopians and the death of some in the so-called land of the birthplace of Muhammad. Where did the Saudis get this jumbled bias that made them act like wild beasts and take unfettered measures against helpless Ethiopians? One obvious factor that could have contributed to the Saudis negative image of Ethiopians could be the fact that Christian Ethiopians were predominant in the socioeconomic and political realms for thousands of years. I can't think of any other additional factor that could have contributed to the irrational hatred of Ethiopians.
---
EXPULSION OF SAUDI ARABIA FROM THE UNITED NATIONS
By Tecola W. Hagos
I. Trafficking in Persons: Slavery
Secretary of State Condoleezza Rice released the fifth annual Department of State Trafficking in Persons Report on Friday, June 3, 2005 at the State Department. The Report pointed out fourteen Countries around the world as the worst violators of human rights involving trafficking in young women and children as domestics, prostitutes, and farm hands. The hypocrisy of the Bush government is quite jarring, since only a couple of months earlier President Bush, Rice's boss, was pictured proudly holding the bloody hands of would-be-king Abdullah, the Crown Prince of Saudi Arabia whose government had just beheaded eight young Somali men a month earlier on conviction of "armed robbery" under a crude discriminatory legal system.
---
World Wide Solidarity for the Crying Eritrean Mother
IDEA, Inc. Editorial
November 7, 2013
The Institute of Development and Education for Africa (IDEA, Inc.) is calling upon every human being with conscience to extend solidarity and sympathy to the crying Eritrean mothers, epitomized by the courageous mother Weizero Asgedet in the Rome demonstration that came to our attention by Assena Radio. Weizero Asgedet vented on the powers-that-be, who are indirectly the cause for the death of the 365 Eritrean victims at Lampedusa; she was angry, forceful and eloquent, and in just few minutes she reached out the world by her megaphone; she was not literally crying while talking but there is no doubt that her heart was bleeding.
---
The Suffering of Women in the Two Sudans
October 30, 2013
The Institute of Development and Education for Africa (IDEA, Inc.) has serious concerns about the violence directed by the powers-that-be against the people of Sudan in general and women in particular in the two Sudans. This is not the first time IDEA, Inc. has brought the issue of violence and genocide in the Sudan to the attention of its subscribers. Back in 2007, IDEA presented "Darfur Should Exemplify the End of All Violence in Africa" http://youtu.be/KOafMZGHkZs
---
I just read your review of the fascinating book Tower in the Sky by Hiwot Teffera. Incidentally, I came across it right after I finished reading the book, which I acquired a few days ago. Even though I am long behind you in school and tertiary education, which I completed during the time of the military junta, I can somehow relate myself to the mayhem and murder of that time that affected and ruined the lives of thousands. As a student of Woizero Siheen High School in Dessie, from which hailed those prominent student movement leaders you mentioned, my long standing aspirations and hopes during my elementary school time were not matched by what we encountered during our stay at Woizero Siheen. In those years of 1976/77, when I was a 10th and 11th grade student, teachers and students of the school used to be killed and thrown on the streets like street dogs knocked down by vehicles, as a result of which attending classes was mostly a rare occasion.
---
Ghelawdewos Araia
This essay will make a brief historical synopsis and analysis of the crimes perpetrated by the Italian fascists against
the Ethiopian people in the 1930s. At this particular juncture, it may sound ironic to revisit the crimes against humanity committed in Ethiopia by Fascist henchmen like Marshall Pietro Badoglio and Marshal Rodolfo Graziani, but sometimes the past contends with the present especially if justice has not been served and no official apologies extended by state and/or religious leaders of the perpetrator nation.This essay is also aimed at reinforcing the Global Alliance for Ethiopia, a group of Ethiopians' initiative in an effort to convince the Vatican and Pope Benedict XVI to apologize to Ethiopians as he has done to the Jews in Germany with respect to the Holocaust committed by the Nazis. As a matter of fact, one of the members of the Global Alliance for Ethiopia, Ato Kidane Alemayehu has written a letter to the Holiness Pope Benedict XVI (Vatican_Apology_to_Ethiopia.doc) but to this day no answer was given.
---
Authored by Hiwot Teffera
Addis Ababa University Press, 2012
Reviewed by Ghelawdewos Araia, PhD
October 17, 2013
Hiwot Teffera has produced a very powerful, scintillating, and captivating book on the Ethiopian People's Revolutionary Party (EPRP) and the Ethiopian Revolution. It all began with the author's exposure to the uncharted waters of political philosophy and ideology when one time student leader and revolutionary, Getachew Maru, whom she affectionately calls "my hero", baptized her. Tower In The Sky is an enduring literary power, especially for the Ethiopian generation that was engaged in protracted wars against the feudo-bourgeois regime of Haile Selassie and the most brutal Derg regime in Ethiopian history.
---
New Book on Ethiopia
October 15 2013
The Institute of Development and Education for Africa (IDEA, Inc.) is delighted to announce a new book on Ethiopia entitled The Ethiopian Student Movement and The National Question: Theory and Practice 1950-1980
Selected and Introduced by Ayalew Yimam (Mukhtar)
Foreword by Dr. Ghelawdewos Araia
Readers interested in purchasing the book should contact Ayalew Yimam at ayimam@verizon.com
---
The International Criminal Court and African Leaders' Concern
IDEA Editorial
October 11, 2013
The precursor to the International Criminal Court (ICC) is the Paris Peace Conference of 1919 that was called upon by the Commission of Responsibilities. The Paris Conference initiative to establish an international tribunal, however, did not gain currency until the League of Nations addressed the issue again on November 1937, in which only thirteen countries signed but the idea of finding a permanent international tribunal was not ratified. Nevertheless, the idea persisted and this time it was precipitated by the Nuremberg Trials and the Tokyo Tribunals presided over by the Allied Forces following WWII. By 1950, the UN General Assembly was poised to establish an international tribunal, but this initiative too was circumvented by the Cold War.
---
Political Socialization in the era of Globalization in Ethiopian Schools
Desta, Asayehgn, Ph. D. Sarlo Distinguished Professor of Sustainable Economic Development
Abstract:
In contrast to other socialization agencies such as the family, peer groups, religious institutions and the tribal elders, and mass media, there is no doubt that schooling commands nearly undivided attention of students for long hours over many years and remains the most controllable channel for important cognitive and affective political socialization. During Haile Selassie's regime (1930-1974) in Ethiopia, in addition to regarding education as one of the major players for training and the development of human resources essential for economic growth, the overarching goal of public schooling has been to build national pride, a strong common national identity dominated by one ethnic group, obedience to rules and laws, and the development of respect espousing legitimacy for government and the political institution.
---
Africans Live On A Continent Owned by Europeans!
By: Mawuna Remarque KOUTONIN
Wednesday, September 18th, 2013 at 1:10 pm.
face-of-the-african-diasporaThe Dream of Europeans is to transform the whole continent into South Africa or Kenya, where a white minority owns and controls the local economy, while Africans are just good like consumers or their servants. The subject is uncomfortable but we need to talk about it, otherwise we will wake up with more Robert Mugabe who is doing a great job redressing centuries of white minority domination and exploitation of Zimbabwean people.Let's take a look at South Africa, a country where the white minority makes less than 10% of the population but owns more than 80% South African lands and economy. They didn't buy those lands.
---
ETHIOPIA: Democracy, Devolution of Power, & The Developmental State
Institute of Development and Education for Africa (IDEA) 2013
Authored by Ghelawdewos Araia, PhD
Reviewed by Tariku Debretsion
Review first published on Amazon September 21, 2013
This book is an essential reading for all who are interested to study and act on the transformation of the Ethiopian state. For far too long, the policies and actions of the elites in power have been directed by existential instinct to cling to power indefinitely, while the oppositions were primarily concerned as to how to ascend to power in the shortest possible time. These have been the linchpins of the vicious cycle of violence that has dragged the nation into the abbeys of misery. The essential question is power for whom and what? Flowery manifestos have been written, ideologies hailed, revolution heralded, savage wars fought and victories declared, yet a modicum of change has occurred in the hapless lives of the people, the bureaucratic institutions and economic edifices.
---
My Life: My Vision for the Oromo and Other Peoples of Ethiopia
The Red Sea Press, 2013
Authored by Bulcha Demeksa
Reviewed by Ghelawdewos Araia, PhD
September 19, 2013
Obbo Bulcha, dubbiin kun maal isini fayyadhaa?
As the title of the book clearly implies, the book is an autobiography but it is also about what the author wants to write on what he knows and believes about the Oromo, as he aptly puts it in the preface of the book. Upon reading the book, I have come to conclude that Bulcha Demeksa is honest and candid in his analysis of the Ethiopian phenomenon. At times he vents anger toward the oppressive machinery that mistreated and exploited the Oromo and other Ethiopian minority nationalities; unlike other Oromo nationalists, however, Bulcha is very much concerned about the Ethiopian nation as he is very much interested in promoting the self-determination of the Oromo people. In this sense, thus, the book is more of advocacy for the cause of the Oromo rather than solicit vision as the subtitle of the book indicates.
---
Nigeria: The Good News about Economic Growth and Competitiveness
By Ambassador Adebowale Adefuye, 13 September 2013
guest column
Washington, DC — The World Economic Forum's 2013-2014 Global Competitiveness Index (GCI), as reported 4 September, 2013 [Premium Times] on allAfrica.com, highlighted various countries, including Nigeria. It is important to put the article into the proper context. Since the global economic crisis of 2009, Nigeria has performed better than most countries and still enjoys a 6.1 per cent GDP growth rate despite a drop in the price of oil, its major export. Nigeria maintains single-digit inflation at around 8.6 per cent and is expanding both trade and investment in other sectors outside of the oil industry, particularly in agriculture and infrastructure development. Both Nigeria's banking sector and stock exchange have helped bolster confidence in Nigeria among global financial circles.
---
Reflections on the Ethiopian Anti-Terrorism Law Debate between the EPRDF and the Ethiopian Opposition Parties
IDEA Viewpoint September 9, 2013
Ghelawdewos Araia, PhD
The purpose of this essay is to critically appraise the issues surrounding terrorism in general and the Ethiopian Anti-Terrorism Law in particular. This essay would not favor or disfavor any of the contending debaters; on the contrary it would objectively analyze the nature, characteristics, and spirit of the debate. Before we delve into the central question and points of arguments presented by members of the opposition and the Government, it is important to clearly define terrorism. There is no universally acceptable definition of terrorism, but one conceptually agreed upon definition comes from the United Nations. In 1994, the United Nations General Assembly came up with the following definition of terrorism:
---
Ethiopia: 2nd U.S - Ethiopia University Linkages Workshop to Be Held
By Nesru Jemal, 31 August 2013
The 2nd national workshop on building linkages between Ethiopia and U.S. universities organized by the Public Affairs Section of the U.S. Embassy will be held 4-5 September 2013 in Addis Ababa.
According to a press release the Embassy issued on Friday, the workshop is aimed at providing an overview of sustainable partnership and focuses on best practices in establishing or expanding mutual beneficial linkages between U.S. and Ethiopian higher learning institutes.
---
---
---
The Bureaucratic Empire: Serving Emperor Haile SelassieBy Seyoum Haregot, The Red Sea Press, 2013
Reviewed by Ghelawdewos Araia, PhD
August 6, 2013
This is a well-written and thoughtful book. It is sharp, stimulating and exquisite and I could not stop reading it. The book is full of authentic anecdotes in relation to the author's private and political life and contains five parts and a total of thirty two chapters. The chapters, incidentally, are not the familiar chapters that one encounters in conventional textbooks in terms of length; some of them are indeed one page or one and half pages, but they are precise, concise, and to the point especially in documenting the overall political scenario in Ethiopia during Emperor Haile Selassie. By contrast, Chapter one runs into 51 pages and chronicles the nature and characteristics of governance and political personalities in detail.
---
Africa: Computer Model Gives Early Warning of Crop Failure
By Joel Winston, 24 July 2013
An international team of researchers has developed a computer model to predict global crop failures several months before harvest. Since 2008, widespread drought in crop-exporting regions has resulted in large increases in food prices on global commodity markets. With climatic extremes also expected to become more common, being able to predict global crop failures could help developing nations that are reliant on food imports - making them more resilient to spikes in food prices.
---
Tanzania: Education On ARV Use Must Be Enhanced
25 July 2013
THERE are reports that some HIV/AIDS patients on antiretroviral therapy (ART) are dodging clinics for various reasons including fear of being identified by people who know them .
A senior medical official with the Bugando Referral Hospital in Mwanza was recently quoted as saying that at least 100,000 people out of 180,000 registered on ARV therapy have abandoned clinics.
Some of those dodging have opted to travel all the way to Shinyanga which is about 164-kms from Mwanza to secure the life-prolonging drugs, while others have abandoned treatment altogether or consult traditional healers for cure of the disease.
---
Ethiopia: AAU Bestows Full Professorship On Three Scholars
By Online, 24 July 2013
The Addis Ababa University (AAU) said it has bestowed full professorship on three academics. The University told ENA on Wednesday that the scholars are Dr. Berhanu Kotiso, Dr. Getnet Mitike and Dr. Berhan Tamir. It said the intellectuals have made significant contribution in different fields and research works. The academics fulfilled all the criteria required for the title of full professorship, the University said.
---
Mozambique: Feeding the Future in Mozambique Through School Meals
23 July 2013
Albertina Naftal (9) lives with her parents, two brothers and two sisters in a hut made of sticks and grass in the village of Muchenga, in Changara, west of Mozambique.
---
The Exigency of Religious and Political Toleration in Ethiopia: Reflections on The Tragic Death of Shiek Nur Imam
Ghelawdewos Araia, PhD
July 20, 2013
In the urgency of the matter with respect to political stability in Ethiopia, it is time for me to once again address the issue of religious and political tolerance in Ethiopia. This essay, in particular, is inspired by the tragic murder of Sheik Nur Imam in Wollo, Ethiopia. Some Diaspora Ethiopians contend that the Sheik, in fact, was murdered by the Ethiopian government1 though their claim is not substantiated with evidence and is very much tuned to what is often described as conspiracy theory. When I was invited by the Ethiopian Law Students Association at Harvard in 2006 as one of the panelists to address "Ethnicity and National Identity in Ethiopia," I told the audience that I had "a gut feeling that there are some forces who want to disturb the unity of Ethiopians and destabilize Ethiopia, but since I am a scholar and I must address issues based on evidence and scientific analysis, I will not uphold conspiracy theory and/or intuitive reflections."
---
Congratulations Ethiopian University Students Class of 2013
IDEA Editorial
July 8, 2013
The Institute of Development and Education for Africa (IDEA), Inc. extends its heartfelt congratulations to all 2013 Ethiopian Universities graduates and celebrates their highest academic achievements with them. IDEA is proud to witness the spectacular and remarkable milestone that the Ethiopian students of 2013 have made and have colorfully celebrated in all the university campuses.
---
Language for whose Audience in the Ethiopian context? A Message to PM Hailemariam Desalegn
IDEA Viewpoint
Ghelawdewos Araia, PhD
June30, 2003
This viewpoint is intended to critically appraise the mode of communicative language Ethiopians use whenever they want to express their ideas in the form of speech or writing. The majority of educated Ethiopians (high school to advanced degree levels) like to either speak in English or in Amharic or other Ethiopian languages bombarded with English language, even when they address illiterate peasants who don't understand English at all. It has become increasingly fashionable for urbanite "educated" Ethiopians to use Guramayle (English and Ethiopian languages) to exhibit that they are civilized and modern, but in doing so they have utterly disregarded the majority of Ethiopian people, who apparently are uneducated. They speak without due consideration of their audience, and most importantly they seem to have forgotten that the most sophisticated educated people are those who communicate with their audience in the language that the latter understands.
---
Egypt Has No Choice but to Cooperate with Ethiopia On The Issue of the Nile
IDEA Editorial
Ghelawdewos Araia, PhD
June 12, 2013
The recent "classified" video on Egyptian Cabinet bluffing in seemingly sophisticated but sinister maneuver against Ethiopia should not come as a surprise. Irrespective of regime change, Egypt consistently pursued a policy that would emasculate any small-scale initiative on the use of the Nile by the riparian states, let alone the construction of a major project like the Grand Renaissance on the Ethiopian side of the Nile.
---
Egyptian Blooper: Politicians, Unaware They Are on Air, Threaten Ethiopia over
Ethiopia: 2nd U.S - Ethiopia University Linkages Workshop to Be Held
By Nesru Jemal, 31 August 2013
The 2nd national workshop on building linkages between Ethiopia and U.S. universities organized by the Public Affairs Section of the U.S. Embassy will be held 4-5 September 2013 in Addis Ababa.
According to a press release the Embassy issued on Friday, the workshop is aimed at providing an overview of sustainable partnership and focuses on best practices in establishing or expanding mutual beneficial linkages between U.S. and Ethiopian higher learning institutes.
---
Exploring an Ethiopian Poet by Pure Accident
Ghelawdewos Araia, PhD
June 5, 2013
It was a nice spring day and I went out for a quick shopping to the Hamden Plaza in Connecticut, and in the Stop and Shop I bumped into a dignified
Ethiopian by the name Gashaw Lake. He was with his wife and daughter and when we were about to greet and introduce each other, in the traditional Ethiopian manner, which has now became increasingly a rare commodity, he lifted his hat and greeted me. I was delighted to encounter the best of Ethiopian values but I must admit that I was subconsciously compelled to reciprocate by bowing while shaking the hand of my Ethiopian brother.In the tradition of poetry, the power of Gashaw's poems authenticate reality by successive stanzas and cadences, and these are best exemplified by the many poems dedicated to either family members or random Ethiopian and/or African American personas. For instance, ለጋሼ ሲራክ is for General Sirak Tesfa; ምን ያለ ያገር ሰው is for the late Professor Asrat Woldeyes; Eይዋት ስትናፍቀኝ is obviously for the late famous Ethiopian singer Tilahun Gessesse; ስንብት is dedicated to Abraham Weinshet Workalemahu, and 'The Statue' is in honor of Whitney Young, an African American who struggled for human rights. 'The Statue', incidentally, has an emancipating power because it represents "a sanctuary for people's rights".
---
The Rise of the Sun People: A New Morning Breaks in Africa
Ghelawdewos Araia, PhD May 24, 2013
For the last two decades I have been telling my students that Africa will one day rise, and it looks the time has arrived for a triumphant and jubilant Africa. The golden jubilee of the founding of the OAU (now AU) thus would not simply be a gathering of African heads of states and governments, a conventional conference with underpinning conventional wisdoms, but a landmark in the history of the continent that signals the preliminary achievements of the Lion Kings. It will also signal that, at long last, the sun people have managed to overcome centuries old of obstacles and a new morning has indeed broken in the African continental landscape.
---
Ethiopia: BBC Reports Ethiopia Has One of World's Fastest Growth Rates
By Zeryhun Kassa, 20 May 2013
Once known for its famines and dependency on foreign aid, Ethiopia now has one of the world's fastest growth rates. This is a report by the BBC in connection to the 50th African Union Anniversary gathering pace to be celebrated in Addis Ababa, Ethiopia. The report says some of that growth is coming from small businesses - and George Alagiah has been to a shoe factory with a difference in Addis Ababa. Following is the full text of the story George produces from Addis Ababa, Ethiopia.
---
Behind the Façade of Corruption in Ethiopia and what the Government ought to do
IDEA viewpoint
Ghelawdewos Araia, PhD
May 12, 2013
Corruption is a very intriguing concept in theory and an elusive human conduct enmeshed in bizarre and rather subtle but toxic human activity, and it is manifested in different forms, as well as assumes different scales and scopes. To be sure, unless there is a system in place to monitor corruption or there is a political system strong enough to mitigate, if not eliminate this disease, it could pervade the larger society like a malignant cancer.
---
Purchase one book & get the second one for Free
October 3, 2011
The Institute of Development and Education for Africa (IDEA), Inc. once again is launching Cultures That We Must Preserve and Reject (Tigrigna and Amharic), authored by Dr. Ghelawdewos Araia. Subscribers interested in buying the book must indicate their selection (Amharic or Tigrigna) and if they decide to purchase the book, they will get Advice to the Son & In Memory to the Father by Belaten Geta Herouy Wolde Selassie for free.
Subscribers must send a check in the amount of $18.00 (this includes shipping and handling), payable to Ghelawdewos Araia, to 1199 Whitney Avenue Suite 523, Hamden, CT 06517 For further information, please call (203) 789-1990 or email
---
"Between the Jaws of Hyenas"
A Diplomatic History of Ethiopia (1876-1896)Richard Caulk
Richard Caulk
Edited and with an introduction by Bahru ZewdeHarrassowitze Verlag, Weisbaden, 2002
Reviewed by Ghelawdewos Araia
March 21, 2013
---
Ethiopia to Open First Industrial Zone to Bolster Economy
By William Davison Source Bloomberg
Ethiopia will spend 900 million birr ($49 million) to open its first industrial hub for export- oriented manufacturers in a bid to deliver faster economic growth, Industry Minister Mekonnen Manyazewal said. South Korean garment-makers are among companies in talks with the government about establishing operations at the planned site in the capital, Addis Ababa, Mekonnen said in an interview in the city on March 15. The facility is scheduled to open before the fiscal year ends on July 7, he said.
---
Pascal Lamy Guest of Honor of a GDN-CUTS Forum
Pascal Lamy, Director General, WTO officiated the signing of a MoU between Global Development Network (GDN) and CUTS International on research and capacity building in developing countries on
trade and competition, on 30 January 2013, New Delhi. Speaking on the challenges of global governance at the forum, Lamy said "The current deadlock in international discussions on trade or on climate change and other global issues find their sources in the big geopolitical transformation that accompanies the rise of emerging countries in the world economy." He added that consensus is still lacking on the balance of contributions and benefits between the US, the EU, Japan and the like on the one side, and India, China, Brazil and the like on the other side, particularly on the Doha Round.
---
Ghelawdewos Araia's New Book 2013 Release
ETHIOPIA
Democracy, Devolution of Power, and The Developmental State
Note: The Book is a comprehensive survey of democracy, devolution of power, and the developmental state in Ethiopia and critical and comparative analyses of contemporary Ethiopian politics and development programs as indicated in the various chapters. The seventeen chapters of the book are designed to cater scholarly research methodologies and paradigms for academic circles and to serve as handbook for politicians, policymakers as well as political scientists and political economists.
---
From Economic Dependency and Stagnation to Democratic Developmental State: Essays on the Socio-Political and Economic Perspectives of Ethiopia
Desta, Asayehgn Ph.D. Sarlo Distinguished Professor of Sustainable Economic Development, Dominican University of California of ventures.
Fully convinced that the Japanese kaizen management model would be an effective strategy for latecomers like Ethiopia to industrialization and realizing that the contribution of the manufacturing sector to GDP is only about 5 %, employees of thirty pilot companies from Ethiopia were sent to Japan. Chapter 8 therefore reviews the literature and develops a conceptual framework for assessing the transferability of the Japanese "kaizen" management techniques to manufacturing plants in Ethiopia.
---
Ethiopian Diaspora Politics and the People of Tigray
Ghelawdewos Araia
IDEA Viewpoint February 2, 2013
I like to underscore that I am not shaken by the Mickey Mouse politics of Ethiopian Diaspora, who are regretfully a spent force; on the contrary I am at ease with what the Ethiopian people are doing at Home, including the inspiring and hope elevating performance of Ethiopians in such events as 'Ethiopian Nationalities Day' and in celebrating their Ethiopian unity. The Ethiopian people have reaffirmed to the world, time and again, that they are steadfast in their unity and their Ethiopian heritage. They have reiterated on many occasions that they would work in unison to transform Ethiopia. I would urge the Ethiopian Diaspora to catch up with Ethiopians at Home and refrain from campaigning against the people of Tigray. The Diaspora has still a chance to safely exit from its current mess and engage in concerted actions that could benefit their motherland.
---
Re: What language should Ethiopians speak?
Fiseha Haftetsion January 31, 2013
I am writing this piece in response to Dr. Ghelawdewos Araya's article entitled "what language should Ethiopians speak?" published on June 4, 2012 by www.africanidea.org that was inspired, as he said, by my draft article entitled "choosing a working language in multiethnic nations: rethinking Ethiopia's working language policy".
---
Ethiopia Feeding Itself With Support From WFP's P4P and School Meals Programmes
21 JANUARY 2013
Hanja Chafa — Markos and Elias have received school meals from WFP for the past two years, but the lunch they ate one day in November was special. For the first time ever, the students enjoyed a meal made from crops grown just a few kilometers from their school - purchased by WFP directly from Ethiopian farmers.
---
Nigeria: Implement Policies On Agricultural Extension for Food Sustainability - DON
26 JANUARY 2013
Prof. Oluwasegun Adekunle of the Department of Agricultural Extension, Faculty of Agriculture, University of Ilorin, has urged the Federal Government to implement policies on agricultural extension for food sustainability. Adekunle, who made the call on Saturday while delivering a lecture entitled: "Key to Unlock" in Ilorin, said for any government to succeed in the agriculture sector, it must implement good policies on agricultural extension
---
Namibia: The Reality of School vs Education
BY PATRICK SAM, 28 JANUARY 2013
OPINION
THIS article discusses the reality of schools and its implication on education. In modern society, the idea of schools is highly popularized under the assumption that schooling guarantees education, and an education guarantees social mobility. "Back to school, back to reality," were the lyrics of a song traditionally aired on national radio.
---
Ethiopia's Diaspora Contribution to Ethiopia's Development
IDEA Editorial January 18, 2013
Ghelawdewos Araia
The present generation of Ethiopia is challenged by a calling from the motherland, not to cash-in but to pitch-in for the development of the country, and as Frantz Fanon once aptly put it, "each generation must, out of relative obscurity, discover its mission, fulfill it or betray it."
---
Professional Vacancies in Ethiopian Regional States
There are plenty of professional openings currently demanded by the respective regional states of Ethiopia. Qualified Ethiopians in the Diaspora are entitled to apply by presenting their credentials to the region of their choice and the contact person of the regions.
---
Africa: Raising the Bar on Agricultural Innovation
By Wendy Atkins, 8 January 2013
analysis
Technological innovation, especially in mobile, will be critical to improving agricultural productivity, but R&D funding must be ramped up after years of neglect
When Ismail Serageldin, director of the Library of Alexandria, told the World Intellectual Property Organization (WIPO) that global population growth meant food production would have to increase by 70 percent by 2050, using the same amount of water, he identified agricultural innovation as the key to solving the problem. With global efforts to improve fertilizer quality, harvesting technology and water resources, what role can R&D and mobile communications play in transforming agriculture in Africa?
---
Ode to the Budding Flowers of Sandy Hook Elementary School
Ghelawdewos Araia
December 22, 2012
Oh what a day is Friday, December twelve two thousand twelve
A day of carnage at Sandy Hook Elementary
In Newtown, Connecticut territory
---
Mali: History, Politics, and Fundamentalism
---
Zambia: Govt Introduces Distance-Learning Education Programmes. THE government has introduced distance-learning education programmes from grades eight to twelve in its effort to attain Education for All goals.Launching the 'Alternative Upper Basic and High School Programmes' at Kabulonga High School yesterday, education deputy minister Gunston Chola said the ministry recognised the right for every Zambian to have good quality education and focused on key factors of educational provision such as access, equity and quality maintenance at all level.
---
FG to Furnish Engineering Laboratories in Polytechnics
The Federal Government has secured funds from the Petroleum Technology Development Funds (PTDF) to furnish the engineering laboratories of one Federal Polytechnic in each of the six geographical zones of the country.
---
Africa's wealth and Western poverty of thought
A response to J. Peter Pham's New York Times' article on the Congo, November 30, 2012
Toussaint Kafarhire Murhula, S.J.2012-12-13, Issue 610
Specifically and to begin with, Mr Pham offers a cost-effective alternative to the squandering of international humanitarian resources that could be reallocated in a better way to relief and development, if the Congo were allowed to fall apart and to break into smaller states that would better governed. He views the UN Security Council's support of the 'sovereignty, independence, unity, and territorial integrity' of what he characterizes as a fictional state as a costly in terms of lives and resources.
---
IDEA Editorial
Ghelawdewos Araia
The history of Mali is inextricably concatenated to the history of ancient Ghana (not to be confused with present-day Ghana), Songhay, and Kanem-Borno, civilizations that thrived in Western Africa between 700 and 1500 CE. These civilizations were collectively known as the Niger Valley civilizations, and Mali was at the center of all this.
---
AU Peace and Security Council delays Abyei's referral to January meeting
December 14, 2012 (KHARTOUM) – African Union Peace and Security Council (AUPSC) decided to stick to its acceptance to a proposal aiming to hold a referendum next year in Abyei, but did not refer it to the Un Security Council.
Member of the AUHIP, and AUPSC commissioner Ramtane Lamamra, in a meeting held on Friday 14 Dec 2012 to discuss the implementation of the Cooperation Agreement Khartoum and Juba signed on 27 Sept. 2012 (Photo African Union) In a communiqué released on Saturday morning, the AUPSC referred "the determination on the issue of the Final Status of Abyei to its meeting at the level of the Heads of State and Government, to be held on the margins of the 21st Ordinary Session of the Assembly of the Union, in Addis Ababa, in January 2013."
---
Egypt: Latest Developments of Egypt's Constitutional Referendum
Egyptians began casting their votes in the referendum on the country's new constitution on Saturday.
Below are the latest developments:
Cairo:
. Long queues of women at a Shubra polling station where a veiled woman verbally attacked different media
outlets and members of Egypt's highest court, an eyewitness said.
. Some polling stations witnessed high turnout, others did not.
. Some Salafis (ultraconservatives) were seen outside one polling station trying to convince voters to vote
"yes".
. Some voters complained that ballots were not stamped while a judge complained that there were not
enough staff members to assist voters.
. United States envoy in Egypt Anne Patterson visited some polling stations.
---
Brave New Voices Trailer
All over the United States, a new generation of poets is emerging. Our HBO series captures teenagers picking up the pen and taking hold of the microphone with passion, intelligence, creativity, honesty and power. Watch the trailer for the original HBO special Brave New Voices and then watch on HBO ON DEMAND. The poets perform some of their best stuff from start to finish. Watch bonus clips now online. Click post title to view.
Congratulations President Barack Obama on Your Re-Election: What You Need to Do Now!
IDEA Editorial November 7, 2012
Congratulations Barack Obama on your re-election, but now, you know, that you have a great mission to accomplish, a lacunae to fulfill, and a promise to keep. You know, and we all know, that you have come to
the political platform with a slogan of 'change' that you have met partially but not completely. As a result, a significant number of your supporters, especially the young men and women, were confused, disenfranchised, and some of them disgruntled. But they have not opted for quid pro quo, and on the contrary, on Election Day, they came out in significant numbers to make sure that you are re-elected. This, we believe, is a reaffirmation on the part of your supporters that they have faith on you and you should consider yourself as very lucky man, but it is time for you to pay back. Therefore, here are below is a repertoire of what you need to do:
---
Rodolfo Graziani: A Fascist Hero and the Butcher of Africa
Ghelawdewos Araia, Ph.D.
IDEA Viewpoint
November 2, 2012
Rodolfo Graziani has been dead for the last fifty-seven years, but in 2012 the village of Affile in Italy attempted to resuscitate him by erecting a monument on
his behalf and the lingering fascist sympathizers. The mayor of Affile, Signor Ettore Viri has been criticized for deciding to dedicate a bust for Graziani, but contrary to negative public reaction, he bragged about his commitment to Graziani by saying, "the head is a dedication of a citizen." Yes, Graziani could be a citizen and a hero to Ettore Viri and the fascist riffraff, but to Africans he is a butcher fascist murderer.
---
TO THE GENERAL ATTORNEY OF THE REPOUBLIC OF PRATO
The undersigned Catellini Fulvio, born in Prato on 1/25/1963 and living in
Montemurlo (Prato), Montalese Street 299, an Italian citizen, enrolled as member of A.N.P.I. (National Association of Partisans of Italy) puts forward and asks, as indicated below, how the mayor of Affile (Rome), Ercole Viri, has unveiled the mausoleum to Rodolfo Graziani, built with funds given by the region. For this project has been spending a sum of at least 1300.00 pounds that it seems is funded by the Lazio Region.
Translated by Awgania Yecunoamlak from Italian into English
---
Ethiopia: What the World Bank Thinks About Ethiopia
21 October 2012
Thinking beyond dogmas is typical of Guang Z. Chen, the resident country director of the World Bank Group (WBG) in Ethiopia. An educational background that took him between the two poles of the existing world, his country of origin, China, and the global superpower, United States, might have contributed to his ability to easily and smoothly sail through the overlapping waters.
Q: Before two weeks, the International Monetary Fund (IMF) has released its Article IV Consultation Staff Report, in which it has provided its view of the Ethiopian macroeconomic environment. The report recommends for the government to facilitate deep structural changes in the economy with a focus on the private sector. Do you share their view?
---
---
Sara Haile-Mariam speaks at One Nation Working Together press conference in NYC
Tagged: Africa, Business, Business, External Relations, Governance, Trade, U.S., Canada and Africa
By Andrew Westbury and Witney Schneidman, 10 October 2012
The U.S. has lagged behind countries such as Brazil and China in its commercial engagement with Africa, just when American markets need it most. It is hard to imagine a feat more challenging in Washington, D.C. today than forging bipartisan consensus in the United States Congress. However, over the past twelve months, finding common ground and unity is exactly what a small group of legislators have done for what many Americans might find a surprising issue: increasing America's trade with Africa.
---
---
Somalia: New Start, Stubborn Realities
AfricaFocus Bulletin
Sep 16, 2012 (120916)
(Reposted from sources cited below)
Editor's Note
The unexpected election of Hassan Sheikh Mohamud, an educator and civil society activist, as the new president of Somalia, has aroused hopes of a new start in that country. But the stubborn realities he and other Somalis face include not only the continuing threat from Al Shabaab, which launched a suicide assassination attack on the new president on September 12. Even more daunting is the challenge of embedded corruption in the government he will head, which has been fostered by a long history of external dependence.
---
Africa's best time is ahead
By Berhan Ahmed Friday, 7 September 2012
For the first time in history, African countries have enjoyed a period of strong and sustained growth. The booming African economy has transformed the prospects for ordinary Africans across the continent. According to The Economist, six of the fastest growing economies in the world - Angola, Nigeria, Ethiopia, Chad, Mozambique and Rwanda - are in Africa. Investment in Africa gives greater returns than in any other developing region of the world. The growth in Africa as a whole from 2000-2010 was a little behind Asia, but India and China account for most of that growth.
---
The Challenges Ahead and the Collective Responsibility of Ethiopians
Ghelawdewos Araia
September 7, 2012
This essay intends to critically examine the challenges that Ethiopians encounter at this juncture of their history and what they ought to do in the ongoing development and transformation of their nation. In many of my writings, I have reiterated time and again and underscored the significance of collective, communal, and harmonious endeavor in nation building. We must all understand that it is our obligation to pitch in the dynamic development process (that I will fully address in my forthcoming major scholarly work) and not simply observe as bystanders and watch as if miraculously manna is going to drop from heaven.
---
Meles Zenawi and the unfinished project of Ethiopian modernity
By Teodros Kiros
The recent death of Meles Zenawi, the architect of Ethiopian modernity has sent tremors of moral shock to the Ethiopian state and other African states, engaged in the murky business of capitalist modernity.
The strategic Meles attempted to modernize Ethiopia through a market economy, jettisoning the socialist alternative, which characterized, the earlier project of revolutionary Ethiopian modernity, which Meles, following the visions of Chinese thinkers dubbed, the Developmental State.
---
Ghelawdewos Araia August 21, 2012
As the maxim goes, with all the best intentions in the world some sorrow remains, and there is no doubt that the family and extended family of Meles Zenawi are in deep sorrow for his untimely departure. Before I delve into the remembrance notes I like to extend my condolences to Azieb (Gola) Mesfin and his children.Meles
Zenawi will be remembered for many things of his contributions, including the conception and plan of Agriculture Development-Led Industrialization (ADLI), a blue print for Ethiopia's development; for his leadership in the establishment of higher institutions of learning (at least twenty universities have been established under his leadership) and the expansion of schools in the urban and rural areas; for his leadership in road construction and major development infrastructures such as the Millennium Dam; for his leadership in various capacities in the African Union (AU), including his chairmanship of New African Partnership for Development (NEPAD).
---
The Emergence of a Dual-System of Primary Schooling in Ethiopia Desta, Asayehgn Sarlo Distinguished Professor of Sustainable Economic Development, Dominican University of California
Based on the manpower planning process where schooling is considered an important tool for the training of a workforce, an essential prerequisite for economic growth, and an effective instrument of citizenship training, the central goals of schooling in Ethiopia during Haile Selassie's reign were to build a limited number of trained human resources, instill obedience to the established authority, and to develop respect for the then existing political institutions. Stated differently, the few schools that existed in Ethiopia during Haile Selassie's reign were not only elitist but were designed to maintain respect for the existing order.
---
Beyond Politics and Innuendo: Preserving Our Humanity and Salvaging Ethiopia from Moral Decadence
Ghelawdewos Araia & Teodros Kiros
Viewpoint August 6, 2012
Reasoned dialogue, guided by a more loadstar, and propelled by the public reason of the Ethiopian people must lead the way. The precondition for our proposal, however, is the unity of the Ethiopian people and as per the wisdom of Corinthians and our forefathers, we urge our fellow Ethiopians to be "completely united with only one thought and one purpose."
---
Ethiopia: Police Arrest Muslim Protesters As Clashes Continue
By Tesfa-Alem Tekle, 22 July 2012
Addis Ababa — Ethiopian police on Sunday said that they had arrested several people after violent clashes between police and Muslim protesters continued on Saturday in the capital, Addis Ababa. The clash occurred at Anawar Mosque following noon prayers. "Protesters blocked worshipers from leaving the Mosque compound. They hold them hostage until riot police forces took situation under control" Deputy Police commissioner Girma Kassa said.
---
Sabila
I am saddened by your departure
You've left us too soon
And I never got a chance
To examine your caricature
You and I have never met
We did not converse one-to-one either
But I have known you very well
You are part of my soul
Part of my spiritual bowl
From which I drink the sacred oil
---
Proposed Federal Gov't Budget Embraces Macroeconomic Loopholes; Risky!
Both proponents and critics of the Revolutionary Democrats concur that ambition is their defining character. They have carried it through two decades of leading this rather volatile nation. It has existed in the highs and lows of their time in power, as if it is the oxygen of their administration.
---
Researchers have started to unveil the genetic heritage of Ethiopian populations, who are among the most diverse in the world, and lie at the gateway from Africa. They found that the genomes of some Ethiopian populations bear striking similarities to those of populations in Israel and Syria, a potential genetic legacy of the Queen of Sheba and her companions.
The team detected mixing between some Ethiopians and non-African populations dating to approximately 3,000 years ago. The origin and date of this genomic admixture, along with previous linguistic studies, is consistent with the legend of the Queen of Sheba, who according to the Ethiopian Kebra Nagast book had a child with King Solomon from Israel and is mentioned in both the Bible and the Qur'an.
---
What Language Should Ethiopians Speak?
Ghelawdewos Araia June 4, 2012
This essay attempts to resolve the age-old controversy of the use of one language in Ethiopia as a lingua franca or a working language, and will discuss the anatomy of language, not only in its narrow definition related to the mechanical facilitation of communication but also in its broader conception of expressing and embodying culture in the micro and macro senses.The power of emotive language could be gained via indigenous languages only. I have had the opportunity to experience the power of language,
---

These graduate students that you see in the group photo below were in my classes, Global Political Economy and Research in International Studies (IS 597 70 and IS 598 70 respectively) at Central Connecticut State University (CCSU). Most of them have taken several classes with me, including International Diversity and Integration (IS 571 70); some of them have already begun developing their theses (see topics in parenthesis against their names); they are a dynamic and cohesive group in the midst of Blue Devils and they have a bright future ahead of them. I WISH THEM ALL THE BEST!
---
WALDEBA MONASTRY AND WOLKAYITE IRREGATION PROJECT A lot have been said about this topic through the different medias recently. For the majority of us, it is still a conundrum we longed for the real picture and the truth..

---
Libya: Deserting Refugees in the Sahara
By Rebecca Murray, 13 May 2012
Kufra — As dusk settles over the isolated Saharan town Kufra, young guards order a few hundred migrants lined up at a detention centre to chant "Libya free, Chadians out", before they kneel down for evening